Abdo Pain & Syncope*
History of Present Illness:
A 52-year-old female presents to the ED for 36 hours of epigastric pain that today became generalized.  She felt nauseous so she tried to vomit and had a syncopal episode. She felt like she was going to get diarrhea several times but never did. She has had intermittent epigastric pain over the years which she has taken omeprazole and she takes daily Advil for chronic back pain. There has been no melena or hematemesis fever or chills or other complaints.
Vital Signs & Physical Exam:
Vital signs are normal in the ED, but her BP in the field with medics was 80/40 prior to them giving 500 cc of NS.  Physical exam is otherwise normal except for diffuse abdominal tenderness with slight guarding.
Initial Diagnostic Testing:
EKG: NAD
Labs: Normal except for troponin of 0.11
Imaging: See cut from CT below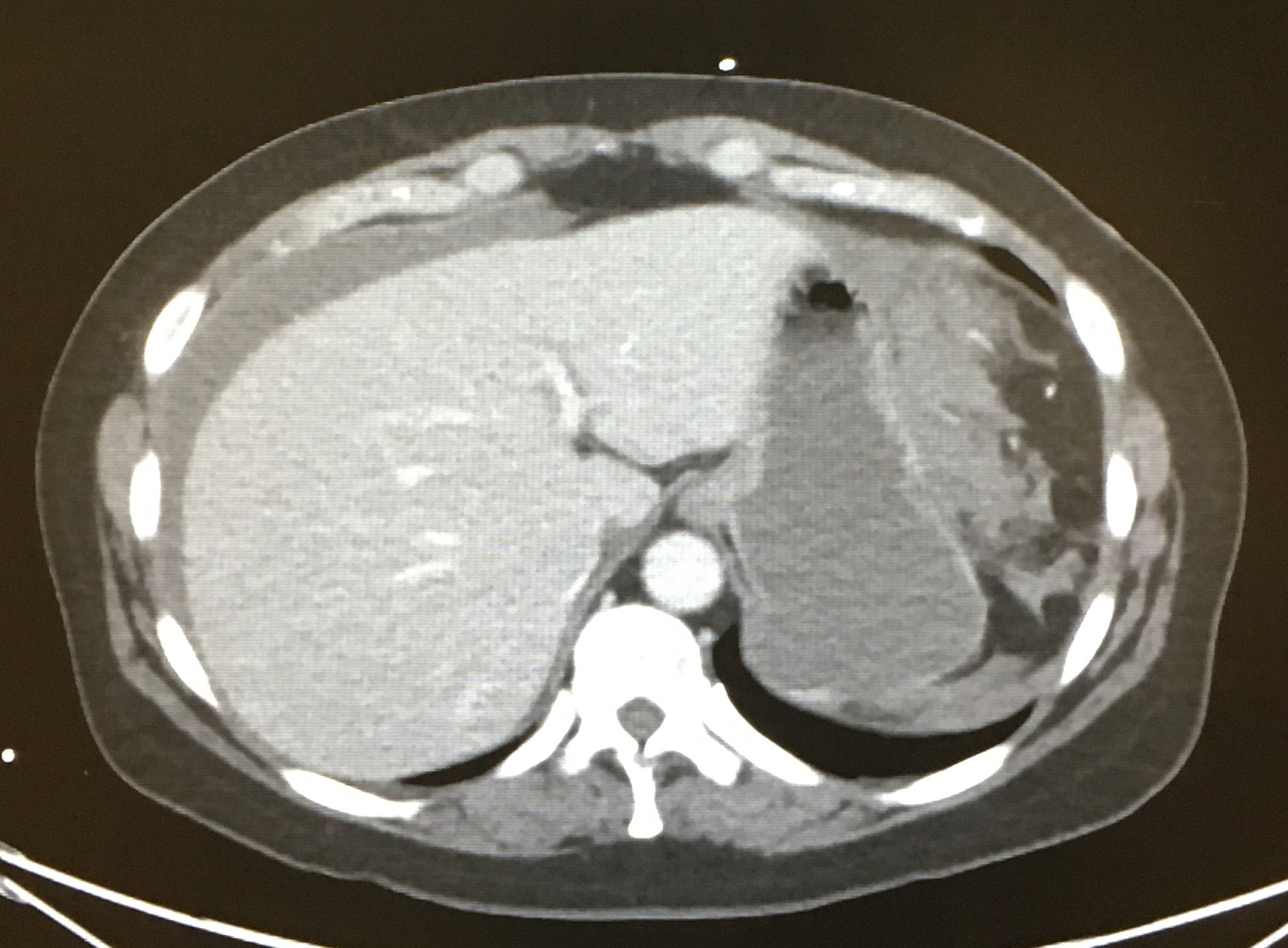 What is the most likely diagnosis?
Gastritis
Perforated ulcer
ACS
Hemoperitoneum
SCROLL DOWN FOR ANSWERS & 1-MINUTE CONSULT
<<<<<<<<<<<<<<<<<<<<< ADVERTISEMENT & SPACER >>>>>>>>>>>>>>>>>>>>>
***************************************************************************
THE EMERGENCY MEDICINE POCKETBOOK TRIFECTA
Get one of our publications, all designed specifically for Emergency Care Providers:
***************************************************************************
<<<<<<<<<<<<<<<<<<<<<<<<< END SPACER >>>>>>>>>>>>>>>>>>>>>>>>>
ANSWER:
Gastritis – Alone would not cause this CT finding
Perforated ulcer – good thought given meds and past history with this CT.  However fluid has the density of blood an no free air is seen.
ACS – likely type 2 MI (secondary ischemia) or chronic troponin leak given history and CT.  ACS unlikely
Hemoperitoneum – CORRECT – The image shows blood surrounding the liver

CASE CONCLUSION: General surgery and IR were consulted and the patient was admitted.  Serial testing of her hemoglobin showed a drop from about 12.5 to around 8.5, after which it stabilized.  Her vitals remained stable.  CT angio and tagged RBC scans were negative for additional bleeding.  The source of bleeding was never determined.
CASE LESSONS: Always consider hemoperitoneum with abdominal pain and syncope.  Sometimes the pain is not that severe and the complaint is just bloating and feeling light headed or weak.