Cardiac Arrest*
HISTORY:
A 62-year-old male is transported to the ED with chest pain, dyspnea and hemoptysis.   His symptoms started about an hour prior to arrival.   The patient appears ill.
He denies any fever or leg swelling and states his symptoms started suddenly.
He has a history of hypertension and DVT years ago.
His only current medications are benazapril, metoprolol and aspirin.
EXAM:
BP is 80/68, pulse 124, respirations 28, temperature 99.0 and pulse-ox 99% on face mask.
The patient appears acutely ill with labored respirations and is diaphoretic.  Head and neck exam is notable for JVD and the upper torso and face appear plethoric.   Lungs have a few scattered ronchi, but are otherwise clear.  Heart is tachycardic without extra sounds.  The abdomen is non-tender and the legs have no edema.
TESTS:
Suspecting a possible PE a CT scan of the chest is ordered and you debate whether or not to start empiric heparin.
EKG shows tachycardia and non-specific changes.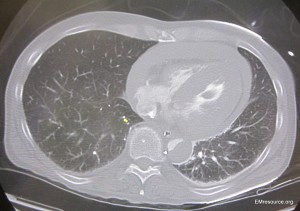 COURSE:
 The patient's nurse tells you he is unresponsive.  You rush to the bedside and note the patient to be in PEA at a rate of 145.
QUESTIONS:
What should be your first intervention?
SCROLL DOWN FOR ANSWER, TO SUBSCRIBE OR TO MAKE COMMENTS
************************************************************
<<<<<<<<<<<<<<<<<<<< SPACER >>>>>>>>>>>>>>>>>>>>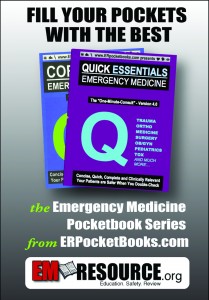 Get the A to Z Pharmacopoeia,  Quick Essentials: Emergency Medicine or one of our other books or CDs.
<<<<<<<<<<<<<<<<<<<< END SPACER >>>>>>>>>>>>>>>>>>>
***********************************************************
ANSWER:
Pericardiocentesis: You need to do a stat pericardiocentesis.  The image shows a type A aortic dissection with acute hemopericardium causing tamponade.   Images below show a higher cut and a similar level cut with different windowing.
****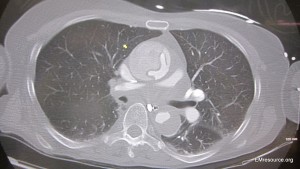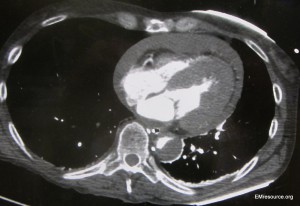 ****