Elbow to Neck
UnFiNiShEd CaSe CoMe BaCk LaTeR
History of Present Illness:
A man in his mid 20's comes to the ER for 2 weeks of right frontal headache after crashing into someone else at the skatepark.  He did have a helmet on but did hit his head and the other guy landed on top of him and elbowed him in the neck.  He thought he would feel better by now but has a gradually worsening right frontal headache and no real improvement in his neck pain.  He denies any fever, vomiting, change in vision or other complaints.
Vital Signs & Physical Exam:
Vital signs are normal.  Physical exam is otherwise normal except for tenderness to the right head and neck and his pupils appear slightly asymmetric.
Initial Diagnostic Testing:
Imaging: CT head normal, CT neck below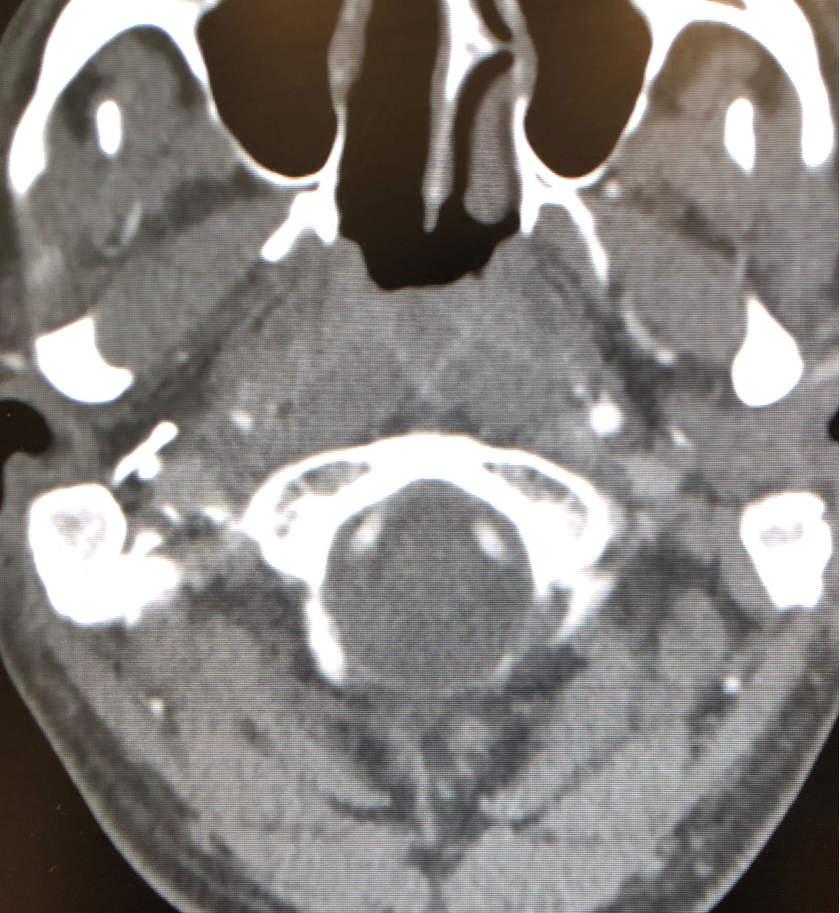 What is the most likely diagnosis?
A) C-spine fracture
B) Carotid dissection
C) Normal CT – physiologic anisocoria likely
D) Maxillary sinus fracture
SCROLL DOWN FOR ANSWERS & 1-MINUTE CONSULT
<<<<<<<<<<<<<<<<<<<<< ADVERTISEMENT & SPACER >>>>>>>>>>>>>>>>>>>>>
****************************************************************************
THE EMERGENCY MEDICINE POCKETBOOK TRIFECTA
Get one of our publications, all designed specifically for Emergency Care Providers:
***************************************************************************
<<<<<<<<<<<<<<<<<<<<<<<<< END SPACER >>>>>>>>>>>>>>>>>>>>>>>>>
ANSWER:
A) C-spine fracture
B) Carotid dissection
C) Mandibular fracture
D) Maxillary sinus fracture

CASE CONCLUSION:
CASE LESSONS: