LLQ Pain & Jaundice*
History of Present Illness:
A male in his 40's presents to the ED for for 5 days of intermittent gradually worsening left lower quadrant abdominal pain with no associated fever, vomiting, diarrhea, dysuria, hematuria or other complaints. He has never had this before and it is getting worse each day.  His wife also says his eyes look yellow.  He denies any or other complaints
Vital Signs & Physical Exam:
Vital signs are normal.  Physical exam is normal except for LLQ tenderness with mild guarding.  There is no noticeable jaundice.
Initial Diagnostic Testing:
Labs: LFTs, CBC and lipase were all normal
Imaging: Since the patient had never had this before and since 5 days in it was getting worse, a CT was ordered, even though it was thought it would be low yield.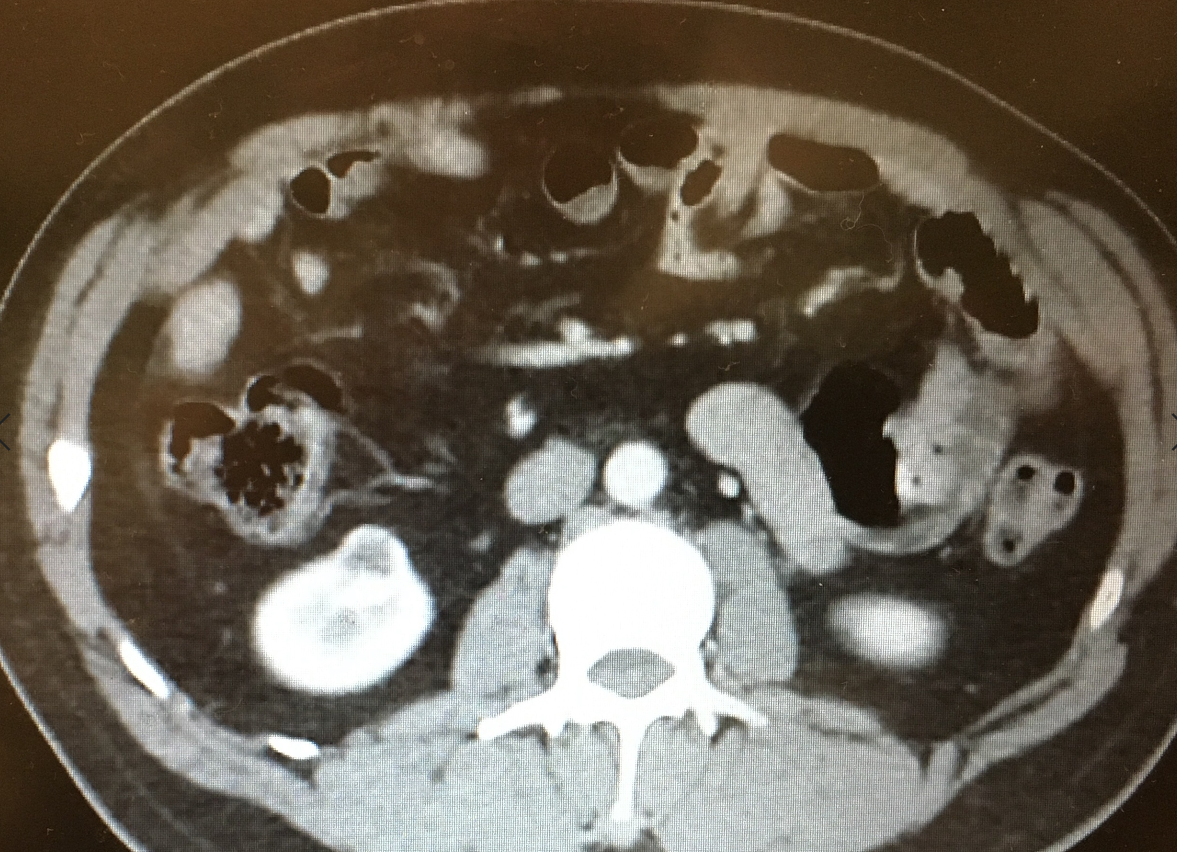 What is the most likely diagnosis?
Diverticulitis
Kidney stone
Constipation
None of the above
SCROLL DOWN FOR ANSWERS & 1-MINUTE CONSULT
<<<<<<<<<<<<<<<<<<<<< ADVERTISEMENT & SPACER >>>>>>>>>>>>>>>>>>>>>
***************************************************************************
THE EMERGENCY MEDICINE POCKETBOOK TRIFECTA
Get one of our publications, all designed specifically for Emergency Care Providers:
***************************************************************************
<<<<<<<<<<<<<<<<<<<<<<<<< END SPACER >>>>>>>>>>>>>>>>>>>>>>>>>
ANSWERS:
Diverticulitis – Not seen
Kidney stone – can cause LLQ pain but not seen and this cut may be too high
Constipation – Not seen
None of the above – The image shows a lesion suspicious for a renal cell carcinoma in the

right

kidney.  No cause for the patient's pain was found .
 
CASE CONCLUSION: Close follow up was arranged with GI and with urology.  He was diagnosed with IBS and Stage 1 renal cell carcinoma.
CASE LESSONS:  About 50% of ER patients with chest or abdominal pain have no definitive diagnosis made at discharge.  Most incidental findings are benign and just cause worry and more downstream testing, which is yet one more reason to avoid unnecessary CT.  However, occasionally a life can be saved my early detection of asymptomatic cancer.