Syncope & ST Elevation
A middle-aged woman with a history of diabetes and hypertension is brought to the ED by paramedics as a field activated ST elevation MI. They report that about 40 minutes ago she fainted and when she came to had anxiety, chest pain and shortness of breath.  There was no head injury.
Medics gave aspirin plus 3 doses of nitroglycerin en route without relief.
On exam the patient is obese, diaphoretic and appears very anxious bordering on delirious.  She is unable to give much history and is thrashing around.
Her vitals are as follows: Pulse 131, BP 95/58, pulse ox 98% on oxygen.  Lungs are clear and heart is tachycardic with normal heart sounds.  Abdomen is rotund and non-tender.  Legs have no edema, chords, tenderness or errythema and pulses are symmetric and strong
Her EKG is shown below:
NOTE: For a similar case from medscape click here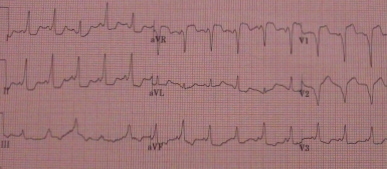 What conditions should you consider?  
Should she go to the cath lab with cardiology?
SCROLL DOWN FOR CASE ANSWER AND TO MAKE COMMENTS
************************************************************
<<<<<<<<<<<<<<<<<<<< SPACER >>>>>>>>>>>>>>>>>>>>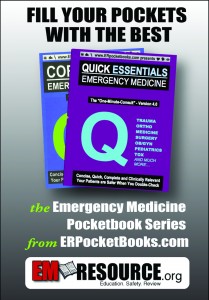 Get the A to Z Pharmacopoeia, Cornucopia: Emergency Medicine,  Quick Essentials: Emergency Medicine or one of our other books or CDs.
<<<<<<<<<<<<<<<<<<<< END SPACER >>>>>>>>>>>>>>>>>>>
***********************************************************
DIFFERENTIAL DIAGNOSIS: TOX, ANXIETY, AORTIC DISSECTION, TENSION PNEUMOTHORAX, MI, PE…
A bedside echo was done showing a very dilated right ventricle with no segmental wall motion abnormalities.  The decision was made to give tPA for massive pulmonary embolism.  The borderline blood pressure in an obese hypertensive patient who had altered mental status was considered to represent hypotension.  Bedside duplex showed a DVT in the right leg despite no leg swelling.  The patient's status improved and she was sent to the ICU rather than to the cath lab.  A repeat EKG showed resolution of the ST elevation.
FINAL DIAGNOSIS: MASSIVE PULMONARY EMBOLISM CAUSING ST ELEVATION IN aVR & V1
EKG in Pulmonary Embolism:  Source: Quick Essentials Emergency Medicine 
(Transient): Tachy:26-44%, T-wave inversion:42%, ST¯/­:26/16, P-pulmonale (lead II)
Norml:12-27%, S1Q3T3:12%, incomplete RBBB:10%, S1S2S3, AVB, L-axis > R-axis

Massive PE

: ST elevation in aVR & V1, wide QRS, deep T's anterior, S1Q3T3, RBBB
EKG in Pulmonary Embolism:  Source: Tarascon Emergency Department Quick Reference Guide  
Changes can be transient: S1Q3T3, RBBB, ST & T changes, atrial dysrhythmia, AV-block
RAD, LAD, flipped T-wave V1-V4, R >S or R >5mm in V1, ST ­¯ (esp in aVR), P pulmonale
EKG can mimic: MI (inferior, anterior), pulmonary disease.  normal, IRBBB, transient BBB

Massive PE

: ST elevation in aVR & V1, wide QRS, S1Q3T3, deep T's anterior, RBBB
R-Sided EKG Leads (aVR, V1 & V4R):  Source: Tarascon Emergency Department Quick Reference Guide
PR elevation: Tricyclic overdose (wide QRS), R axis deviation
ST­ elevation: Left main CAD, massive PE, Brugada syndrome
OTHER SOURCES:
"The most common ECG findings in patients with acute pulmonary embolism are sinus tachycardia, complete or incomplete right bundle branch block, ST segment depression or T wave inversion in the precordial leads and the S1Q3T3 pattern.  However, there are case reports of massive pulmonary embolism presenting with ST segment elevation in the precordial leads."
– N ENGL J MED 365:21 November 24, 2011 page 2023
Acute pulmonary embolism.   The clinical diagnosis of acute pulmonary embolism can be very difficult because of its highly variable clinical presentation. Electrocardiographic signs of acute right ventricular overload should make the clinician aware of that possibility and differentiate the clinical picture from other disease entities, such as acute myocardial infarction, aortic dissection, pleuritis or hyperventilation (6). Acute right ventricular overload is often reflected in the electrocardiogram as ST-segment elevation in lead aVR. Source: http://content.onlinejacc.org/cgi/content/full/38/5/1355
Comments