Smelly Foot*
History of Present Illness:
A man in his 60's with a history of DM and left BKA is brought to the ED by his wife for a pink smelly right foot that has been getting gradually worse for 2 weeks.  He did not want to see a doctor but the smell got so bad that his wife finally called 911.   He denies any fever, recent trauma or other complaints though he says he broke the same foot a long time ago in a motorcycle accident.
Vital Signs & Physical Exam:
Vital signs are normal except for  a pulse of 118. Physical exam is otherwise normal except for a BKA on the other leg and a stinky right foot with a large black eschar.
Initial Diagnostic Testing:
Labs: glucose 350, bicarb normal, lactate 2.5, creatinine 2.1, WBC 32K, 12 bands
Imaging: See below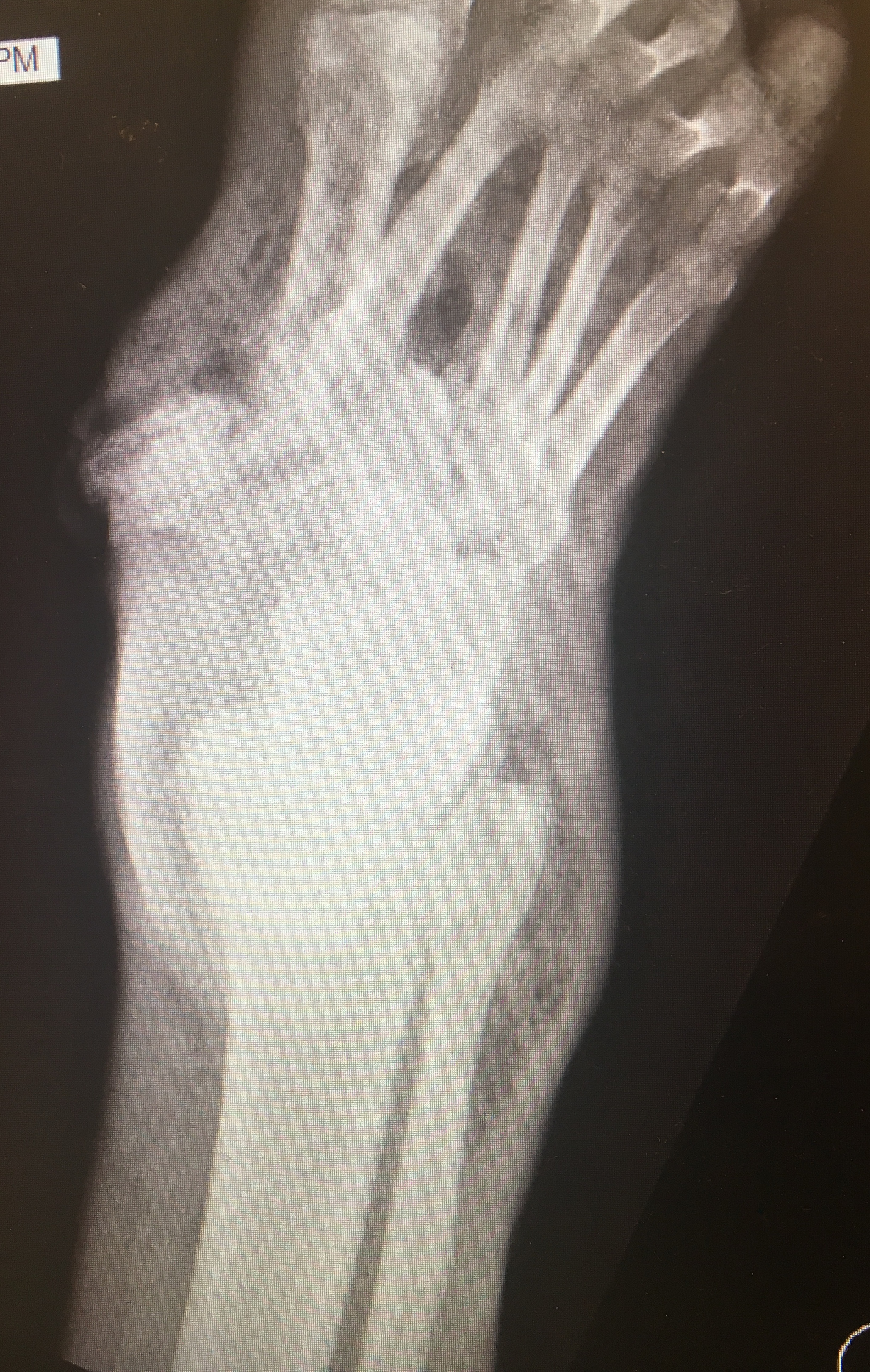 What is the most likely acute diagnosis?
A) Cellulitis
B) Necrotizing Fasciitis
C) Osteomyelitis
D) Foot fracture
SCROLL DOWN FOR ANSWERS & 1-MINUTE CONSULT
<<<<<<<<<<<<<<<<<<<<< ADVERTISEMENT & SPACER >>>>>>>>>>>>>>>>>>>>>
***************************************************************************
THE EMERGENCY MEDICINE POCKETBOOK TRIFECTA
Get one of our publications, all designed specifically for Emergency Care Providers:
***************************************************************************
<<<<<<<<<<<<<<<<<<<<<<<<< END SPACER >>>>>>>>>>>>>>>>>>>>>>>>>
ANSWER
A) Cellulitis – it sounds like cellulitis is present, but there is more sinister disease here as well
B) Necrotizing Fasciitis –  x-ray shows gas in the soft tissues concerning for necrotizing fasciitis
C) Osteomyelitis – the x-ray is equivocal for this
D) Foot fracture – the x-ray does show degenerative changes and a possible old fracture but these are not acute.

CASE CONCLUSION: He was started on vancomycin, Zosyn and clindamycin.  Orthopedics was consulted and they took him emergently to the OR to perform a BKA
CASE LESSONS:
Always think "could this be nec-fasc" when you care for a patient with cellulitis or abscess.  Know the risk factors and red flags in the sample page above and perform imaging when indicated.
Beware of pitfalls such as cases that present indolently or other atypical features.