Left Flank Pain
UNFINISHED CASE: COME BACK LATER  Scroll to bottom for case answer and E-meducation 
History: A 44-year-old male presents with 2 days of constant left flank pain without fever, leg pain, bleeding or burning with urination or other symptoms. He denies ever having symptoms like this in the past.  He has no prior visits to your ED.
Exam: Vital signs were normal.  Physical exam was normal except for left CVA tenderness.  The patient appeared quite uncomfortable
Initial Concern(s): Dangerous stuff
Testing: See image CBC, UA, BMP and CT urogram are all normal
Question(s):
What other conditions should you worry about?  
What should you do next?  
Where can I get a quick refresher on this topic?  
Scroll to bottom for case answer and E-meducation 
<<<<<<<<<<<<<<<<<<<<< ADVERTISEMENT & SPACER >>>>>>>>>>>>>>>>>>>>>
***************************************************************************
THE EMERGENCY MEDICINE POCKETBOOK TRIFECTA
Get one of our publications, all designed specifically for Emergency Care Providers:
***************************************************************************
<<<<<<<<<<<<<<<<<<<<<<<<< END SPACER >>>>>>>>>>>>>>>>>>>>>>>>>
ANSWERS:
What other conditions should you worry about?  Consider renal infarct
What should you do next? CT with IV contrast, D-dimer.  CT with IV contrast showed a renal infarct.  D-dimer was negative.  Further workup for hypercoaguable state showed factor 5 Leiden deficiency
Where can I get a quick refresher on this topic?  See highlighter area below
****
E-meducation for medical topic of this case.  Read the yellow highlighted area of the page-shot below from our #1 title.  The Emergency Medicine 1-Minute Consult Pocketbook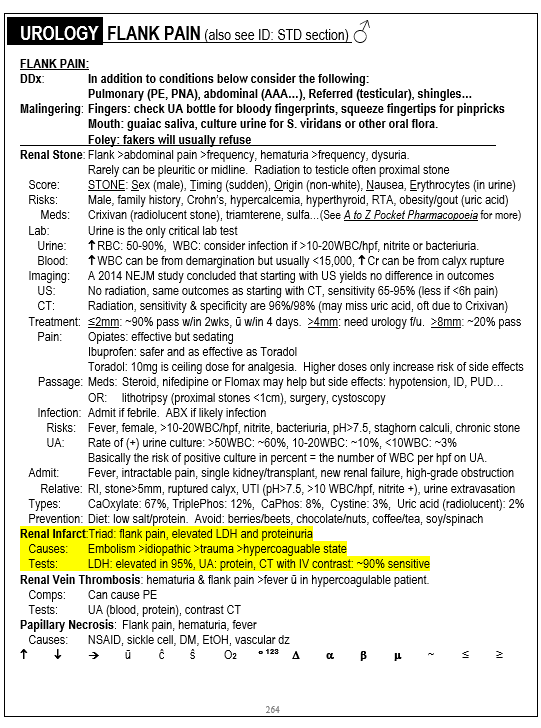 CASE CONCLUSION: We'll just have to see