Headache & Chills
Scroll to bottom for case answer and E-meducation 
History: A 66-year-old male presents with 2 days of constant generalized headache associated with chills but no fever vomiting photophobia, eye discomfort, neck stiffness, focal weakness or elevated temperature. He's also had 6 days of productive cough without blood
Exam: Vital signs were normal except for.  Physical exam was normal except for
Initial Concern(s): Dangerous stuff
Testing:
Blood: normal except for glucose of 180 and WBC of 17 with no bands
CT brain: done due to age >65 and was normal
CSF: samples due to progressive HA with no other explanation: WBC: 350 with 90% lymphs, RBC: 1, glucose: 80, protein: 200
Course: Patient was given a dose of decadron  and ceftriaxone prior to CT & LP.  After results came back a dose of Acyclovir was ordered.  On the floor steroids and acyclovir were stopped and the patient was treated with ceftriaxone and vancomycin awaiting CSF culture results and antibody screen.
Question(s):
What should you do next?  
Where can I get a quick refresher on this topic?  
Scroll to bottom for case answer and E-meducation 
<<<<<<<<<<<<<<<<<<<<< ADVERTISEMENT & SPACER >>>>>>>>>>>>>>>>>>>>>
***************************************************************************
THE EMERGENCY MEDICINE POCKETBOOK TRIFECTA
Get one of our publications, all designed specifically for Emergency Care Providers:
***************************************************************************
<<<<<<<<<<<<<<<<<<<<<<<<< END SPACER >>>>>>>>>>>>>>>>>>>>>>>>>
ANSWERS:
What should you do next?  Try to identify the causative organism.  See conclusion for answer.
Where can I get a quick refresher on this topic?  See highlighter area below
****
E-meducation for ZOSTER MENINGITIS.  Read the yellow highlighted area of the page-shot below from our #1 title.  The Emergency Medicine 1-Minute Consult Pocketbook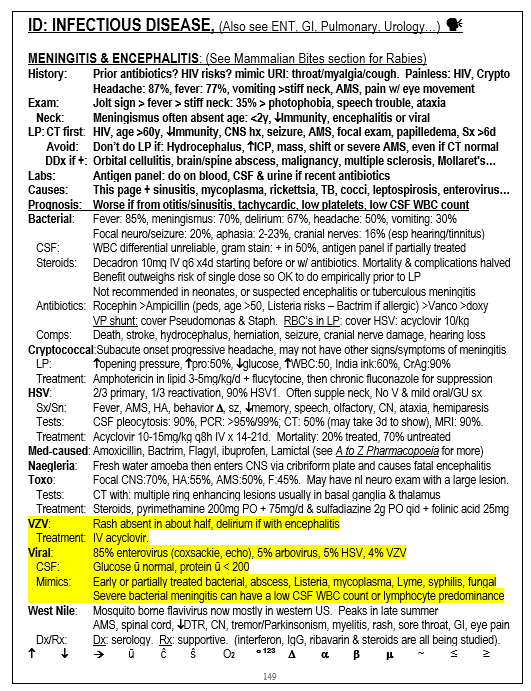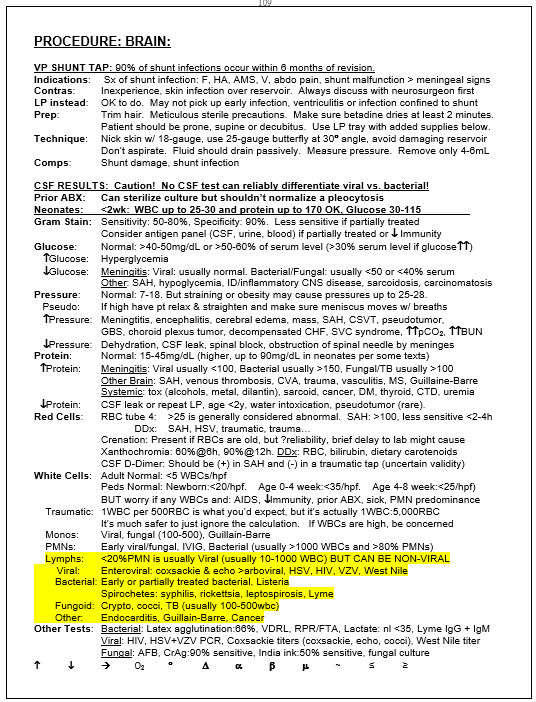 CASE CONCLUSION: VZV was positive in the CSF.  Decadron and Acyclovir IV were started and antibiotics were stopped.  The patient's symptoms improved rapidly after that.
LESSON: Meningitis that seems to be viral is not always benign until you prove it is a non-polio enterovirus.  Viral meningitis can be due to HSV or VZV and other treatable forms of meningitis can mimic a viral cause.  TB and early or partially treated bacterial are just two examples.  Always at least consider Acyclovir and admission in any patient diagnosed with "viral" meningitis in the ED.