Leg Weakness & Tongue?
Scroll to bottom for case answer and E-meducation 
History of Present Illness:
A 80-year-old male presents to the ED for bilateral leg weakness without any neck or back pain or headache. He states he is able to walk but is having some difficulty.  He also states that his tongue has felt/tasted funny for about a week.
He also states his lips feel a little weak, but denies any change in speech, vision or balance.
Vitals & Physical Exam:
Vital signs are normal.
Exam is normal except for a slow steady gait and 5-/5 bilateral leg strength. Reflexes are normal and there is no clonus.
Differential Diagnosis:
Cord compression
Generalized weakness
Brainstem CVA
Myopathy
Initial Testing:
CBC and BMP normal.
MRI shown below.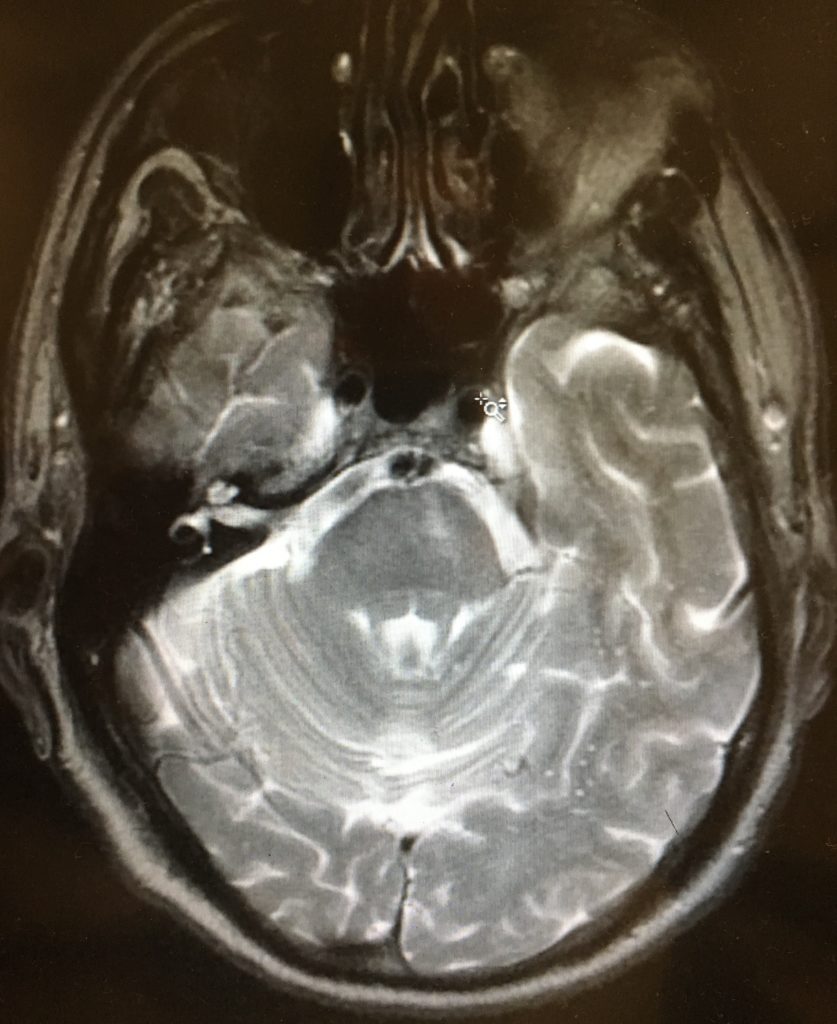 QUESTIONS:
What does the case image image show?  (click two times to enlarge)
What should you do next?  
Where can I get a quick refresher on this topic?  See highlighted area below
SCROLL DOWN FOR ANSWERS & 1-MINUTE CONSULT
<<<<<<<<<<<<<<<<<<<<< ADVERTISEMENT & SPACER >>>>>>>>>>>>>>>>>>>>>
***************************************************************************
THE EMERGENCY MEDICINE POCKETBOOK TRIFECTA
Get one of our publications, all designed specifically for Emergency Care Providers:
***************************************************************************
<<<<<<<<<<<<<<<<<<<<<<<<< END SPACER >>>>>>>>>>>>>>>>>>>>>>>>>
ANSWERS:
What does the case image image show?  Left pontine stroke
What should you do next?  Call a neurologist and give an aspirin
Where can I get a quick refresher on this topic?  See highlighted area below
****
E-meducation for medical topic of this case: Read the yellow highlighted area of the page-shot below from our #1 title, the Emergency Medicine 1-Minute Consult Pocketbook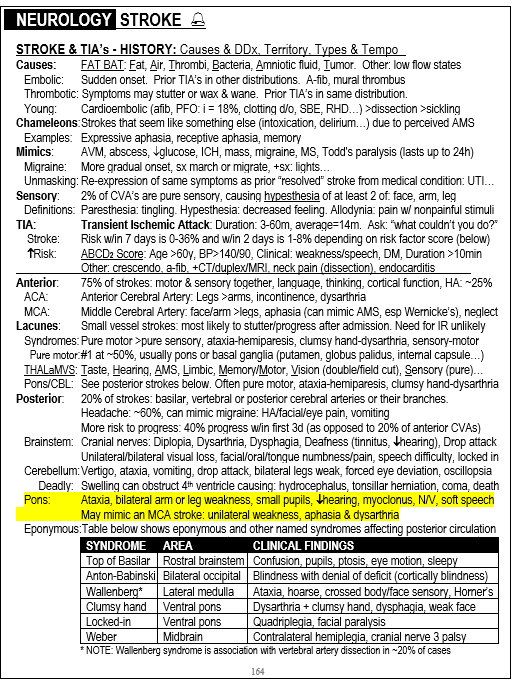 CASE CONCLUSION: Had asymmetric vertebral arteries but no dissection.  The rest of the stroke w/u was negative.  Plavix was added to the aspirin he was already taking