Post-Partum Headache
History of Present Illness:
A woman in her 20's presents to the ER for 10 days of generalized severe headache, nausea and intermittent vertigo lasting only seconds.  She is 2 months post partum.  She denies any fever, vomiting, abdominal pain, focal CNS complaints or other concerns.
Vital Signs & Physical Exam:
Vital signs are normal.   Physical exam is normal including FNF, Romberg, cranial nerves and gait.
Initial Diagnostic Testing:
CBC: normal
Chem 7: normal
Imaging: an MRI is done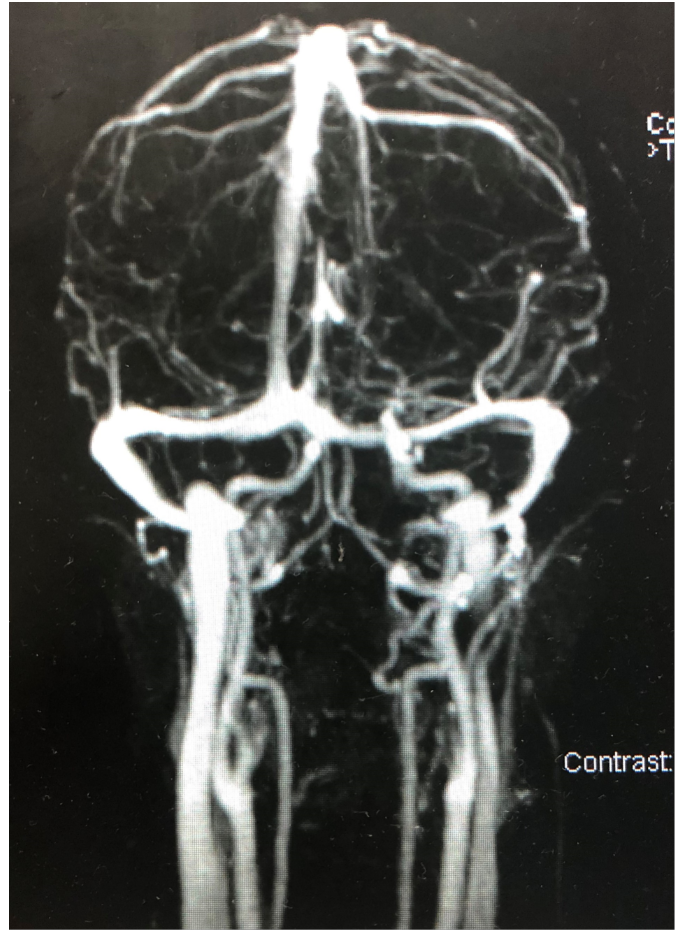 What is the most likely diagnosis?
A) Venous sinus thrombosis
B) Vertebral artery dissection
C) SSRI withdrawal
D) Encephalitis
SCROLL DOWN FOR ANSWERS & 1-MINUTE CONSULT
<<<<<<<<<<<<<<<<<<<<< ADVERTISEMENT & SPACER >>>>>>>>>>>>>>>>>>>>>
***************************************************************************
THE EMERGENCY MEDICINE POCKETBOOK TRIFECTA
Get one of our publications, all designed specifically for Emergency Care Providers:
***************************************************************************
<<<<<<<<<<<<<<<<<<<<<<<<< END SPACER >>>>>>>>>>>>>>>>>>>>>>>>>
ANSWER:
A) Venous sinus thrombosis: The image is of the MR venogram and was read as good quality and normal
B) Vertebral artery dissection: symptoms are not concerning for this condition
C) SSRI withdrawal: CORRECT.  On further questioning patient confessed to running out of her SSRI a few days before her symptoms started.
D) Encephalitis: symptoms are not concerning for this condition

CASE CONCLUSION: Patient was restarted on her SSRI and told to follow up with her doctor
CASE LESSONS: Always consider medications or their withdrawal as a cause of otherwise unexplained symptoms.  Great questions to ask during the initial history include:
"Are  you on any medications?" (I love when this elicits multiple meds after the patient just denied any PMH)
"Have you started, stopped or changed doses of any medications recently?"