Abdo Pain & Low BP
History:
A 72-year-old male with a history of hypertension presents to the ED with one day of intermittent epigastric abdominal pain that radiates to the back.  The pain has been getting progressively worse, especially in the past few hours.  He denies fever, vomiting, diarrhea or other symptoms.
Exam:
BP is 85/60, pulse 87, afebrile.  Abdomen is tender in the epigastric area with guarding but no mass or rebound.
Initial Concerns:
AAA
sepsis
perforated ulcer
pancreatitis
Testing:
See ultrasound image below
QUESTIONS:
What does this ultrasound show?  
What additional testing should be done?
************************************************************
<<<<<<<<<<<<<<<<<<<< SPACER >>>>>>>>>>>>>>>>>>>>


Get  Quick Essentials: Emergency Medicine or the A to Z pocket EM Pharmacopoeia, the only drug book designed specifically for the ED
<<<<<<<<<<<<<<<<<<<< END SPACER >>>>>>>>>>>>>>>>>>>
***********************************************************
ANSWERS:
What does this ultrasound show?  Fluid filled dilated loops of bowel.
What additional testing should be done?  CT abdomen or at least a plain film.  Below is the KUB, which shows a gasless abdomen.  This KUB result should make you worry about an SBO with fluid filled bowel.  In this case, since you did the US first, you already were suspicious.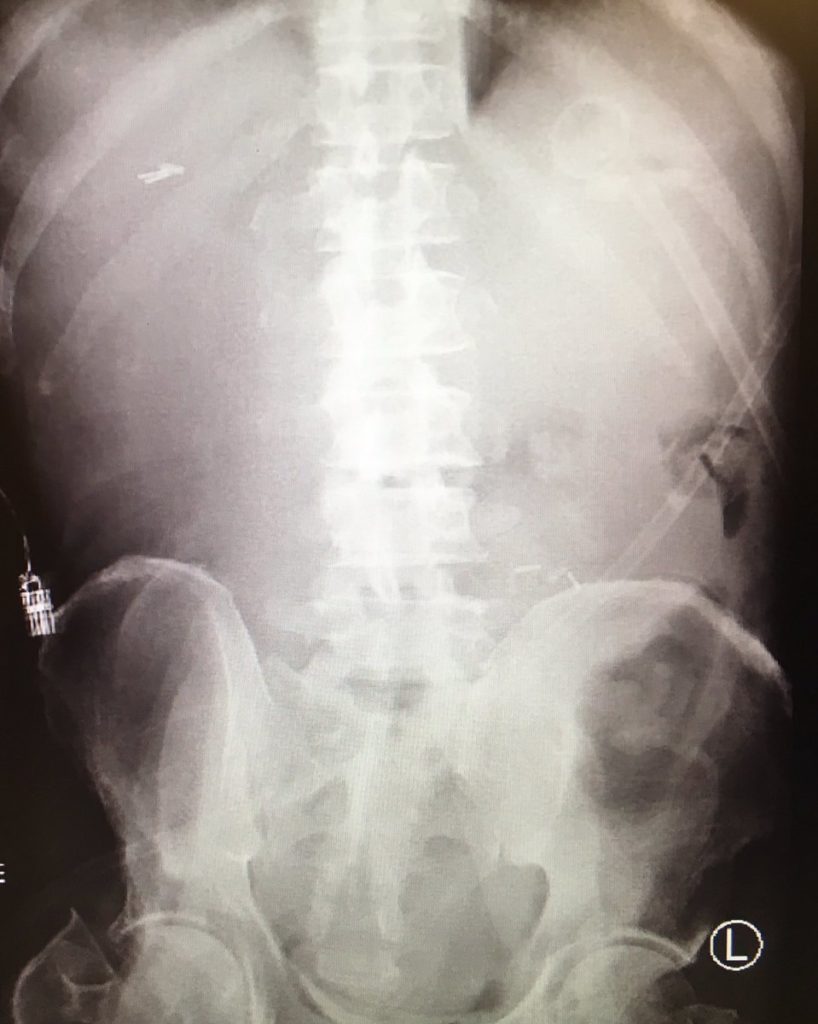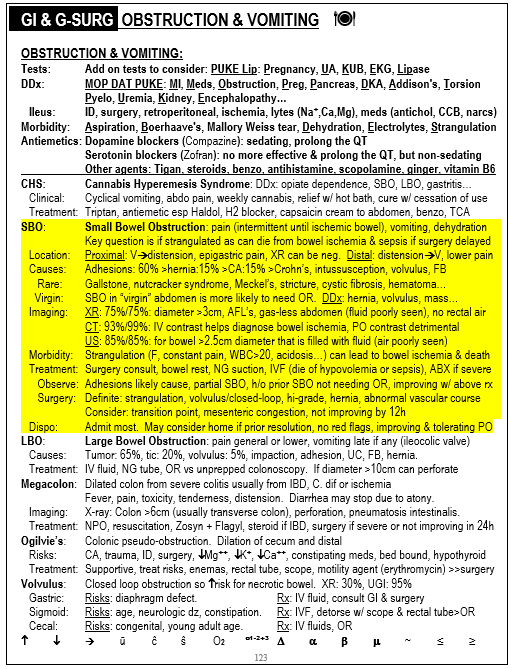 ****
Case Conclusion: CT showed a high grade SBO.  The patient responded to fluid resuscitation, went to the OR and did well.
Lessons:
CT is the definitive test for SBO, but KUB and US are faster, have less radiation and they complement each other.  Consider either or both when your patient is unstable and time is of the essence or at the other end of the spectrum, when your suspicion for needing surgery is low and you want to avoid unnecessary radiation.
KUB is good at viewing the gas pattern, but misses fluid and so is fairly useless when all the bowel is filled with fluid
Ultrasound complements KUB because it sees fluid well, although gas filled loops are poorly seen and cause artifact.