Epigastric Pain*
UNFINISHED CASE: COME BACK LATER 
SCROLL DOWN FOR ANSWERS & 1-MINUTE CONSULT
History of Present Illness:
A man in his 60's with a history of DM and HTN presents to the ED with acute onset of epigastric pain at 5 AM associated with chills and nausea.  He denies fever or shortness of breath, vomiting, diarrhea, dysuria or flank pain.  He does not volunteer it, but when asked does admit to some discomfort in the area of the right scapula
Vital Signs & Physical Exam:
Vital signs are normal.  Physical exam is normal except for epigastric tenderness
Initial Differential Diagnosis: Gastritis, Gallstones, ACS, Pancreatitis
Initial Diagnostic Testing:
CBC, LFTs and BMP are normal except for a glucose of 177
The ultrasound is shown below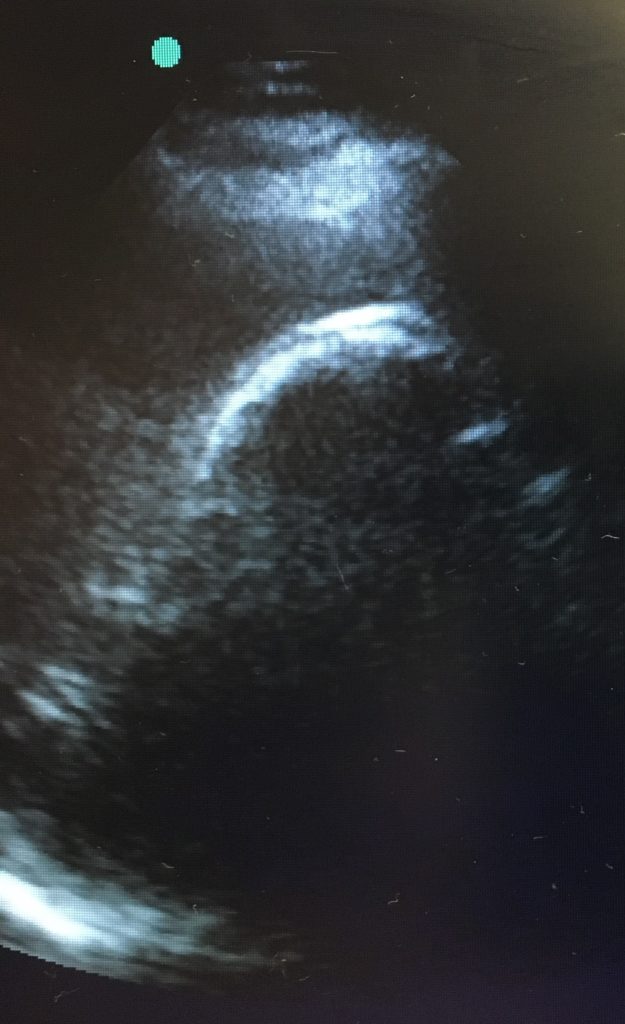 QUESTIONS:
What does the case image show?  
What should you do next?  
Where can one get a quick refresher on this topic?  
SCROLL DOWN FOR ANSWERS & 1-MINUTE CONSULT
<<<<<<<<<<<<<<<<<<<<< ADVERTISEMENT & SPACER >>>>>>>>>>>>>>>>>>>>>
***************************************************************************
THE EMERGENCY MEDICINE POCKETBOOK TRIFECTA
Get one of our publications, all designed specifically for Emergency Care Providers:
***************************************************************************
<<<<<<<<<<<<<<<<<<<<<<<<< END SPACER >>>>>>>>>>>>>>>>>>>>>>>>>
ANSWERS:
What does the case image image show?  The image shows a wall echo sign, which is a gallbladder completely filled with stones so that you can only see the anterior wall.  Everything far field of that is in shadow
What should you do next?  Pain medicine and consult  surgery.
Where can one get a quick refresher on this topic?  See yellow highlighted area below from purple book above…  KEY POINT: in the ED cholecystitis is more common than biliary colic.  If the pain is lasting for >6 hours don't be reassured by normal gallbladder wall thickness and normal labs.  They are not sensitive enough.  Either get a DESIDA scan, admit the patient or arrange for next day follow-up.  Do not send home on opiates.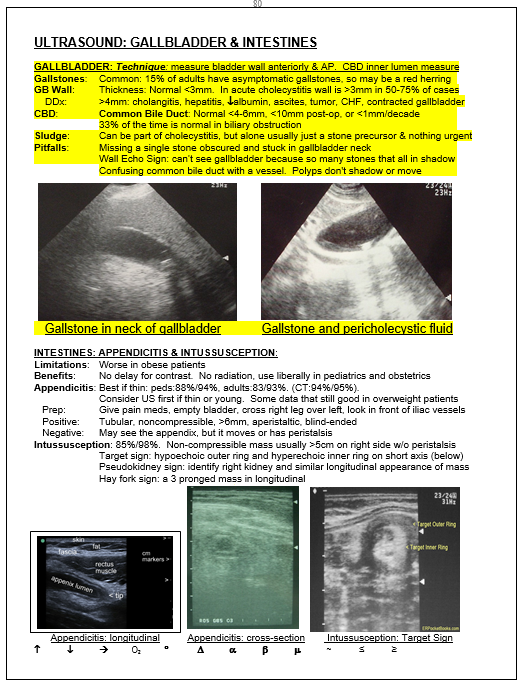 CASE CONCLUSION: A DESIDA scan was positive for cholecystitis.  The patient was admitted for antibiotics and taken to the OR within 6 hours of admission.