Post-partum Rib Pain
Scroll to bottom for case answer and E-meducation 
History: A a 33-year-old female who is approximately 4 weeks status post normal vaginal delivery presents to the ED with 2 hours of pleuritic right rib/flank pain that radiates to her epigastric area.  She denies trauma, fever, vomiting, shortness of breath or other symptoms and she's never had similar symptoms to this before.
Exam: Vital signs were normal except for.  Physical exam was normal except for splinting on deep respiration
Initial Concern(s): PE, pneumonia, gallstones, kidney stone
Testing: LFTs and D-dimer were both mildly elevated.  A CXR was normal.  A bedside ultrasound was done to help determine the most likely cause before ordering either a VQ scan or a formal ultrasound.

Question(s):
What does the case image image show? 
What should you do next?  
Where can I get a quick refresher on this topic?  
Scroll to bottom for case answer and E-meducation 
<<<<<<<<<<<<<<<<<<<<< ADVERTISEMENT & SPACER >>>>>>>>>>>>>>>>>>>>>
***************************************************************************
THE EMERGENCY MEDICINE POCKETBOOK TRIFECTA
Get one of our publications, all designed specifically for Emergency Care Providers:
***************************************************************************
<<<<<<<<<<<<<<<<<<<<<<<<< END SPACER >>>>>>>>>>>>>>>>>>>>>>>>>
ANSWERS:
What does the case image image show?  Gallstones and sludge
What should you do next? Call a surgeon, don't do the VQ scan
Where can I get a quick refresher on this topic?  See highlighter area below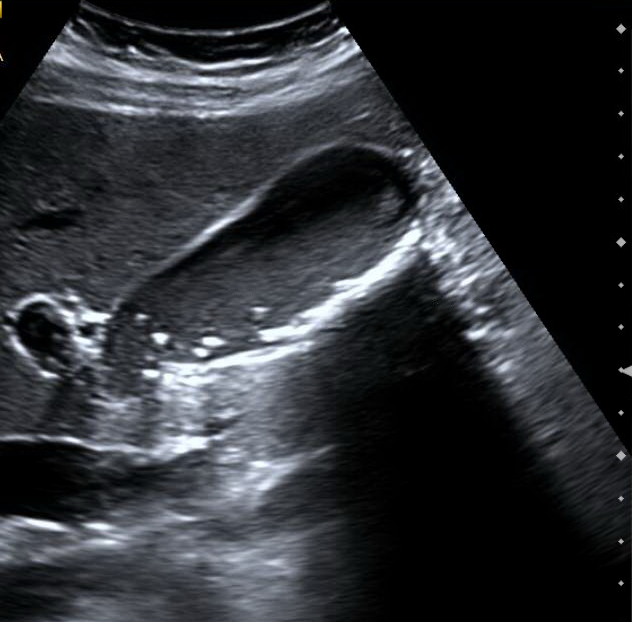 ****
E-meducation for medical topic of this case.  Read the yellow highlighted area of the page-shot below from our #1 title. The Emergency Medicine 1-Minute Consult Pocketbook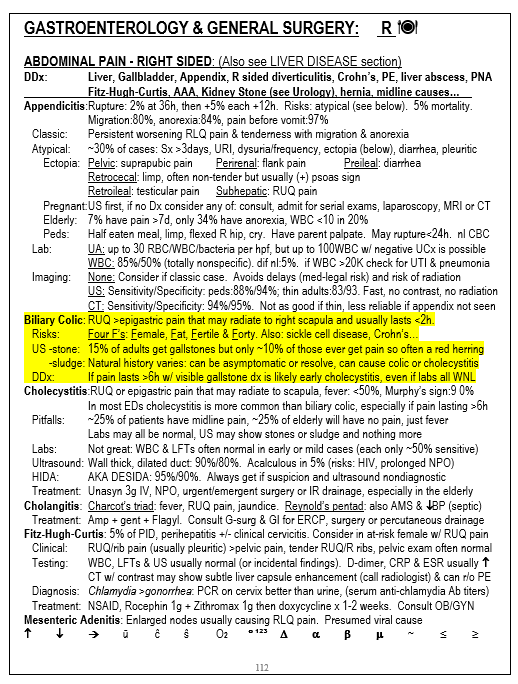 CASE CONCLUSION: Patient was diagnosed with biliary colic and had a cholecystectomy