Vaginal Bleeding
History:
A 42-year-old female who is G2 P1 and approximately 6 weeks pregnant is sent from clinic to the ED for 1 week of vaginal spotting  and 4 weeks of left-sided pelvic pain. She denies any fever, dysuria, or other complaints.
Exam:
Vitals are normal.  There is mild suprapubic tenderness
Initial Concerns:
Ectopic
Threatened abortion
Testing:
CBC normal
Beta HCG = ~270,000 (see normal values around 6 weeks below)
See ultrasound image below
Questions:
What does the image show? 
What additional concerns should it raise?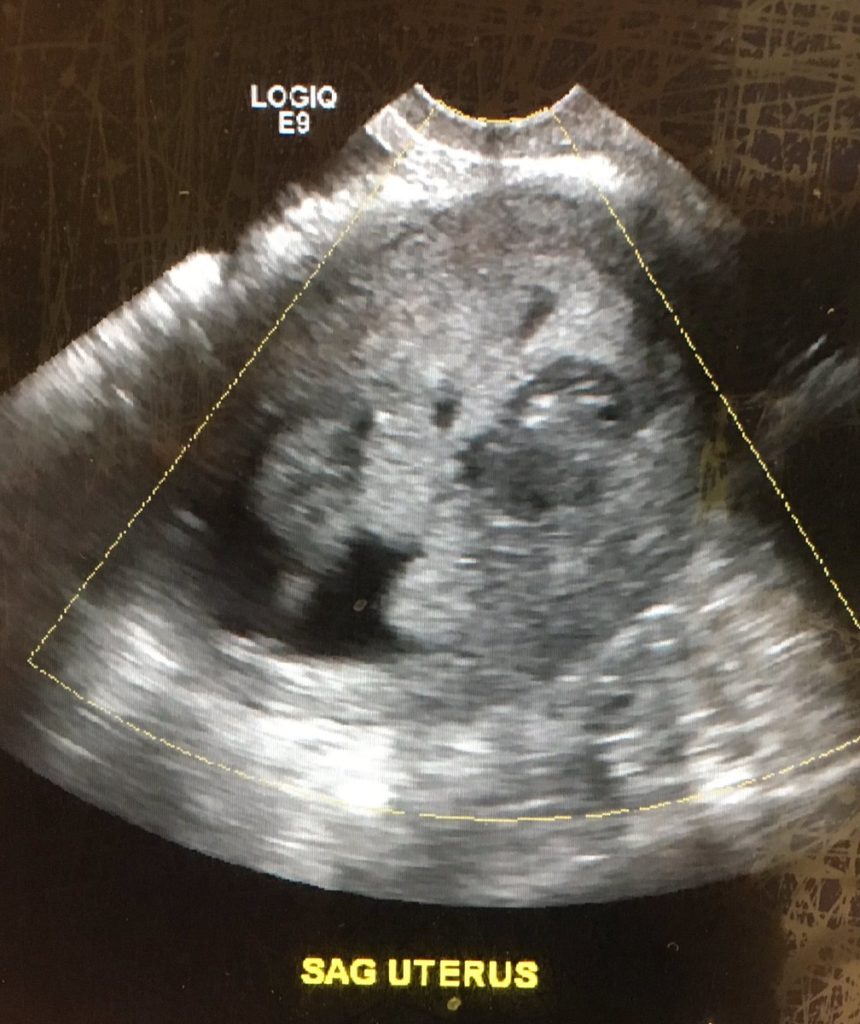 Normal hCG levels by week:
4 weeks: 5 – 426
5 weeks: 18 – 7,340
6 weeks: 1,080 – 56,500
7 – 8 weeks: 7, 650 – 229,000
9 – 12 weeks: 25,700 – 288,000 (PEAK)
13 – 16 weeks: 13,300 – 254,000
************************************************************
<<<<<<<<<<<<<<<<<<<< SPACER >>>>>>>>>>>>>>>>>>>>


Get  Quick Essentials: Emergency Medicine or the A to Z pocket EM Pharmacopoeia, the only drug book designed specifically for the ED
<<<<<<<<<<<<<<<<<<<< END SPACER >>>>>>>>>>>>>>>>>>>
ANSWERS:
What does the image show? A molar pregnancy
What additional concerns should it raise?  A molar pregnancy
****
Case Conclusion: The patient was admitted for a D&C.  Pathology showed placental villi with cystic changes and atypical trophoblasts c/w a complete hydatidiform mole