Knee Injury
Scroll to bottom for case answer and E-meducation 
History: A 44-year-old male was brought to the ED by ambulance for left knee pain after an injury during a wrestling competition.  He is unable to bend or to fully straighten his leg.
Exam: Vital signs were normal.  Physical exam was normal except for a locked knee with a deformity of the knee cap.  Distal pulses were intact.
Initial Concern(s): Fracture, dislocation
Testing: Knee x-rays

QUESTIONS:
What does the case image image show?  
What should you do next?  
Where can I get a quick refresher on this topic?  
Scroll to bottom for case answer and E-meducation 
<<<<<<<<<<<<<<<<<<<<< ADVERTISEMENT & SPACER >>>>>>>>>>>>>>>>>>>>>
***************************************************************************
THE EMERGENCY MEDICINE POCKETBOOK TRIFECTA
Get one of our publications, all designed specifically for Emergency Care Providers:
***************************************************************************
<<<<<<<<<<<<<<<<<<<<<<<<< END SPACER >>>>>>>>>>>>>>>>>>>>>>>>>
ANSWERS:
What does the case image image show?  A lateral patella dislocation
What should you do next?  Attempt manual reduction or call an orthopedist
Where can I get a quick refresher on this topic?  See highlighted area below
****
E-meducation for medical topic of this case: Read the yellow highlighted area of the page-shot below from our #1 title, the Emergency Medicine 1-Minute Consult Pocketbook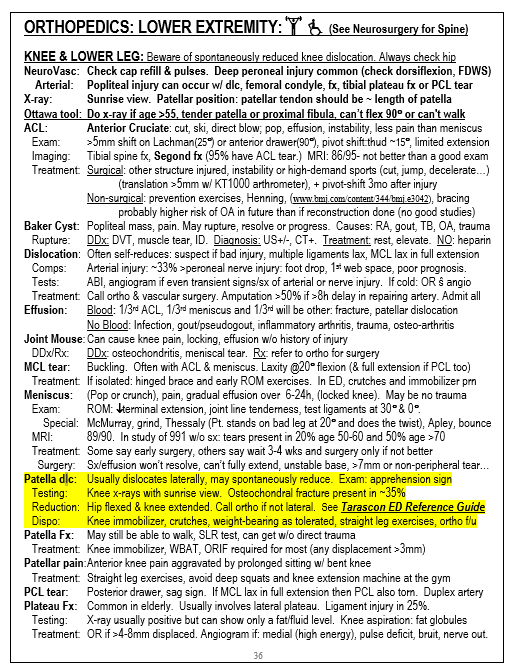 CASE CONCLUSION: We'll just have to see