Knee Pain/Swelling
UNFINISHED CASE: COME BACK LATER 
Scroll to bottom for case answer and E-meducation 
History of Present Illness:
A 66-year-old male presents to the ED for 3 days of gradually worsening left knee pain and swelling. He denies any injury other than a scrape about a week ago.
He denies any fever or other complaints and did not notice that it was red or warm.
He thinks he must have injured it
Vitals & Physical Exam:
Vital signs are normal except for temp of 99.5
Exam is normal except for mild edema and subtle erythema and warmth around the left knee.  There is an abrasion started below the knee that does not appear actually infected itself. Distal pulses are intact.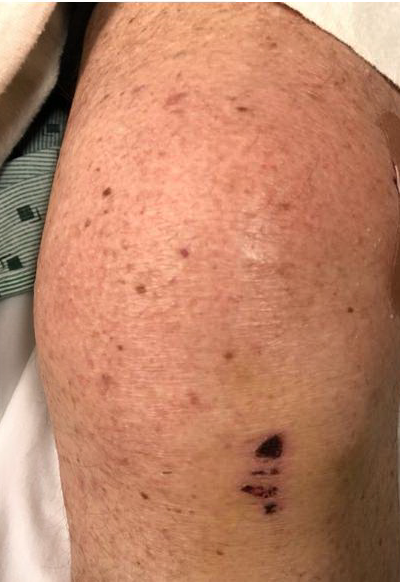 Differential Diagnosis:
Cellulitis
Internal derangement
Gout
Septic joint
Initial Testing:
CBC, HCG and BMP normal.
Knee X-ray shown below.

QUESTIONS:
What do the case images show?  (click two times to enlarge)
What should you do next?  
Where can I get a quick refresher on this topic?  See highlighted area below
SCROLL DOWN FOR ANSWERS & 1-MINUTE CONSULT
<<<<<<<<<<<<<<<<<<<<< ADVERTISEMENT & SPACER >>>>>>>>>>>>>>>>>>>>>
***************************************************************************
THE EMERGENCY MEDICINE POCKETBOOK TRIFECTA
Get one of our publications, all designed specifically for Emergency Care Providers:
***************************************************************************
<<<<<<<<<<<<<<<<<<<<<<<<< END SPACER >>>>>>>>>>>>>>>>>>>>>>>>>
ANSWERS:
What does the case image image show?  A knee effusion.  CRP was 235.  Arthrocentesis which showed 60,850 WBC and 95PMNs
What should you do next?  Call an orthopedist and/or tap the joint
Where can I get a quick refresher on this topic?  See highlighted area below
****
E-meducation for medical topic of this case: Read the yellow highlighted area of the page-shot below from our #1 title, the Emergency Medicine 1-Minute Consult Pocketbook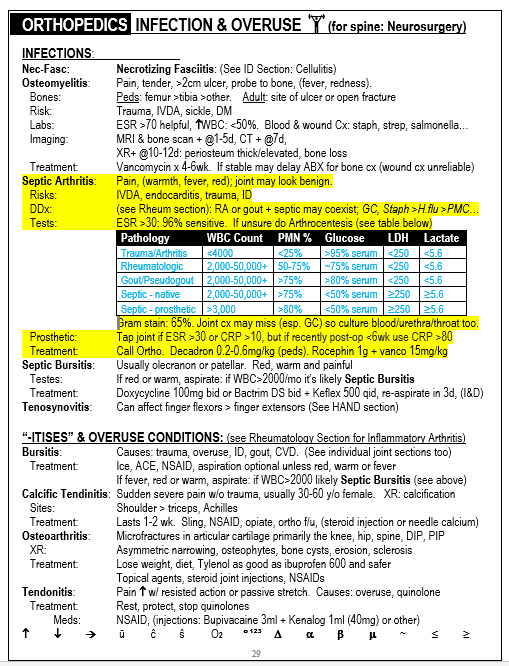 CASE CONCLUSION: We'll just have to see