Cough & Rash
SCROLL DOWN FOR ANSWERS & 1-MINUTE CONSULT
History of Present Illness:
A 32-year-old female presents to the ED for a rash.  She states she has had a routine type of cold for about a week, but the rash started 3 days ago and is getting worse.  She thought it might be an allergic reaction to an OTC cough medicine she is taking (unknown name)
The rash seems to be only on her legs and is a little itchy.
She also complains of body aches, mostly in her legs.  She started taking Advil for the aches and the next day she started having some epigastric pain, which seems better today
She denies any fever, diarrhea, vomiting or other complaints.
Vital Signs & Physical Exam:
Vital signs are normal.
Physical exam is normal except for a stuffy nose and the rash.  The mouth is clear to inspection and the lungs are clear to auscultation without rales or wheezes.
The rash is shown below.  It was on both legs, but worse on the right.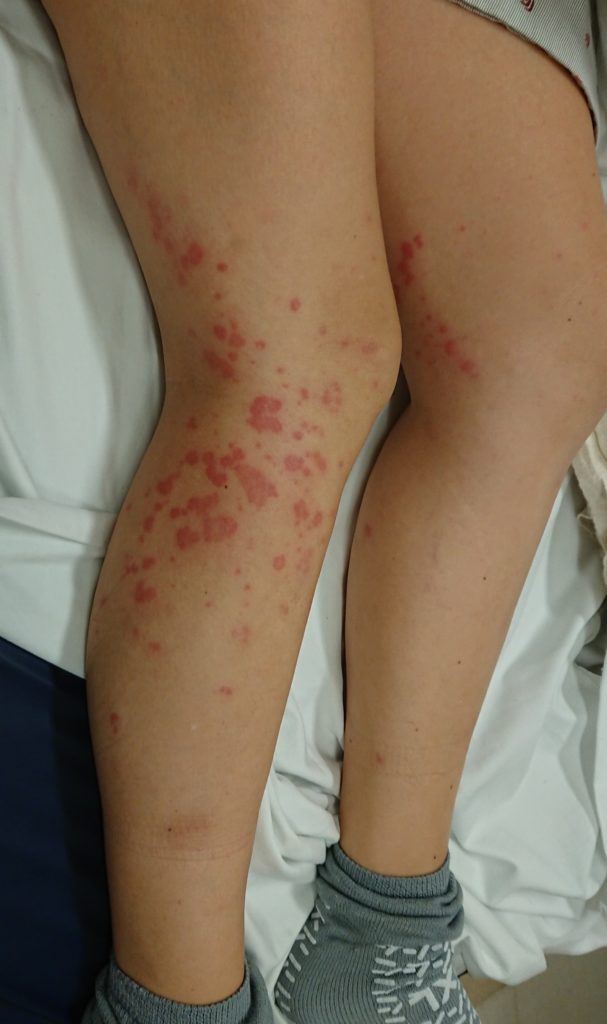 Initial Differential Diagnosis:
Hives
Drug rash
Meningococcemia
Initial Diagnostic Testing:
CBC, PT, PTT and BMP are normal
CXR is normal
QUESTIONS:
What does the case image show?  (click two times to enlarge)
What should you do next?  
Where can one get a quick refresher on this topic?  
SCROLL DOWN FOR ANSWERS & 1-MINUTE CONSULT
<<<<<<<<<<<<<<<<<<<<< ADVERTISEMENT & SPACER >>>>>>>>>>>>>>>>>>>>>
***************************************************************************
THE EMERGENCY MEDICINE POCKETBOOK TRIFECTA
Get one of our publications, all designed specifically for Emergency Care Providers:
***************************************************************************
<<<<<<<<<<<<<<<<<<<<<<<<< END SPACER >>>>>>>>>>>>>>>>>>>>>>>>>
ANSWERS:
What does the case image image show?  The image shows dependent palpable purpura
What should you do next?  Send CBC and coags to make sure platelets/PT/PTT are all normal.  Send UA and chemistry to make sure there are no renal complications of HSP present
Where can one get a quick refresher on this topic?  See yellow highlighted area below from purple book above…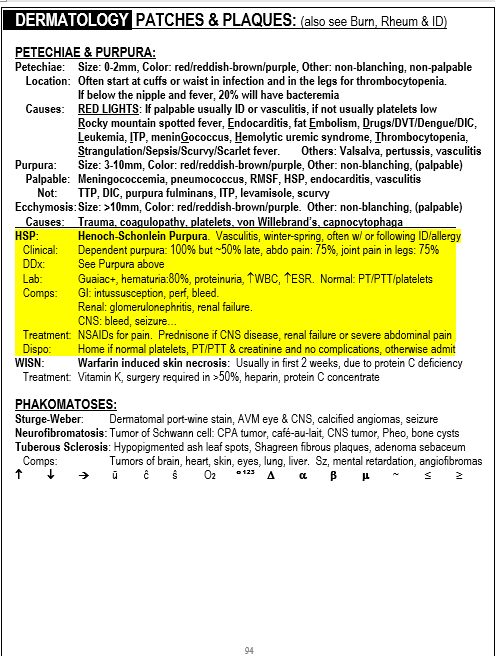 CASE CONCLUSION: Sent home on with Tylenol and Benadryl PRN.  She states the next day was worse, but after that she started to improve.