Finger Papule
SCROLL DOWN FOR ANSWERS & 1-MINUTE CONSULT
History of Present Illness:
A 4-year-old male is brought to the ED for a cough.
Workup is negative but the mom also asks you to look at his rash, which he has had for a few months.  There are multiple lesions on the butt cheek and one of the finger.  Lesions have been present for many weeks
Vital Signs & Physical Exam:
Vital signs are normal except for fever from the viral URI.
Physical exam is normal except for a runny nose and the skin lesions
See finger lesion below.  Lesions on butt looked similar but there were about 15 of them clustered together.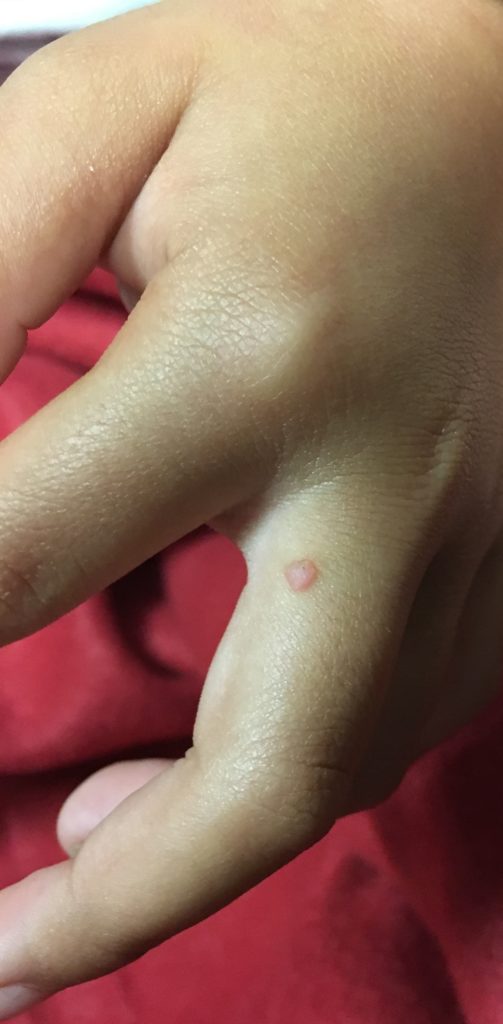 QUESTIONS:
What does the case image show?  (click two times to enlarge)
What should you do next?  
Where can one get a quick refresher on this topic?  
SCROLL DOWN FOR ANSWERS & 1-MINUTE CONSULT
<<<<<<<<<<<<<<<<<<<<< ADVERTISEMENT & SPACER >>>>>>>>>>>>>>>>>>>>>
***************************************************************************
THE EMERGENCY MEDICINE POCKETBOOK TRIFECTA
Get one of our publications, all designed specifically for Emergency Care Providers:
***************************************************************************
<<<<<<<<<<<<<<<<<<<<<<<<< END SPACER >>>>>>>>>>>>>>>>>>>>>>>>>
ANSWERS:
What does the case image image show?  The image shows Molluscum Contagiosum
What should you do next?  Reassure and refer to their pediatriacian
Where can one get a quick refresher on this topic?  See yellow highlighted area below from purple book above…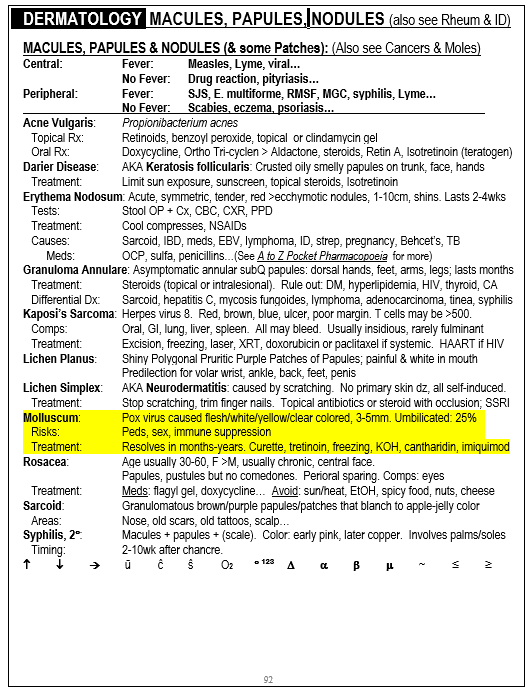 CASE CONCLUSION: We'll just have to see