Hypotension
A 68 year-old female with a history of diabetes, renal disease and remote pacemaker placement for heart block presents to the ED with 36 hours of weakness, near syncope and occasional vomiting. She denies chest pain, fever, trouble breathing or any other complaints.
On physical exam she is afebrile with a pulse of 126 and a blood pressure of 81/53, satting 100% on room air. She appears adequately hydrated and has clear lungs and a non-focal exam.
Her labs including CBC, BMP, troponin-i are all unremarkable except for a positive UA, with 10-25 WBC per hpf.
Her EKG is shown below.
How would you initiate treatment?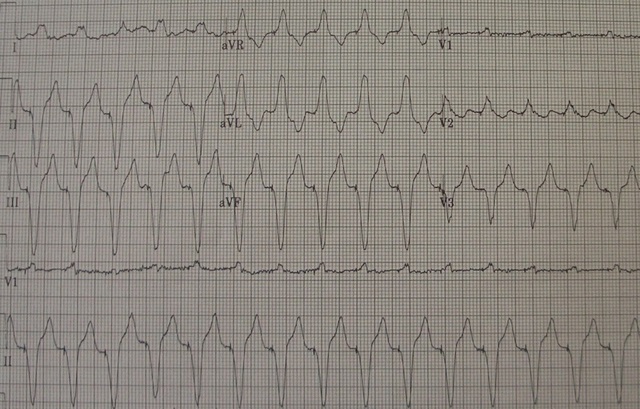 SCROLL DOWN FOR CASE ANSWER AND TO MAKE COMMENTS
************************************************************
<<<<<<<<<<<<<<<<<<<< SPACER >>>>>>>>>>>>>>>>>>>>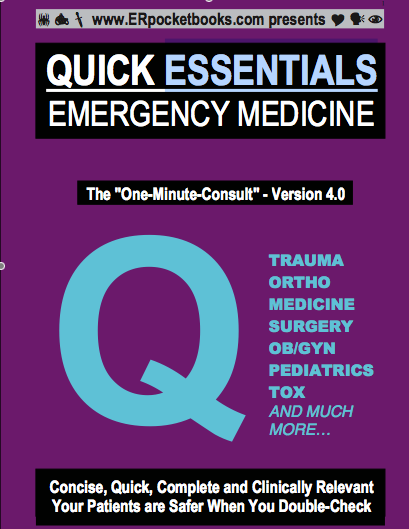 Get the A to Z Pharmacopoeia, Cornucopia: Emergency Medicine,  Quick Essentials: Emergency Medicine or one of our other books or CDs.
<<<<<<<<<<<<<<<<<<<< END SPACER >>>>>>>>>>>>>>>>>>>
***********************************************************
ANSWER

: PACEMAKER MEDIATED TACHYCARDIA

Antibiotic treatment was initiated for presumed urosepsis despite neither fever nor leukocytosis. Though there was no clear evidence of dehydration, IV fluids were administered for the hypotension, history of vomiting and possible sepsis. When blood pressure remained unchanged, pacemaker interrogation was expedited for possible pacemaker mediated tachycardia, which turned out to be the correct diagnosis. The pacer rep. reprogrammed the unit and all vital signs immediately normalized. Here is her repeat EKG.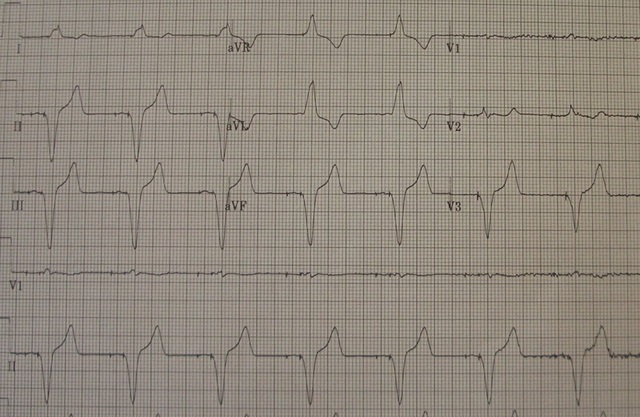 Symptoms:  Pre-syncope, palpitations, CP, low BP.  Rate usually only 110-130
DDx:  Atrial arrhythmia with ventricular capture, sinus-tach.
Dx:  Pacer interrogation: magnet should stop.
Rx:  Apply a magnet (beware of R on T), reprogram pacer (call rep to ED), (AV node blockers)
Dispo: Consider admission for hypotension or chest pain during tachycardia ( to r/o ACS)
****
TELL A FRIEND: Cut & paste this link, ERPocketBooks.com into an e-mail and forward.
****
Comments