Swollen Eye
UnFiNiShEd CaSe CoMe BaCk LaTeR
History of Present Illness: A woman in her 40's with a history of only seasonal allergies and so significant family history presents to the UCC with 2 months of intermittent bilateral eye itching and discharge and one day of eye discomfort.  She says her eye seems swollen today as well.  No other complaints.
Vital Signs & Physical Exam:
Vital signs are normal.  Exam is normal except for image below
Physical exam is otherwise normal except for

Initial Diagnostic Testing:
CBC: normal
Chem 7: normal
What is the most likely diagnosis?
A) Preseptal cellulitis
B) Allergic conjunctivitis
C) Sty
D) Horner's
SCROLL DOWN FOR ANSWERS & 1-MINUTE CONSULT
<<<<<<<<<<<<<<<<<<<<< ADVERTISEMENT & SPACER >>>>>>>>>>>>>>>>>>>>>
****************************************************************************
THE EMERGENCY MEDICINE POCKETBOOK TRIFECTA
Get one of our publications, all designed specifically for Emergency Care Providers:
***************************************************************************
<<<<<<<<<<<<<<<<<<<<<<<<< END SPACER >>>>>>>>>>>>>>>>>>>>>>>>>
ANSWER:
A) Preseptal cellulitis.  No redness seen
B) Allergic conjunctivitis. No discharge seen
C) Sty: no mass seen
D) Horner's: CORRECT, however no myosis  noted, even in dim light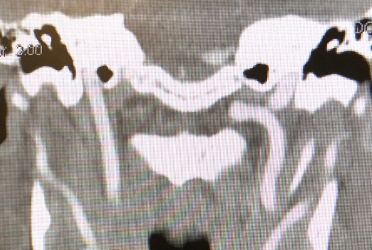 CASE CONCLUSION:
CASE LESSONS: