Back Injury
A 35 year-old male slips and falls rushing down hardwood stairs wearing only socks (He should have read Think Twice: More Lessons from the ER). He is unable to walk because of right-sided buttock and low back pain that radiates up his back and down to his thigh when he tries to stand. At rest he only complains of buttock pain.
On exam he is tender in the right low back and right gluteal area.  His neurovascular exam is intact.
X-rays of the pelvis and hip are normal so you order spinal films. The lateral view is normal. Below is the AP view.
Anything wrong? (Click on image to enlarge and look carefully)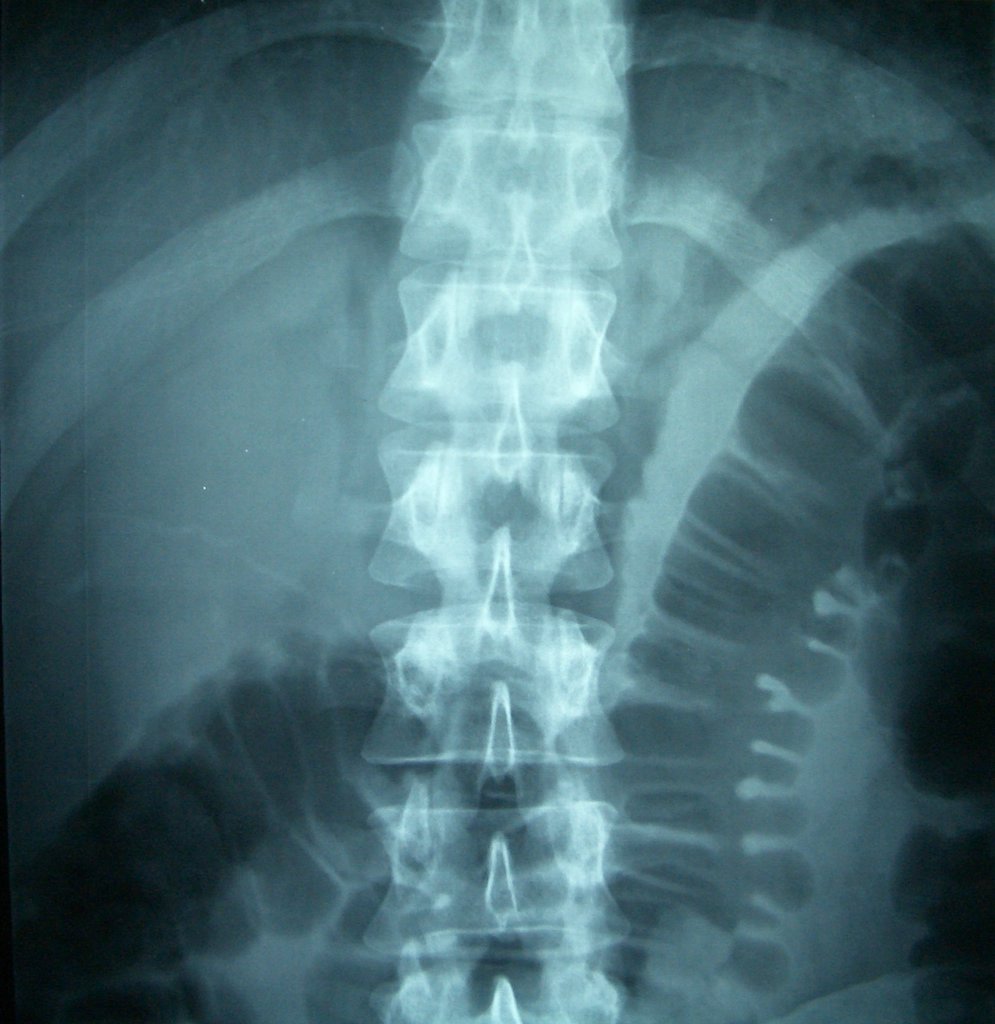 SCROLL DOWN FOR CASE ANSWER AND TO MAKE COMMENTS
************************************************************
<<<<<<<<<<<<<<<<<<<< SPACER >>>>>>>>>>>>>>>>>>>>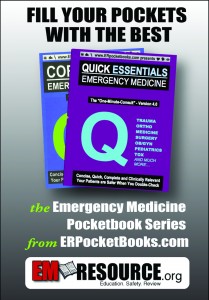 Get the A to Z Pharmacopoeia,  Quick Essentials: Emergency Medicine or one of our other books or CDs.
<<<<<<<<<<<<<<<<<<<< END SPACER >>>>>>>>>>>>>>>>>>>
***********************************************************
*******
ANSWER: There is a fracture of the right lateral spinal process or the first lumbar vertebra. Since there was no compression fracture and no gross hematuria, no further testing was indicated. The patient received crutches to aid in ambulation and a prescription for Percocet. On follow-up he was doing much better. He saw an orthopedist the following week who, like the hospital radiologist, initially missed the fracture.
****
THORACIC & LUMBAR SPINE TRAUMA: From QUICK ESSENTIALS: EMERGENCY MEDICINE
UNSTABLE:  2 of the 3 spinal columns involved. Higher risk of neuro compromise.
Burst Fx: Can have retropulsion into spinal canal.  Mid body
Chance Fx:  Mechanism MVA lap belt.  Fx in horizontal plane, unstable, neuro deficit 15-50%
Other:   Kyphosis >20°, translation >2mm, shortening >50%, articular process fx, dislocation
STABLE:   Neuro compromise unlikely.  Can go home after consult if pain controlled and consult done.
To go home: CT &/or Flexion-extension films, PVR & rectal tone all OK, no ileus, has f/u
Simple Fx's: Can be associated with ligament & rarely nerve injury.  Do CT + Flex/ex to r/o other injury
Lateral Process Fracture:  Do flexion/extension films.  Associated with renal injury: do UA
Spinous Process Fracture: Do flexion/extension films.  Be certain it is an isolated injury
Compression Fracture: Anterior body <50% loss of height
Rx: Consult spine surgeon and/or IR, narcotics, calcitonin, early vertebroplasty if acute
****
TELL A FRIEND: Cut & paste this link, ERPocketBooks.com into an e-mail and forward.
****
Comments