Near Syncope after a Jab
UnFiNiShEd CaSe CoMe BaCk LaTeR
History:  A man in his 20's comes to the UCC for body aches and feeling light headed.  Symptoms started about 3 hours after his second COVID vaccine and are non-progressive at this point.  He was told he needs a doctor's note to return to work.  He denies syncope, palpitations, chest pain, SOB, fever, cough or other complaints.
Exam: Vital signs are normal except slightly elevated BP.  He is not orthostatic.  Exam is normal
An EKG is done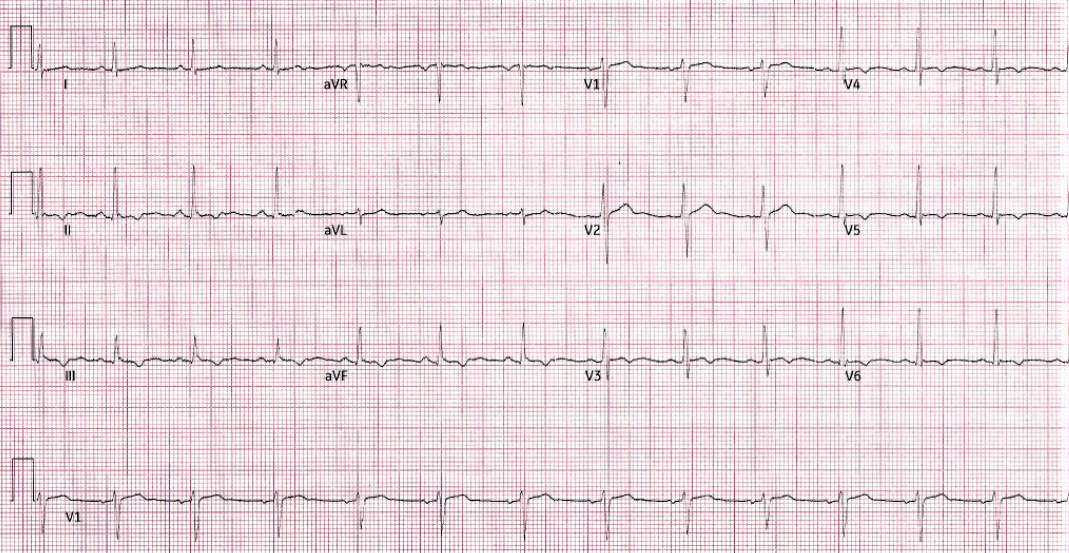 Computer Read: NSR at 78, TWA consider inferior/anterolateral ischemia
What is the most likely cause of the EKG findings in this patient?
A) Cardiomyopathy
B) Myocarditis
C) Acute coronary syndrome
D) PE
"BRADY" DOWN FOR THE EKG ANALYSIS & 1-MINUTE CONSULT
<<<<<<<<<<<<<<<<<<<< ADVERTISEMENT & SPACER >>>>>>>>>>>>>>>>>>>>
******************************************************************************
THE EMERGENCY MEDICINE POCKETBOOK TRIFECTA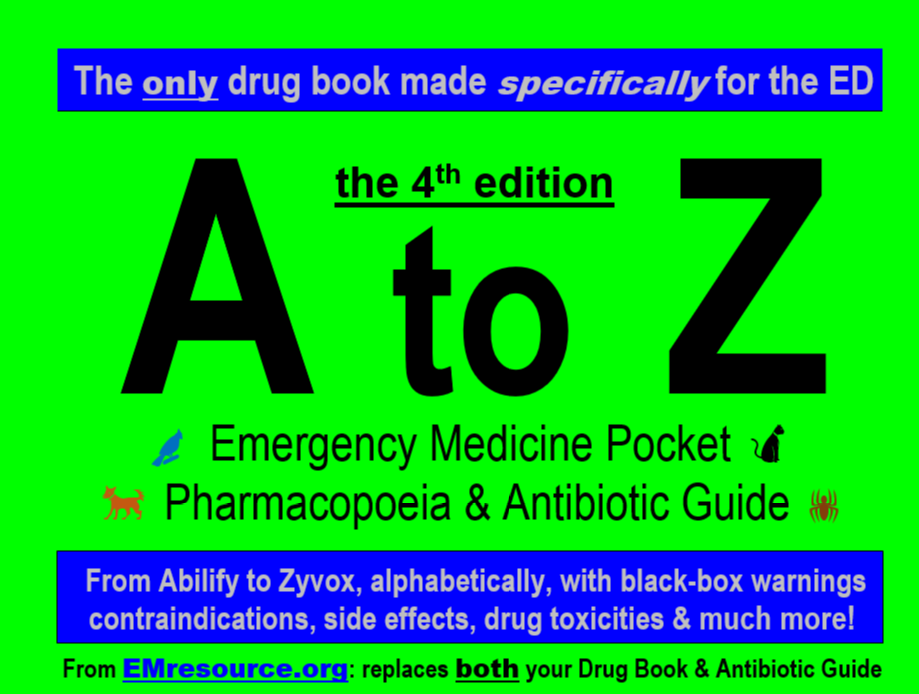 Get one of our publications, all designed specifically for Emergency Care Providers:
*****************************************************************************
<<<<<<<<<<<<<<<<<<<<<<<<< END SPACER >>>>>>>>>>>>>>>>>>>>>>>>>
QUIZ ANSWER, EKG ANALYSIS, CASE OUTCOME, 1-MINUTE CONSULT & CASE LESSONS: 
1) Quiz Answer:
A) Cardiomyopathy – possible,
B) Myocarditis – possible, though unlikely due to no chest pain
C) Acute coronary syndrome – unlikely due to age, especially as no chest pain uncommon presentation in young patients
D) PE – unlikely because if large enough to cause near syncope would usually also cause at least soft vital signs
2) EKG/Echo analysis (check out more great EKG's from Dr. Stephen W. Smith of Dr. Smith's ECG Blog): The differential of T-wave inversion may include the following:
Conduction:   ARVC, Brugada, WPW, BBB, LVH (in 1, AVL, V6 >V4: hockey-stick shape)
Ischemic:         Wellens reperfusion (terminal T-inversion then full T inversion), prior MI
Other bad:      Myocarditis/pericarditis, large PE, CNS catastrophe, ­high/low K+
Other benign: Hyperventilation, post-prandial, primary, pacer, MVP
Normal:           Juvenile T-inversion in V1-3 in young males or in women age <45
3) Case Conclusion:  Troponin-i was <0.03 x 2  (99% URL <0.030: troponin-i immunoassay, Abbott laboratories).  He felt he was improving.  Cardiology was consulted and recommended outpatient echo.
4) 1-Minute Consult from the Emergency Medicine 1-Minute Consult Pocketbook & Smartphone app on the topic for this case: See highlighted areas of sample page below.

5) Case Lessons: 
Always
Never
6) OMI Manifesto: If you haven't yet read the OMI manifesto, you should.  It's long but everyone should know at least the basics of why current STEMI criteria miss about 1/3 of occlusion MI's that would benefit from emergent reperfusion and how you can pick up those patients and get them the care they need. for more information CLICK HERE