Vomiting Yesterday*
History: A man in his mid 60's was sent to the urgent care by his PCP for 6 hours of vomiting that had occurred the day prior.  He has had no further vomiting today but occasionally still feels a bit nauseous.  He denies any fever, diarrhea, abdominal or chest discomfort, SOB, weakness other complaints.
Exam: Vital signs are normal.  Other than obesity his physical exam is normal including clear lungs, no edema and no abdominal tenderness
An EKG is done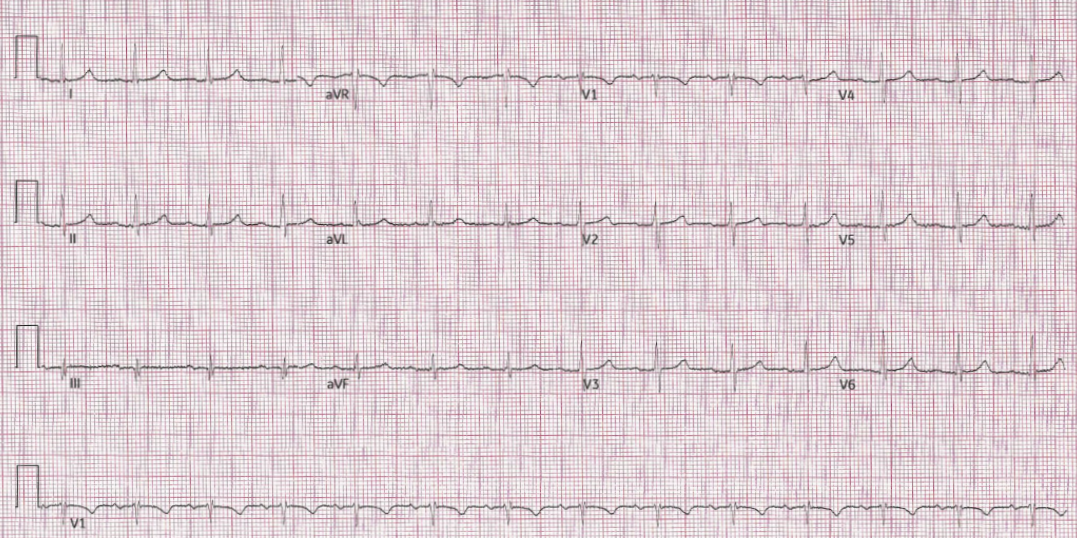 Computer Read: NSR at 82, Normal ECG
What is the most likely cause of the EKG findings in this patient?
A) Hyperkalemia
B) Hyponatremia
C) Acute coronary syndrome
D) Hypokalemia
"BRADY" DOWN FOR THE EKG ANALYSIS & 1-MINUTE CONSULT
<<<<<<<<<<<<<<<<<<<< ADVERTISEMENT & SPACER >>>>>>>>>>>>>>>>>>>>
******************************************************************************
THE EMERGENCY MEDICINE POCKETBOOK TRIFECTA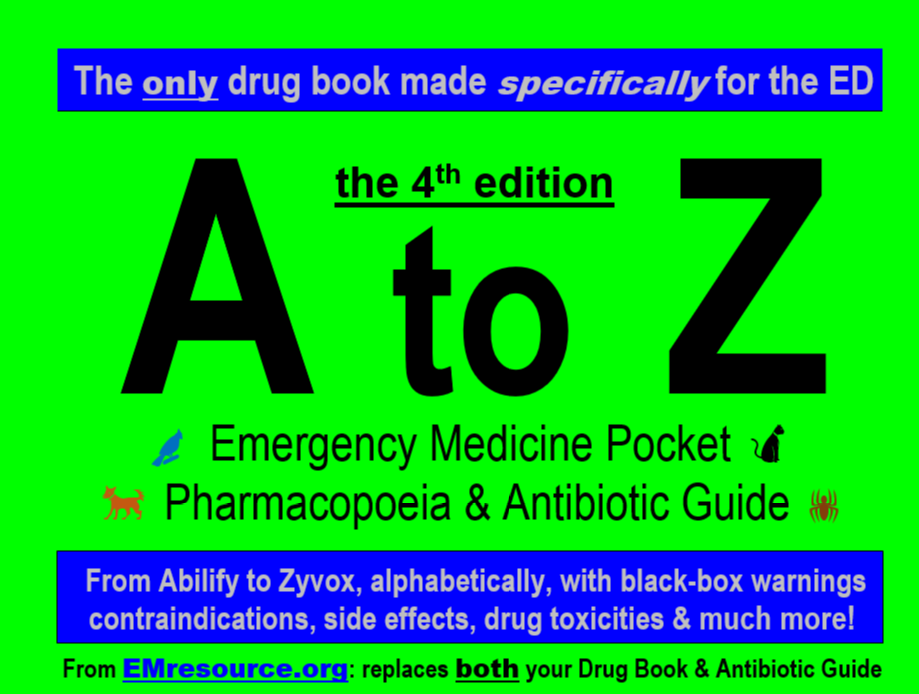 Get one of our publications, all designed specifically for Emergency Care Providers:
*****************************************************************************
<<<<<<<<<<<<<<<<<<<<<<<<< END SPACER >>>>>>>>>>>>>>>>>>>>>>>>>
QUIZ ANSWER, EKG ANALYSIS, CASE OUTCOME, 1-MINUTE CONSULT & CASE LESSONS: 
1) Quiz Answer:
A) Hyperkalemia – findings not seen.  This is a normal EKG
B) Hyponatremia – he had some, but it doesn't cause EKG changes
C) Acute coronary syndrome – EKG can be normal in 10% of ACS, especially after symptoms have resolved or in between episodes
D) Hypokalemia – findings not seen
2) EKG analysis (check out more great EKG's from Dr. Stephen W. Smith of Dr. Smith's ECG Blog): This ECG is normal, but remember that one can have a normal ECG in ACS, especially if it is recorded when the patient is symptom free.  Do not convince yourself a patient doesn't have ACS just because the EKG is normal or for that matter just because the troponin is normal.  Consider all aspects of the presentation and don't over-focus on test results.  It is safest to enter a patient's room expecting pitfalls and subtle presentations.  The first question I typically ask of a chest pain patient is if they are currently having pain.  If so I may need to repeat the EKG soon.  The second question is how many minutes the episodes have been lasting.  I go in assuming they last 5-15 minutes and my EKG and troponin will be normal so I don't miss unstable angina.  If the patient tells me the episode or episodes last hours not minutes, then I use that information appropriately, but I never start off assuming they are having ongoing constant chest pain.
3) Case Conclusion:  Troponin-i was 0.12  (99% URL <0.030: troponin-i immunoassay, Abbott laboratories).  Lipase, LFT's, abdominal US and CBC were normal.  Sodium was 127 likely due to medications.  Serial troponins were all elevated and had a rise and fall consistent with ACS but peaked at only 0.153.  An echo was essentially normal except for a trace pericardial effusion.  An outpatient stress test was recommended by cardiology who felt the troponin elevation was demand ischemia caused by vomiting.   I am skeptical of this since no other cause of vomiting was determined.  It is possible the hyponatremia was worse and was the cause of vomiting.  I think it was more likely that he had a tiny MI.
4) 1-Minute Consult from the Emergency Medicine 1-Minute Consult Website on the topic for this case
***
5) Case Lessons: You can have ACS with only GI symptoms and with a normal ECG
6) OMI Manifesto: If you haven't yet read the OMI manifesto, you should.  It's long but everyone should know at least the basics of why current STEMI criteria miss about 1/3 of occlusion MI's that would benefit from emergent reperfusion and how you can pick up those patients and get them the care they need. for more information CLICK HERE