ACS, GERD or both?
UnFiNiShEd CaSe CoMe BaCk LaTeR
"BRADY" DOWN FOR THE REST
EP History:  A 42-year-old male with a history of hypertension and polysubstance use presents with 3 months of intermittent central and left-sided chest pressure that is exertional and is associated with shortness of breath. Episodes occur after he walks a couple blocks and then resolve after resting for a couple minutes. In the past week these episodes are happening more frequently and are more severe
Hospitalist MDM: Patient is currently in drug and alcohol treatment center ordered by the law. Patient was evaluated emergency room with a negative troponin and EKG shows sinus rhythm without any ST-T changes. Patient was a smoker but quit.   Also reported symptoms of severe reflux disease. He is requesting specifically to have a prescription for PPI.    I do not believe patient has angina. I think patient symptoms related to his reflux disease. Patient also is some anxious side. I recommend the ER physician to repeat his a troponin. If negative discharge patient home with a PPI.
Exam: Vital signs are normal.   Exam is normal.
Initial differential diagnosis: Tachydysrhythmia, Electrolyte abnormality, Pulmonary Embolism, Acute Coronary Syndrome
Initial EKG: normal.  Repeat EKG after excercising until developing pain below
PLACE SCREEN SHOT HERE
PLACE HIGH DPI IMAGE IN BRADY-CARDIA WORD DOC
COMPUTER EKG READ:
Atrial flutter with RVR
minimal ST depression
Do you agree with the computer?  What should you do next?
"BRADY" DOWN FOR THE EKG ANALYSIS & 1-MINUTE CONSULT
<<<<<<<<<<<<<<<<<<<< ADVERTISEMENT & SPACER >>>>>>>>>>>>>>>>>>>>
******************************************************************************
THE EMERGENCY MEDICINE POCKETBOOK TRIFECTA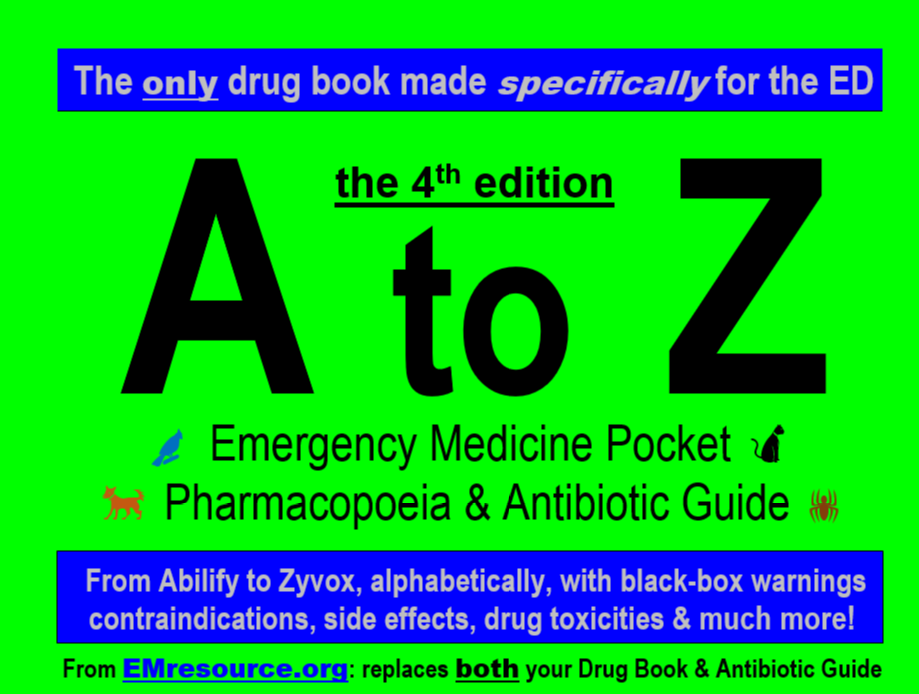 Get one of our publications, all designed specifically for Emergency Care Providers:
*****************************************************************************
<<<<<<<<<<<<<<<<<<<<<<<<< END SPACER >>>>>>>>>>>>>>>>>>>>>>>>>
EKG ANALYSIS, CASE OUTCOME, 1-MINUTE CONSULT & CASE LESSONS: 
1) EKG analysis (check out more great EKG's from Dr. Stephen W. Smith of Dr. Smith's ECG Blog): The computer read is
2) Case Conclusion:  tropoinin-i was >0.01 (99% URL <0.030: troponin-i immunoassay, Abbott laboratories).  The patient was admitted and had a very positive stress test
3) 1-Minute Consult (from the Emergency Medicine 1-Minute Consult Pocketbook) on the topic for this case:
PLACE PAGE HERE
4) Case Lessons: 
Always
Never