Body Aches & Vomiting
UnFiNiShEd CaSe CoMe BaCk LaTeR
"BRADY" DOWN FOR THE REST
A woman in her 50s with a history of HTN and fibromyalgia presents to the ED for vomiting, generalized weakness and body aches for 24 hours.     She denies syncope, palpitations, chest pain, SOB, fever, diarrhea or other complaints.
Exam: Vital signs are normal except for a pulse of .   Exam is otherwise normal.
Initial differential diagnosis: Tachydysrhythmia, Electrolyte abnormality, fibromyalgia, dehydration
Initial EKG (low resolution):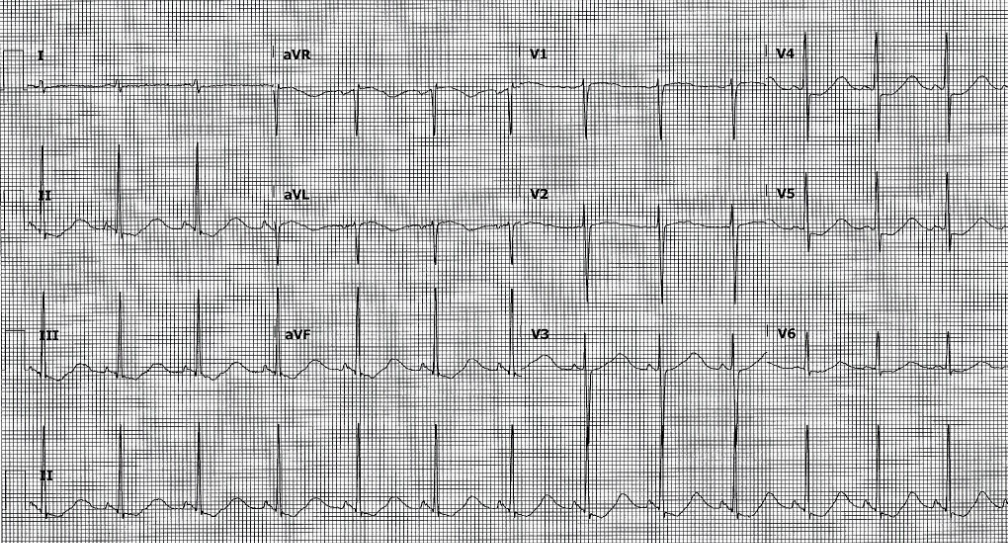 COMPUTER EKG READ:
SINUS RHYTHM
BORDERLINE RIGHT AXIS DEVIATION
NONSPECIFIC ST & T-WAVE ABNORMALITY
Do you agree with the computer?  What should you do next?
"BRADY" DOWN FOR THE EKG ANALYSIS & 1-MINUTE CONSULT
<<<<<<<<<<<<<<<<<<<< ADVERTISEMENT & SPACER >>>>>>>>>>>>>>>>>>>>
******************************************************************************
THE EMERGENCY MEDICINE POCKETBOOK TRIFECTA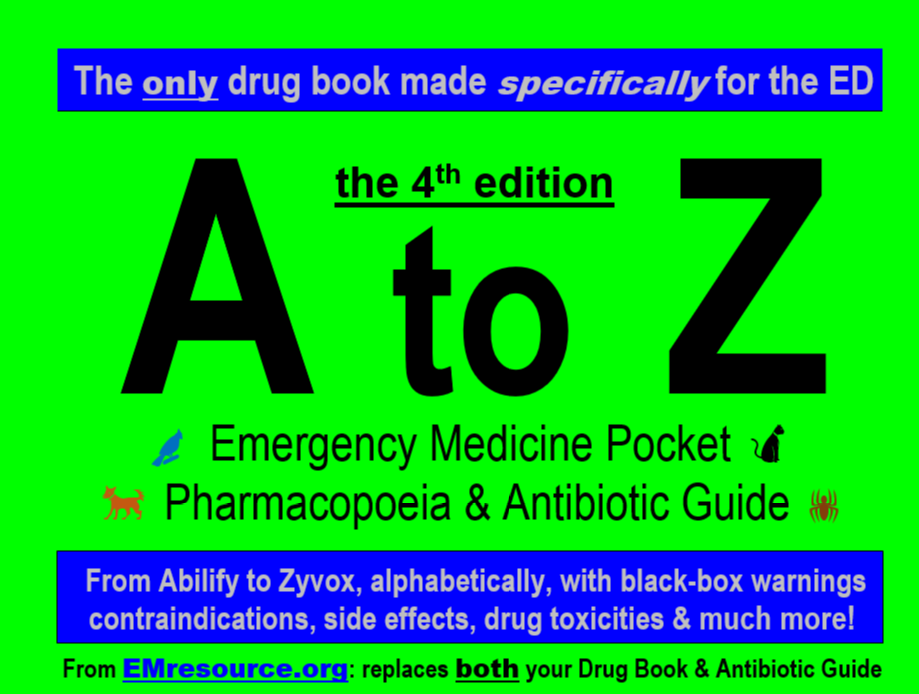 Get one of our publications, all designed specifically for Emergency Care Providers:
*****************************************************************************
<<<<<<<<<<<<<<<<<<<<<<<<< END SPACER >>>>>>>>>>>>>>>>>>>>>>>>>
EKG ANALYSIS, CASE OUTCOME, 1-MINUTE CONSULT & CASE LESSONS: 
1) EKG analysis (check out more great EKG's from Dr. Stephen W. Smith of Dr. Smith's ECG Blog): The computer read is correct but incomplete.  The QRS is mostly downgoing in AVL and isoelectric in lead I so the axis is around 90 degrees.  There is ST depression in V4-V6 and down-up T-waves in the inferior leads, consistent with non-specific changes.  The calculated QTc was 427ms but it looks much longer, with the peak of the T-wave occurring beyond the midpoint of the RR interval.  Given the patient's clinical presentation and this EKG, hypokalemia is the most likely cause, likely caused by her vomiting causing a hypokalemic-hypochloremic metabolic alkalosis, by a diuretic used to treat here hypertension, or by both.
2) Case Conclusion:  Potassium was 1.7, magnesium was normal bicarb was elevated at 33 and Chloride was low at 88.  The patient was on Lasix, a known cause of hypokalemia.  She was given IV and PO potassium and admitted to the hospital overnight.  Benadryl was used for nausea/vomiting as most of the other available anti-emetics, including Zofran, can prolong the QT interval.
3) 1-Minute Consult (from the Emergency Medicine 1-Minute Consult Pocketbook) on the topic for this case:

4) Case Lessons: 
Always
Never