Chest Pain after a Nap
"BRADY" DOWN FOR THE REST
History: A 90-ish–year-old female with a history of pacer for heart block but no CAD presents to the ED for 45 minutes of non-radiating, non-pleuritic chest pain that woke her from an afternoon nap.  She denies syncope, palpitations, SOB, fever, cough or other complaints.  Nitro by medics helped slightly if at all.
Exam: Vital signs are normal.   Exam is otherwise normal.
Initial differential diagnosis: GERD, Acute Coronary Syndrome, gallstones
Initial EKG: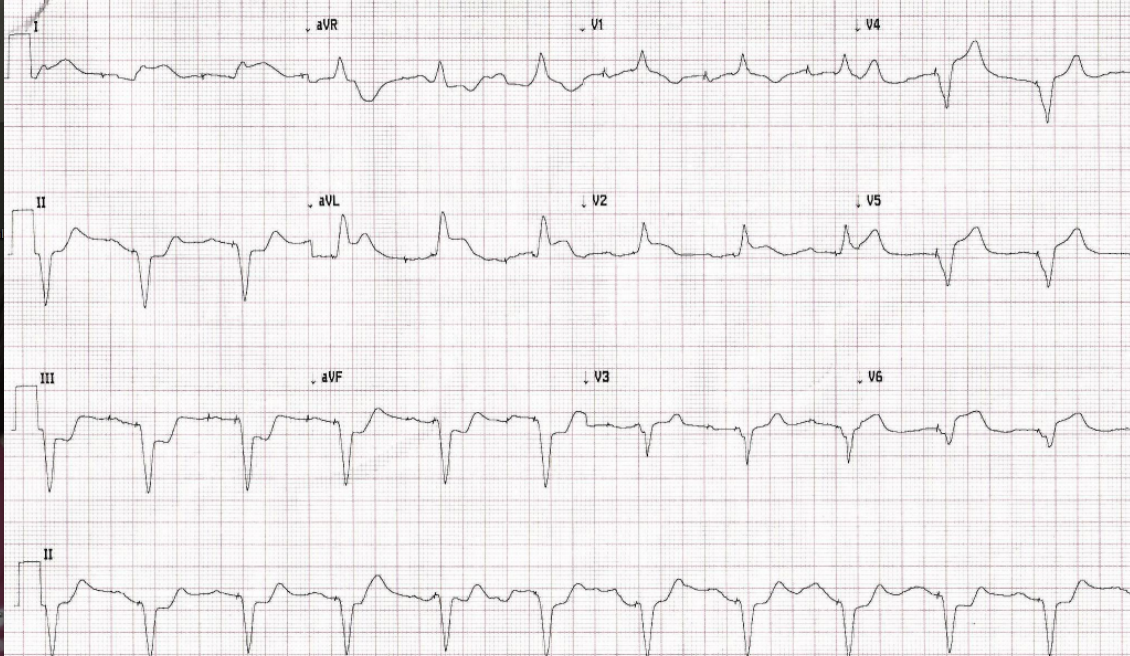 COMPUTER EKG READ:
Electronic AV pacemaker
Abnormal rhythm ECG
Do you agree with the computer?  What should you do next?
"BRADY" DOWN FOR THE EKG ANALYSIS & 1-MINUTE CONSULT
<<<<<<<<<<<<<<<<<<<< ADVERTISEMENT & SPACER >>>>>>>>>>>>>>>>>>>>
******************************************************************************
THE EMERGENCY MEDICINE POCKETBOOK TRIFECTA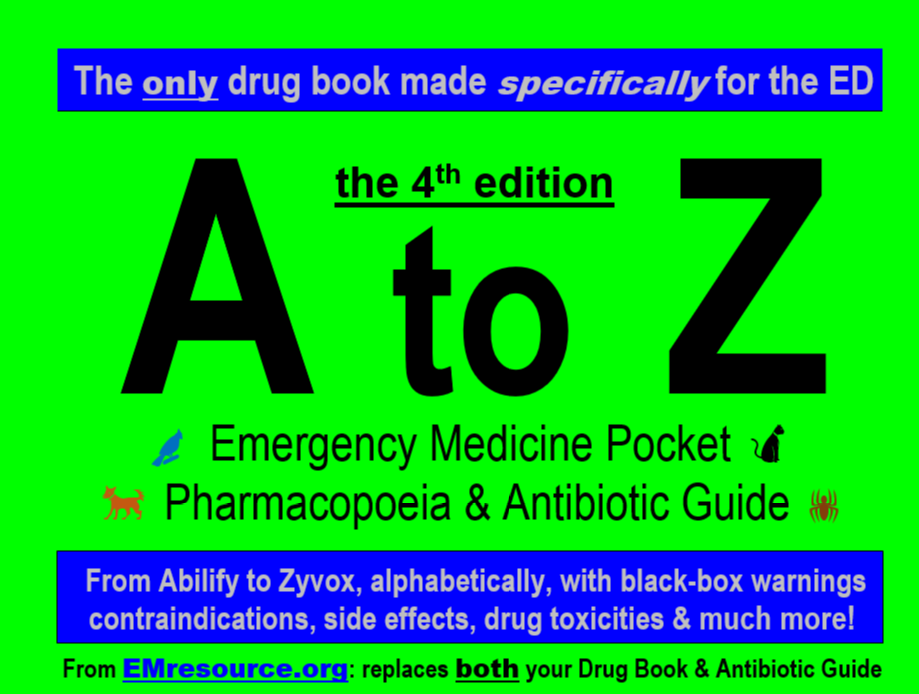 Get one of our publications, all designed specifically for Emergency Care Providers:
*****************************************************************************
<<<<<<<<<<<<<<<<<<<<<<<<< END SPACER >>>>>>>>>>>>>>>>>>>>>>>>>
EKG ANALYSIS, CASE OUTCOME, 1-MINUTE CONSULT & CASE LESSONS: 
1) EKG analysis (check out more great EKG's from Dr. Stephen W. Smith of Dr. Smith's ECG Blog): The computer read is incomplete.  This patient is having a STEMI by all of the Smith-modified Sgarbossa criteria.  There is concordant ST elevation >1mm in multiple leads: I, aVL, V2.  There is also concordant ST depression >1mm in leads III and aVF and perhaps lead II.  Finally, there is discordant ST elevation >25% of the QRS height in leads V5 and V6 and perhaps also V4.
2) Case Conclusion:  The cardiologist declined to take the patient to the cath lab based on age and could not come to the ED to see the patient.  He did call a second cardiologist to see the patient.  He did a bedside echo and recommended heparin but no TPA.   Tropoinin-i was <0.01 about 1 hour after pain onset (99% URL <0.030: troponin-i immunoassay, Abbott laboratories).  The 2nd troponin drawn 2 hours after onset was 0.07 and 5 hours after onset it was 2.1.  The peak troponin was >77.0.
3) 1-Minute Consult (from the Emergency Medicine 1-Minute Consult Pocketbook) on the topic for this case:

4) Case Lessons: 
Know the criteria identifying STEMI in LBBB and in RBBB.  For most pacers there will be a LBBB like pattern.  This one has more of a RBBB pattern however.
Either the traditional Sgarbossa or the Smith-modified Sgarbossa may be used.  The Smith modification is rather than using 5mm of appropriate discordance as a cut-off for criteria 3, >25 % height of the QRS is instead used.