Chest pain for 4 days*
History: A 52-year-old male with no past medical history presents to the ED for 6 days of chest pain.  He was seen in your ED 2 days ago and sent home because his serial troponins were negative with four days of pain, which "rules out coronary disease" according to your colleague.  When you get a better history it reveals that he has actually had intermittent pain for with 2-3 episodes per day, each lasting 2-5 minutes, but tonight it has been ongoing for over an hour.  He denies syncope, SOB, nausea, sweats or other complaints.
Exam: Vital signs are normal except for a pulse of 110.   Exam is otherwise normal.
Initial differential diagnosis: Tachydysrhythmia, Electrolyte abnormality, Pulmonary Embolism, Acute Coronary Syndrome
Initial EKG: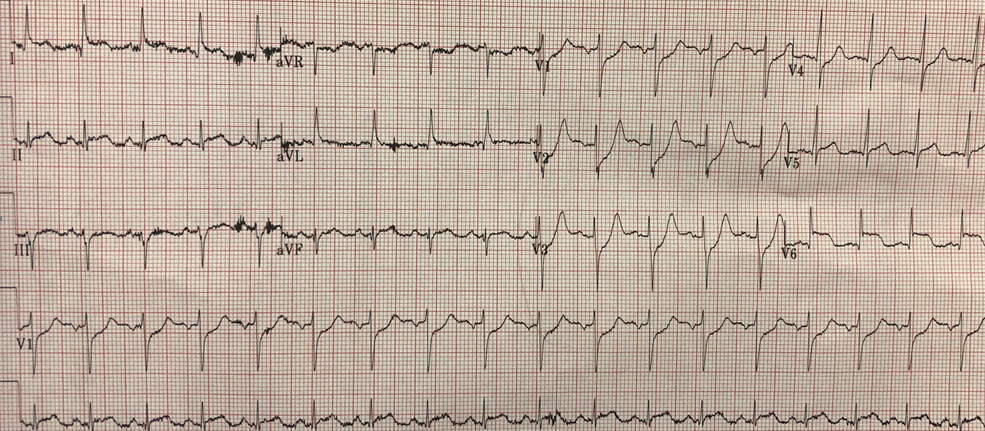 COMPUTER EKG READ:
Sinus tachycardia
Inferior infarct, possibly acute
Lateral injury pattern
Do you agree with the computer?  What should you do next?
"BRADY" DOWN FOR THE EKG ANALYSIS & 1-MINUTE CONSULT
<<<<<<<<<<<<<<<<<<<< ADVERTISEMENT & SPACER >>>>>>>>>>>>>>>>>>>>
******************************************************************************
THE EMERGENCY MEDICINE POCKETBOOK TRIFECTA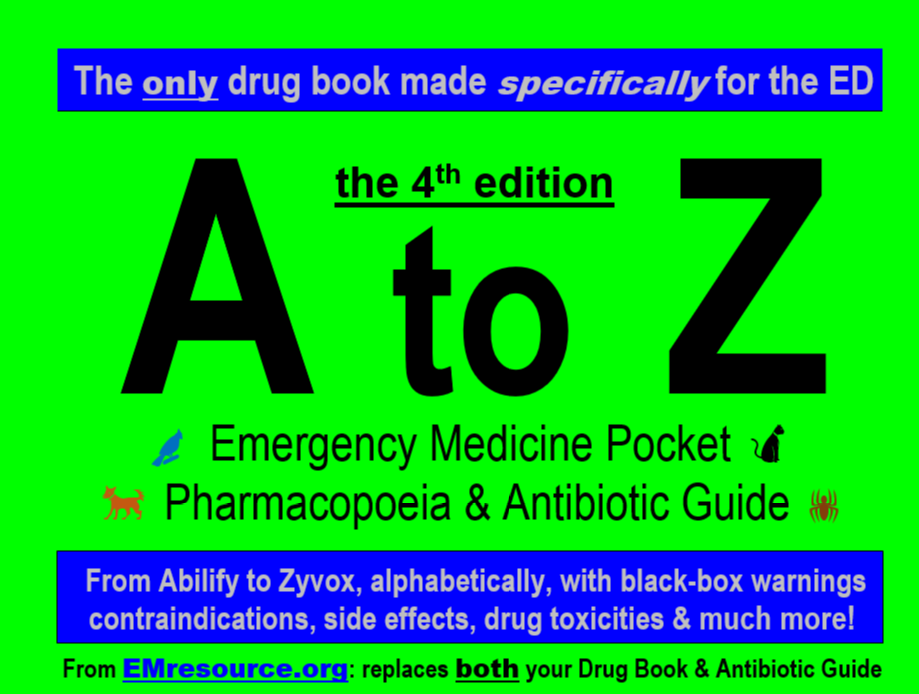 Get one of our publications, all designed specifically for Emergency Care Providers:
*****************************************************************************
<<<<<<<<<<<<<<<<<<<<<<<<< END SPACER >>>>>>>>>>>>>>>>>>>>>>>>>
EKG ANALYSIS, CASE OUTCOME, 1-MINUTE CONSULT & CASE LESSONS: 
1) EKG analysis (Peer Reviewed by Dr. Stephen W. Smith of Dr. Smith's ECG Blog): The computer read is correct but incomplete.  There is some ST elevation in lead II.  In addition there is ST elevation in V6 and possibly a bit in I and aVL.  There is also evidence of a posterior MI with ST depression and relatively tall R waves in V1-V4.  These findings are most likely due to a posterolateral STEMI. The EKG's from the visit 2 days ago was rechecked and deemed to be normal, but was done while the patient was pain free.
2) Case Conclusion:  troponin-i was elevated at 2.7 (99% URL <0.030: troponin-i immunoassay, Abbott laboratories).  Patient went to the cath lab and had a 100% proximal left circumflex artery occlusion.  This case is a classic example of new onset angina with normal EKG and troponin followed a few days later by an acute MI.  A good history is the key to picking up unstable angina before the MI because your EKG and your troponin rarely will.  Repeat troponin was 365.
3) 1-Minute Consult (from the Emergency Medicine 1-Minute Consult Pocketbook) on the topic for this case:

4) Case Lessons: 
The EKG is much less sensitive when the patient is pain free such as with unstable angina.  In addition, troponins should be expected to stay normal with episodic chest pain lasting less that 15-30 minutes as in unstable angina.  It is really the history alone that makes the diagnosis of unstable angina, so take a good one!
Untreated unstable angina often leads to MI (or death) in the next week or two.
Posterior MI is considered a STEMI equivalent.  Other STEMI equivalents include de Winter's, ROSC, Shark fin pattern and Smith-modified Sgarbossa criteria in LBBB or paced rhythms.  De Winter's and posterior MI share some features but de Winter's, which is to anterior ischemia, has briefer ST depression & taller T-waves than posterior MI.