Chest Pain & Tachycardia
UnFiNiShEd CaSe CoMe BaCk LaTeR
"BRADY" DOWN FOR THE REST
A female in her early 50's with prior cardiac ablation for AV nodal reentrant tachycardia presents to the ED for 3 days of constant palpitations and chest pressure.  She has had the same symptoms frequently for over 6 months and two ablations have not helped.  She states that her heart rate is normally 120s at rest but recently been in the 140s to 150s at rest.  No fever, syncope, leg pain or swelling or other complaints.
Exam: Vital signs are normal except for a pulse of 155.   Exam is otherwise normal.
Initial differential diagnosis: Tachydysrhythmia, Electrolyte abnormality, Pulmonary Embolism, Acute Coronary Syndrome, tachydysrhythmia
Initial EKG (low resolution):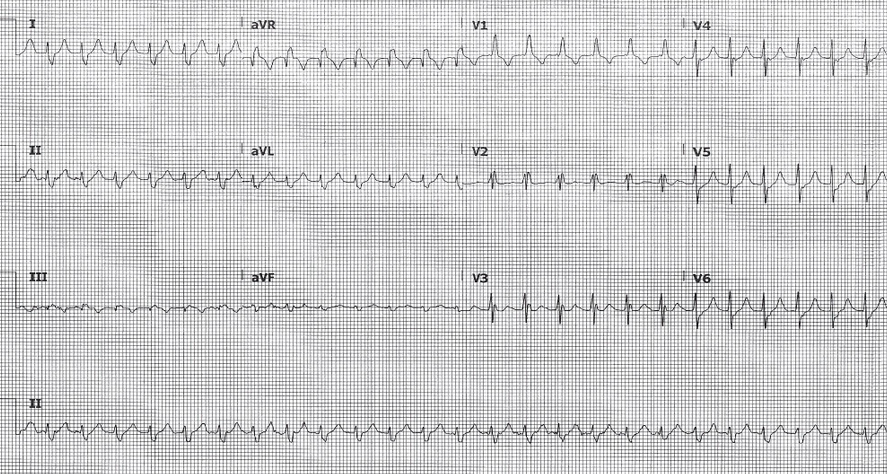 COMPUTER EKG READ:
Atrial Flutter with rapid ventricular response
Indeterminate axis
RBBB
Do you agree with the computer?  What should you do next?
"BRADY" DOWN FOR THE EKG ANALYSIS & 1-MINUTE CONSULT
<<<<<<<<<<<<<<<<<<<< ADVERTISEMENT & SPACER >>>>>>>>>>>>>>>>>>>>
******************************************************************************
THE EMERGENCY MEDICINE POCKETBOOK TRIFECTA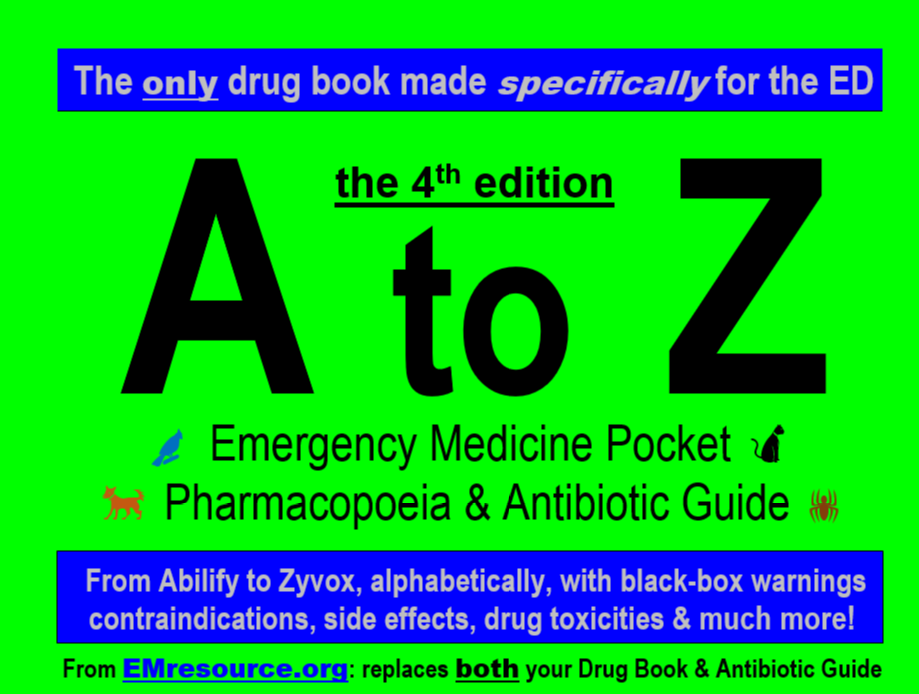 Get one of our publications, all designed specifically for Emergency Care Providers:
*****************************************************************************
<<<<<<<<<<<<<<<<<<<<<<<<< END SPACER >>>>>>>>>>>>>>>>>>>>>>>>>
EKG ANALYSIS, CASE OUTCOME, 1-MINUTE CONSULT & CASE LESSONS: 
1) EKG analysis (check out more great EKG's from Dr. Stephen W. Smith of Dr. Smith's ECG Blog): The computer read is incorrect regarding the rhythm, however even the over-reading cardiologist called this flutter. This is actually sinus tachycardia but without more information it is challenging to tell because the P-waves are buried in the preceding T-wave due to the rapid rate.  The computer is calling atrial flutter because the rate is regular, close to 150 and P waves cannot be seen.  The probability of atrial flutter is high in this scenario.  However there are no convincing flutter waves and when diltiazem was given the rate slowed to 120 and the P-waves were unmasked.  With a second dose of diltiazem the rate dropped to about 100.  See EKG below.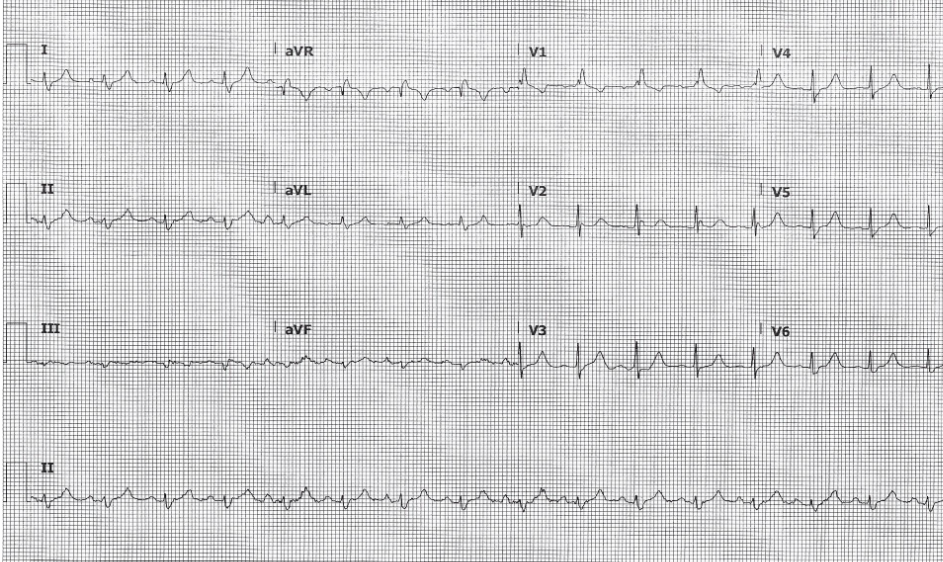 Other ways to determine the rhythm that might have worked equally well would have been adenosine or a Lewis lead tracing
2) Case Conclusion:  troponin-i was undetectable x 2  (99% URL <0.030: troponin-i immunoassay, Abbott laboratories).  When the patient was given diltiazem the rate slowed and P waves were evident. Repeat EKG shows normal sinus rhythm at a rate of 99 with a right bundle branch block but no evidence of acute ischemia.  However the diltiazem wore off and the rate continued to shoot up to 150 causing symptoms that were intolerable to the patient.  Eventually she was approved for a sinus node ablation and permanent pacemaker placement for severe persistent  inappropriate sinus tachycardia.  This is an unusual condition.  After the third and hopefully final ablation the resting heart rate remained at 60 and she felt much better
3) 1-Minute Consult (from the Emergency Medicine 1-Minute Consult Pocketbook) on the topic for this case:

4) Case Lessons: 
Always realize that the computer not infrequently makes errors in determining the rhythm.  A-fib, a-flutter, sinus tach, sinus tach with PAC's, SVT and accelerated junctional rhythm can easily be confused.
Never trust the computer.  It is fine and probably even wise to see what it has to say and figure out why it is flagging what it is, but it is not infrequently wrong, occasionally with dangerous consequences.