Cough + Hypoxia*
History:  A man in his 30's presents to the ER for cough, tactile fever and SOB.  He denies syncope, palpitations, chest pain or other complaints.
Exam: Vital signs are normal except a pulse of 118, a BP of 103/72 and pulse ox of 92%
A CXR is done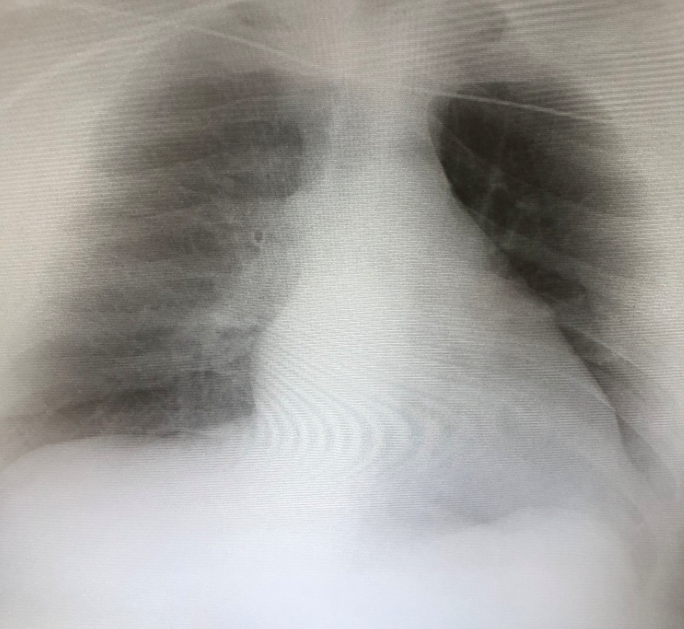 An EKG is done: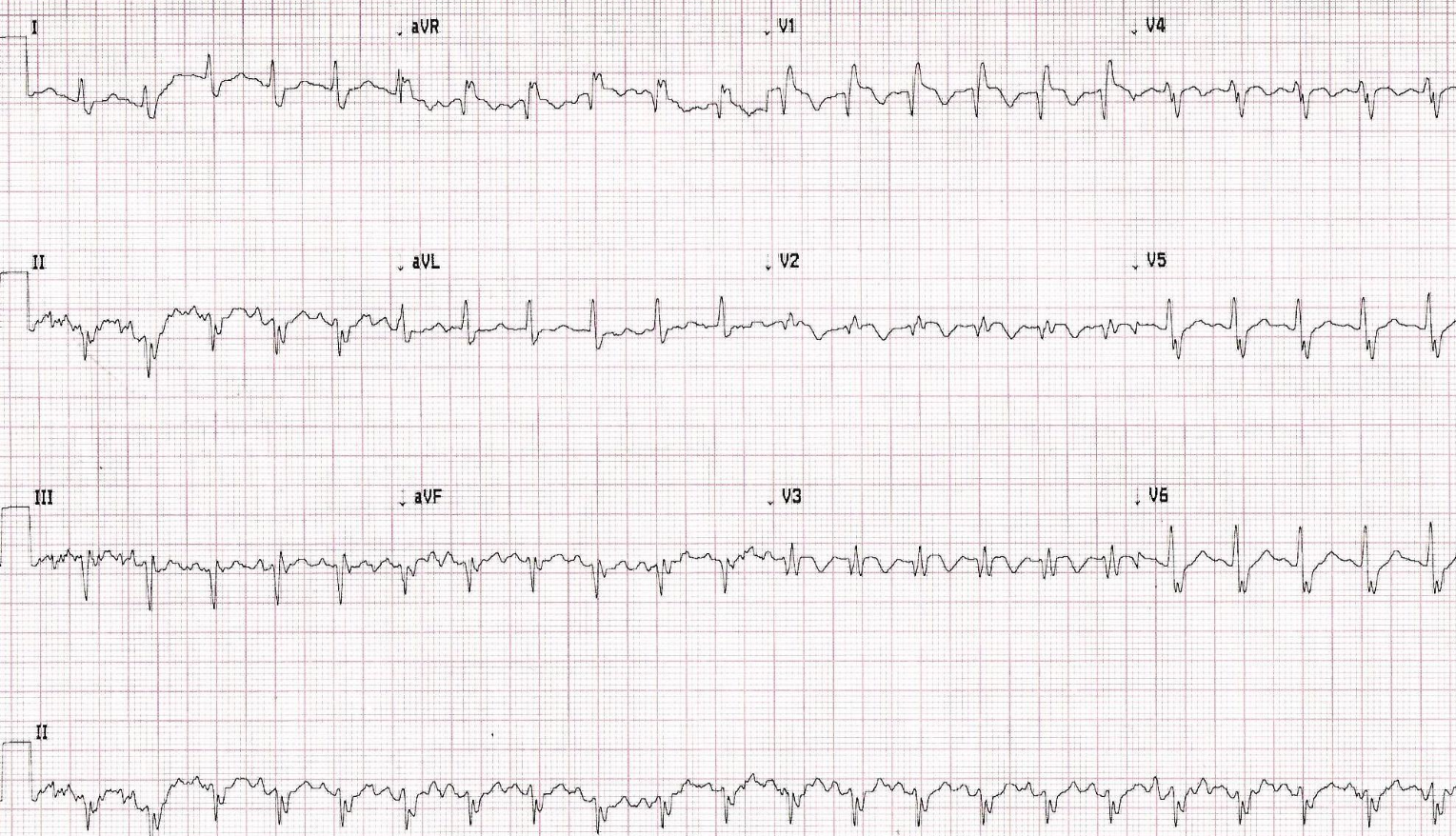 Computer Read: sinus tachycardia with short PR, marked LAD, RBBB
An echo is also done: click link below then open it to watch video
What is the most likely cause of the EKG findings?
A) Pneumonia
B) Pulmonary embolism
C) Acute coronary syndrome
D) Anxiety
"BRADY" DOWN FOR THE EKG ANALYSIS & 1-MINUTE CONSULT
<<<<<<<<<<<<<<<<<<<< ADVERTISEMENT & SPACER >>>>>>>>>>>>>>>>>>>>
******************************************************************************
THE EMERGENCY MEDICINE POCKETBOOK TRIFECTA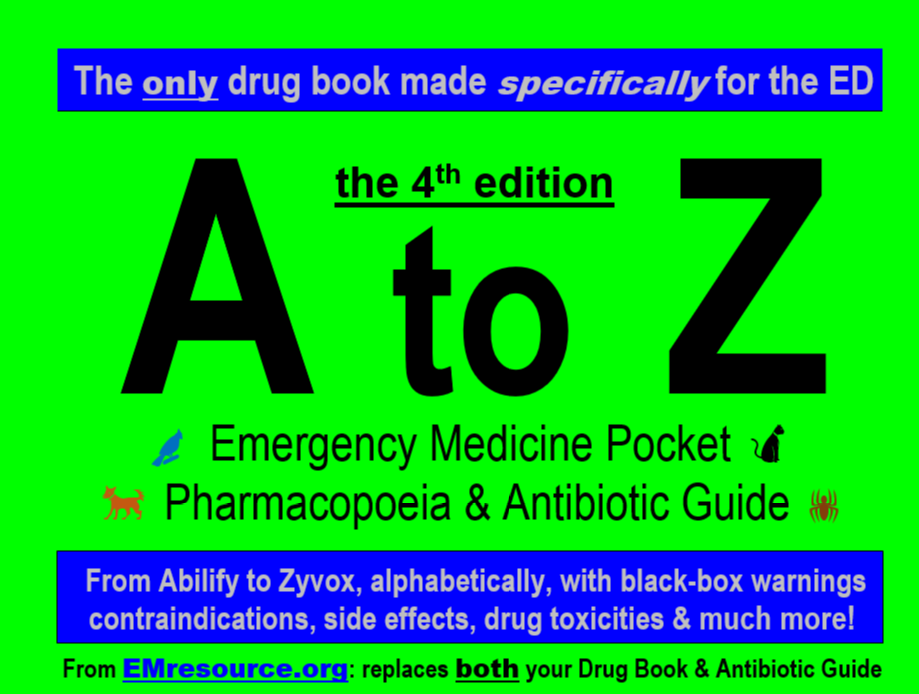 Get one of our publications, all designed specifically for Emergency Care Providers:
*****************************************************************************
<<<<<<<<<<<<<<<<<<<<<<<<< END SPACER >>>>>>>>>>>>>>>>>>>>>>>>>
QUIZ ANSWER, EKG ANALYSIS, CASE OUTCOME, 1-MINUTE CONSULT & CASE LESSONS: 
1) Quiz Answer:
A) Pneumonia:  This is possible although the CXR is not impressive.  He was treated for it just in case as his WBC was a bit high
B) Pulmonary embolism: CORRECT.  Most likely to cause this degree of tachycardia and RBBB
C) Acute coronary syndrome: This is possible but this degree of tachycardia would be rare.  Massive PE often causes tachycardia and some troponin leak
D) Anxiety: Always think twice before making this diagnosis.  People with anxiety get ill as well and PE or MI or other dangerous things can certainly cause secondary anxiety
2) EKG/Echo analysis (check out more great EKG's from Dr. Stephen W. Smith of Dr. Smith's ECG Blog): The EKG shows sinus tachycardia rate of 137 with a right bundle branch block and T wave inversion in the anterior leads. When compared to prior EKG these findings were all new. These finding are concerning for massive or submassive pulmonary embolism.  Cardiac ischemia would be another possible cause, but far less likely.
3) Case Conclusion:  Troponin-i was 0.12  (99% URL <0.030: troponin-i immunoassay, Abbott laboratories).  CBC showed a white count of 12.8, likely due to an adrenaline response. Metabolic panel was normal except for glucose 267 and bicarb 21 which could be due to a adrenalin response and/or cardiovascular shock. Troponin and BNP were both slightly elevated which is consistent with massive submassive pulmonary embolism. Chest x-ray shows an elevated right hemidiaphragm concerning for pulmonary embolism.  The case was discussed with pulmonology and interventional radiology. Joint decision was made to start the patient on empiric heparin as well as empiric half dose TPA for presumed submassive pulmonary embolism. A bedside duplex showed a DVT and a bedside echo showed a dilated right ventricle.
4) 1-Minute Consult from the Emergency Medicine 1-Minute Consult Pocketbook & Smartphone app on the topic for this case: See highlighted areas of sample page below.

5) Case Lessons: 
Always assume the worst and keep looking for additional conditions until you are adequately confident you have ruled them out.
Consider tPA with massive PE, even in the absence of definitive VQ or CT.  Clinical suspicion along with echo or acute EKG changes are sometimes enough but consult a pulmonologist or IR to protect yourself legally and your reputation in case you are wrong or there is a bad outcome