CVS Hyperemesis
History:  A man in his early 20's with no significant history presents with 8 days of nausea and vomiting, 10 out of 10 epigastric abdominal pain. States he has been vomiting nonbloody at least 5 times a day for the last 8 days, keep some fluids down in between episodes, states he has been smoking marijuana every day it makes him feel little bit better for a short period of time. Denies fevers, chills, sweats. No prior abdominal surgeries. denies syncope, palpitations, chest pain, SOB, fever, cough or other complaints.
Exam: Vital signs are normal except for pulse 120 and BP 144/95. moist mucous membranes.  Abdomen Nondistended mild tenderness to palpation with no rebound or guarding.
An EKG is done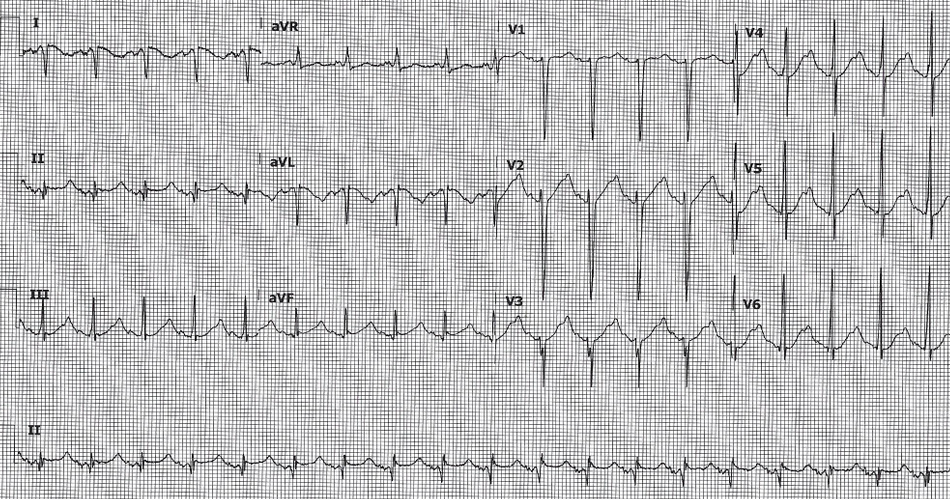 Computer Read: SVT, LPFB.   Rate = 116, PR = 0, QTc = 432
What is the most likely cause of the EKG findings?
A) Hyperkalemia
B) Hyponatremia
C) Hypomagnesemia
D) Hypokalemia
"BRADY" DOWN FOR THE EKG ANALYSIS & 1-MINUTE CONSULT
<<<<<<<<<<<<<<<<<<<< ADVERTISEMENT & SPACER >>>>>>>>>>>>>>>>>>>>
******************************************************************************
THE EMERGENCY MEDICINE POCKETBOOK TRIFECTA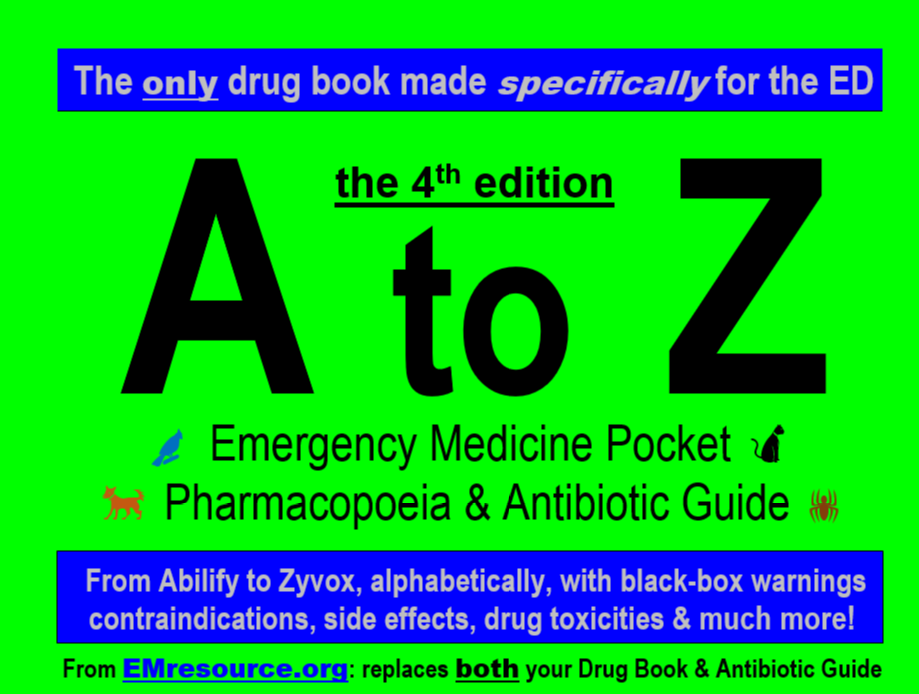 Get one of our publications, all designed specifically for Emergency Care Providers:
*****************************************************************************
<<<<<<<<<<<<<<<<<<<<<<<<< END SPACER >>>>>>>>>>>>>>>>>>>>>>>>>
QUIZ ANSWER< EKG ANALYSIS, CASE OUTCOME, 1-MINUTE CONSULT & CASE LESSONS: 
1) Quiz Answer:
A) Hyperkalemia: these peaky T-waves are Himalayan TU fusion waves from low K
B) Hyponatremia: he had it but the EKG doesn't change with sodium changes
C) Hypomagnesemia: no good evidence that affects the EKG and it was high (likely from dehydration)
D) Hypokalemia: CORRECT – Himalayan TU fusion waves from low K
2) EKG/Echo analysis (check out more great EKG's from Dr. Stephen W. Smith of Dr. Smith's ECG Blog): The EKG shows huge irregular T waves that are a combination of a regular T with a huge U wave that are fused.  T-U fusion is more likely when the U wave is very large or when there is tachycardia or both.  The computer is misreading this as SVT rather than sinus tach because it does not see the P wave as it is fused into the end of the U wave.  This is similarly more likely when the U wave is large and/or there is tachycardia.
3) Case Conclusion:  K = 1.8, Na = 119, Mg = 2.6.  Troponin-i was normal (99% URL <0.030: troponin-i immunoassay, Abbott laboratories)
4) 1-Minute Consult from the Emergency Medicine 1-Minute Consult Pocketbook & Smartphone app on the topic for this case: See highlighted areas of sample page below.

5) Case Lessons: 
Always
Never
6) OMI Manifesto: If you haven't yet read the OMI manifesto, you should.  It's long but everyone should know at least the basics of why current STEMI criteria miss about 1/3 of occlusion MI's that would benefit from emergent reperfusion and how you can pick up those patients and get them the care they need. for more information CLICK HERE