Expiratory Chest Pain
"BRADY" DOWN FOR THE REST
History:
A 34-year-old male with no significant past medical history who presents with chest pain that radiates into his back since around 11 PM last night.  The chest pain he mostly feels only lying down at the end at the end of breathing out.  He denies any fever shortness of breath cough symptoms in his arms or legs or other complaints
Exam:
Vital signs are normal. Heart and lungs are clear
Initial differential diagnosis:
Tachydysrhythmia
Electrolyte abnormality
Pulmonary Embolism
Acute Coronary Syndrome
Initial EKG (click TWICE if you want to enlarge):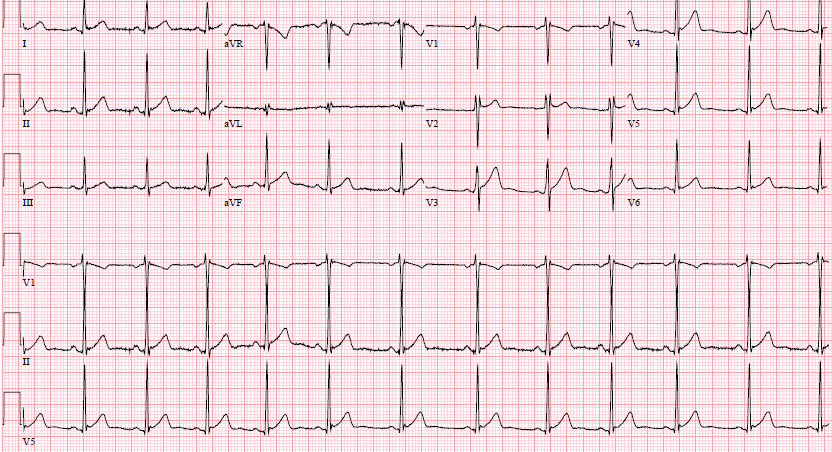 COMPUTER EKG READ:
NSR with sinus arrhythmia
Normal EKG
Do you agree with the computer?
"BRADY" DOWN FOR THE EKG ANALYSIS & 1-MINUTE CONSULT
<<<<<<<<<<<<<<<<<<<<< ADVERTISEMENT & SPACER >>>>>>>>>>>>>>>>>>>>>
***************************************************************************
THE EMERGENCY MEDICINE POCKETBOOK BIFECTA
Get one of our publications, all designed specifically for Emergency Care Providers:
***************************************************************************
<<<<<<<<<<<<<<<<<<<<<<<<< END SPACER >>>>>>>>>>>>>>>>>>>>>>>>>
EKG ANALYSIS, CASE CONCLUSION & 1-MINUTE CONSULT: Peer Reviewed by Dr. Stephen W. Smith of Dr. Smith's ECG Blog
EKG Analysis: The computer read is correct, but also there is fairly diffuse mild concave-up ST elevation.  This could certainly be normal variant early repolarization, although without a baseline EKG and subsequent EKGs for comparison, it is not possible to rule out early findings of pericarditis as well.  The history was suspicious so further testing was done.
Case Conclusion: Aortic dissection is a rare cause of pericarditis and since the majority of this patient's pain was in the back, a CTA of the chest was ordered which did not show a dissection, but did show a sliver pericardial effusion (see image below with arrow pointing to effusion.  Remember on CT fat and air are black, but fluid is gray.  This is very different from echo).  While in the ED, the patient developed a pericardial friction rub.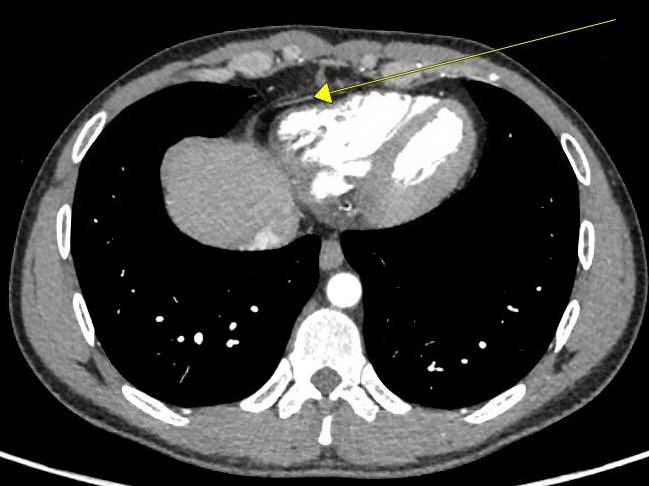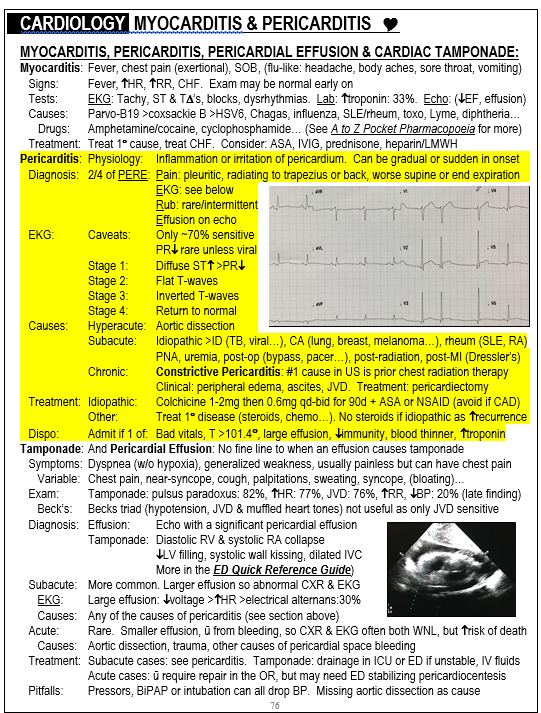 Source: The Emergency Medicine 1-Minute Consult Pocketbook   
Case Lessons
The EKG is only ~70% sensitive for pericarditis.  It is more likely to miss milder or earlier cases.
Not everyone with pericarditis needs a CTA of the chest, but keep in mind that aortic dissection is one of the causes of pericarditis