Malaise & Bradycardia
UnFiNiShEd CaSe CoMe BaCk LaTeR
"BRADY" DOWN FOR THE REST
A man in his 60s with a history of a-fib presents to the ED for dizziness and malaise.  He noticed on his apple watch that his pulse was slow.   He denies syncope, palpitations, chest pain, SOB, fever, cough or other complaints.
Exam: Vital signs are normal except for a pulse of 42 .   Exam is otherwise normal.
Initial differential diagnosis: Bradydysrhythmia, Hyperkalemia, medication toxicity, Acute Coronary Syndrome
Initial EKG (low resolution):
PLACE SCREEN SHOT HERE
PLACE HIGH DPI IMAGE IN BRADY-CARDIA WORD DOC
COMPUTER EKG READ:
Atrial fibrillation with slow ventricular response
Moderate IVCD
ST deviation and moderate T-wave abnormality, consider lateral ischemia
Do you agree with the computer?  What should you do next?
"BRADY" DOWN FOR THE EKG ANALYSIS & 1-MINUTE CONSULT
<<<<<<<<<<<<<<<<<<<< ADVERTISEMENT & SPACER >>>>>>>>>>>>>>>>>>>>
******************************************************************************
THE EMERGENCY MEDICINE POCKETBOOK TRIFECTA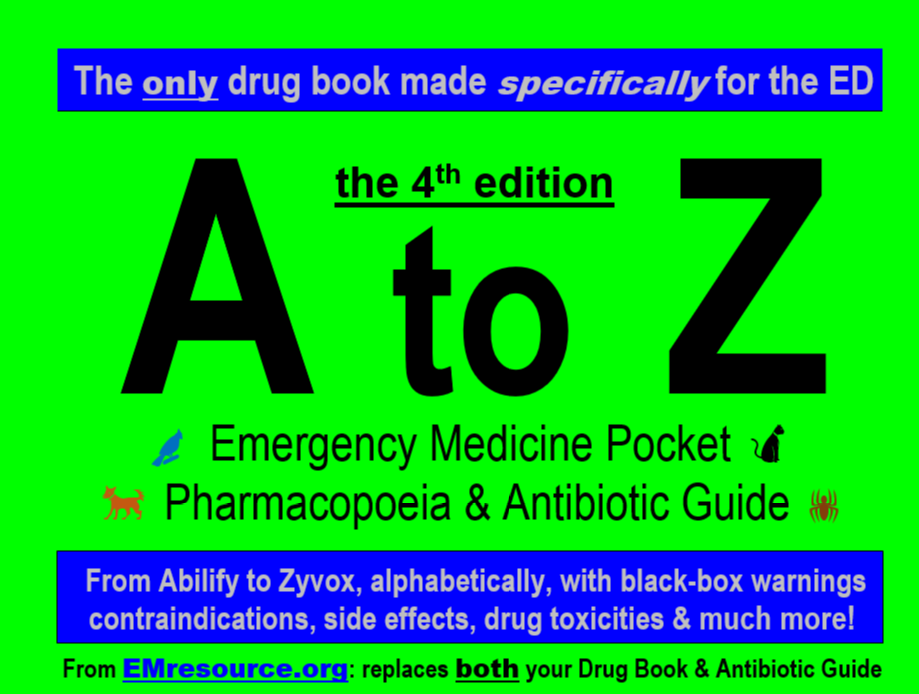 Get one of our publications, all designed specifically for Emergency Care Providers:
*****************************************************************************
<<<<<<<<<<<<<<<<<<<<<<<<< END SPACER >>>>>>>>>>>>>>>>>>>>>>>>>
EKG ANALYSIS, CASE OUTCOME, 1-MINUTE CONSULT & CASE LESSONS: 
1) EKG analysis (check out more great EKG's from Dr. Stephen W. Smith of Dr. Smith's ECG Blog): The computer read is
2) Case Conclusion:  troponin-i was  (99% URL <0.030: troponin-i immunoassay, Abbott laboratories).  The patient did not know his medications.  His creatinine was elevated at 2.4.  Beta blocker toxicity was suspected but a dig lever was ordered just in case and came back elevated at 2.5
3) 1-Minute Consult (from the Emergency Medicine 1-Minute Consult Pocketbook) on the topic for this case:
PLACE PAGE HERE
4) Case Lessons: 
Always
Never