Syncope & SOB
UnFiNiShEd CaSe CoMe BaCk LaTeR
History:  A woman in her mid twenties presents to the ER with dyspnea and palpitations followed by a syncopal episode.  She denies chest pain, fever, cough or other complaints.  She denies any significant past medical history.
Exam: Vital signs are normal except for a pulse around 130 and a BP around 105.
An EKG is done

What is the most likely cause of the EKG findings?
A) SVT
B) Pulmonary embolism
C) Anxiety
D) Hypocalcemia
"BRADY" DOWN FOR THE EKG ANALYSIS & 1-MINUTE CONSULT
<<<<<<<<<<<<<<<<<<<< ADVERTISEMENT & SPACER >>>>>>>>>>>>>>>>>>>>
******************************************************************************
THE EMERGENCY MEDICINE POCKETBOOK TRIFECTA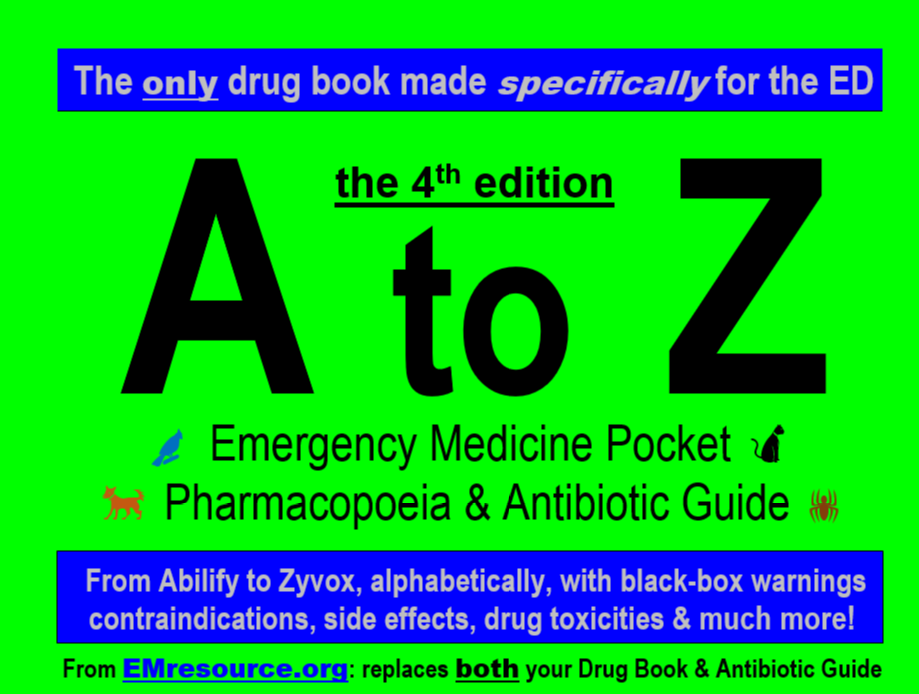 Get one of our publications, all designed specifically for Emergency Care Providers:
*****************************************************************************
<<<<<<<<<<<<<<<<<<<<<<<<< END SPACER >>>>>>>>>>>>>>>>>>>>>>>>>
QUIZ ANSWER, EKG ANALYSIS, CASE OUTCOME, 1-MINUTE CONSULT & CASE LESSONS: 
1) Quiz Answer:
A) SVT: the rate is close to 150 but there appear to be P waves although they are harder to see due to the tachycardia.
B) Pulmonary embolism: CORRECT.  PE is painless in about 20% of cases and is even more common in larger PE's likely due to their more central location.  This EKG shows tachycardia, S1Q3 and nonspecific ST changes.
C) Anxiety: can cause SOB but less likely to cause syncope or a BP this low.  In the ED population, diagnose anxiety only after you are confident that nothing more serious could be going on, if ever.
D) Hypocalcemia: not likely to present this way
2) EKG/Echo analysis (check out more great EKG's from Dr. Stephen W. Smith of Dr. Smith's ECG Blog):
3) Case Conclusion:  CT angio was positive for saddle PE
4) 1-Minute Consult from the Emergency Medicine 1-Minute Consult Pocketbook & Smartphone app on the topic for this case: See highlighted areas of sample page below.

5) Case Lessons: 
Always
Never
6) OMI Manifesto: If you haven't yet read the OMI manifesto, you should.  It's long but everyone should know at least the basics of why current STEMI criteria miss about 1/3 of occlusion MI's that would benefit from emergent reperfusion and how you can pick up those patients and get them the care they need. for more information CLICK HERE