Palpitations again
History: A girl in her teens presents to the ED for palpitations and SOB for 15 minutes.   She denies syncope, chest pain, fever, cough or other complaints.
Exam: Vital signs are normal except a pulse of ~240. Exam is otherwise normal.
An EKG is done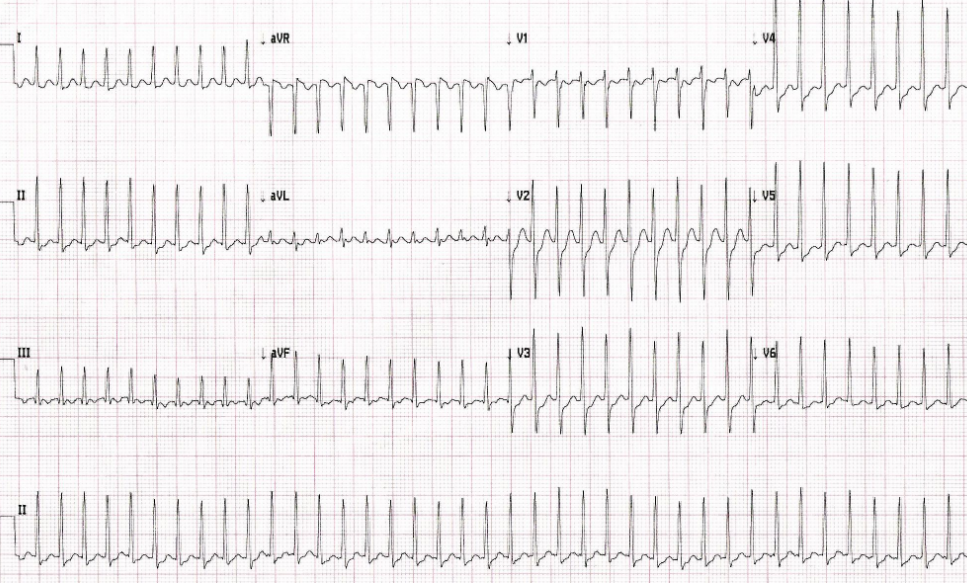 The computer read is as follows:
Rate 244 bpm, QRS duration: 177 ms, QTc 369 ms
Uncertain regular rhythm
Intraventricular conduction delay
What should you presume as the cause and what should your treatment be?
A) SVT – modified Valsalva, adenosine, diltiazem
B) VT – modified Valsalva, adenosine, diltiazem
C) SVT – modified Valsalva, adenosine, procainamide
D) VT – modified Valsalva, adenosine, procainamide
"BRADY" DOWN FOR THE EKG ANALYSIS & 1-MINUTE CONSULT
<<<<<<<<<<<<<<<<<<<< ADVERTISEMENT & SPACER >>>>>>>>>>>>>>>>>>>>
******************************************************************************
THE EMERGENCY MEDICINE POCKETBOOK TRIFECTA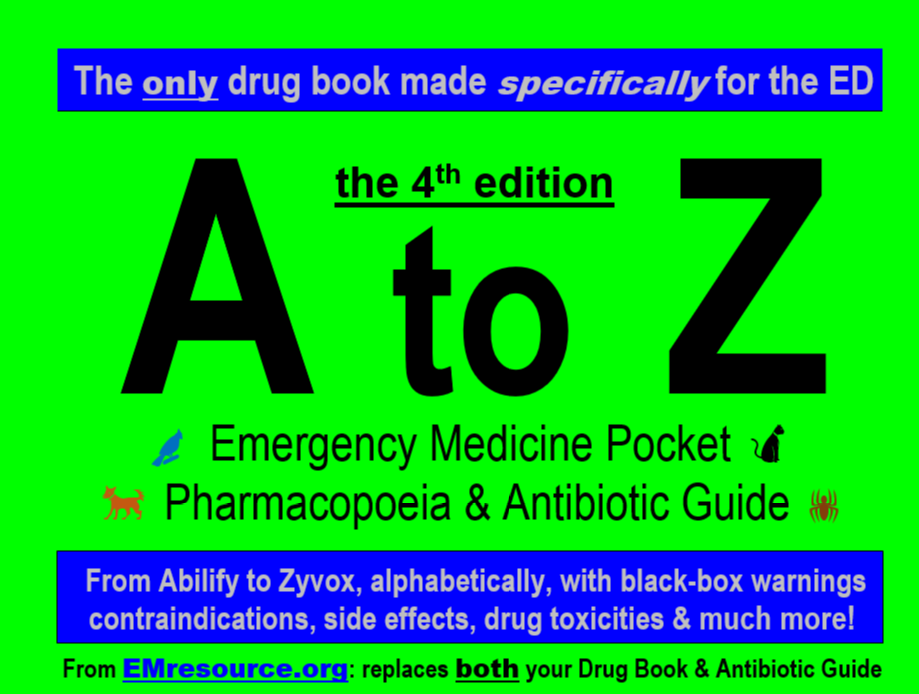 Get one of our publications, all designed specifically for Emergency Care Providers:
*****************************************************************************
<<<<<<<<<<<<<<<<<<<<<<<<< END SPACER >>>>>>>>>>>>>>>>>>>>>>>>>
QUIZ ANSWER< EKG ANALYSIS, CASE OUTCOME, 1-MINUTE CONSULT & CASE LESSONS: 
1) Quiz Answer: The answer is A) SVT – modified Valsalva, adenosine, diltiazem. Although young people can absolutely get V-tach (just not usually ischemic V-tac), this cannot be V-tach despite the computer reading a wide QRS with a duration of 177 because the QRS is actually narrow.  The computer has simply misread the QRS duration (see below).
NOTE: If the QRS were actually wide the correct answer would be D because treating V-tach with a calcium or beta blocker can be fatal, and therefore it is safest to avoid these agents and only use interventions/agents that would also be safe in V-tach if there is any chance VT is the actual rhythm.  In such cases, a trial of Valsalva or adenosine is reasonable, but if that fails or if the patient becomes unstable one should move to synchronized cardioversion, lidocaine, procainamide or amiodarone rather than a beta or calcium blocker.
2) EKG/Echo analysis (Peer reviewed by Dr. Smith's ECG Blog): The QRS is actually narrow, but the computer has misread it likely because it thinks the ST segment is part of the QRS.  There is junctional ST depression that is upsloping and is probably rate related.  The rate is so rapid that the computer is likely reading the ST segment as part of the QRS leading to an incorrectly prolonged read of the QRS and a miss of the ST depression.
3) Case Conclusion:  troponin-i was <0.01  (99% URL <0.030: troponin-i immunoassay, Abbott laboratories).  Chemistry normal.  Modified Valsalva not successful.  Adenosine 6mg converted to sinus tach at 130.  Cardiology recommended metoprolol and DC home on same.  Vitals normalized after metoprolol.
4) 1-Minute Consult from the Emergency Medicine 1-Minute Consult Pocketbook & Smartphone app on the topic for this case: See highlighted areas of sample page below.
PLACE PAGE HERE
5) Case Lessons: 
The computer is often wrong.  That said you should always try to figure out why it is flagging what it flags
When not completely certain, it is much safer to assume wide complex tachycardia is VT and treat as such (no beta or calcium blockers)
When uncertain between VT and SVT with abbarency it is safe to try a modified Valsalva and/or adenosine (just not beta or calcium blockers)
6) OMI Manifesto: If you haven't yet read the OMI manifesto, you should.  It's long but everyone should know at least the basics of why current STEMI criteria miss about 1/3 of occlusion MI's that would benefit from emergent reperfusion and how you can pick up those patients and get them the care they need. for more information CLICK HERE