Palpitations at Night
UnFiNiShEd CaSe CoMe BaCk LaTeR
History of Present Illness:
A 30 year old male presents to the ER for approximately 5 days of intermittent palpitations that he says feels fast and rapid with lightheadedness but no syncope or near syncope. ?He never checked his pulse rates. ?Seem to happen at night and then he falls asleep but once it happened during the day and last about 20 minutes. ?He is also been waking up occasionally at night gasping for breath. ?Symptom-free currently. ?No chest pressure or pain
Vital Signs & Physical Exam:
Vital signs are normal.  Physical exam is normal with no edema or other findings
An EKG is done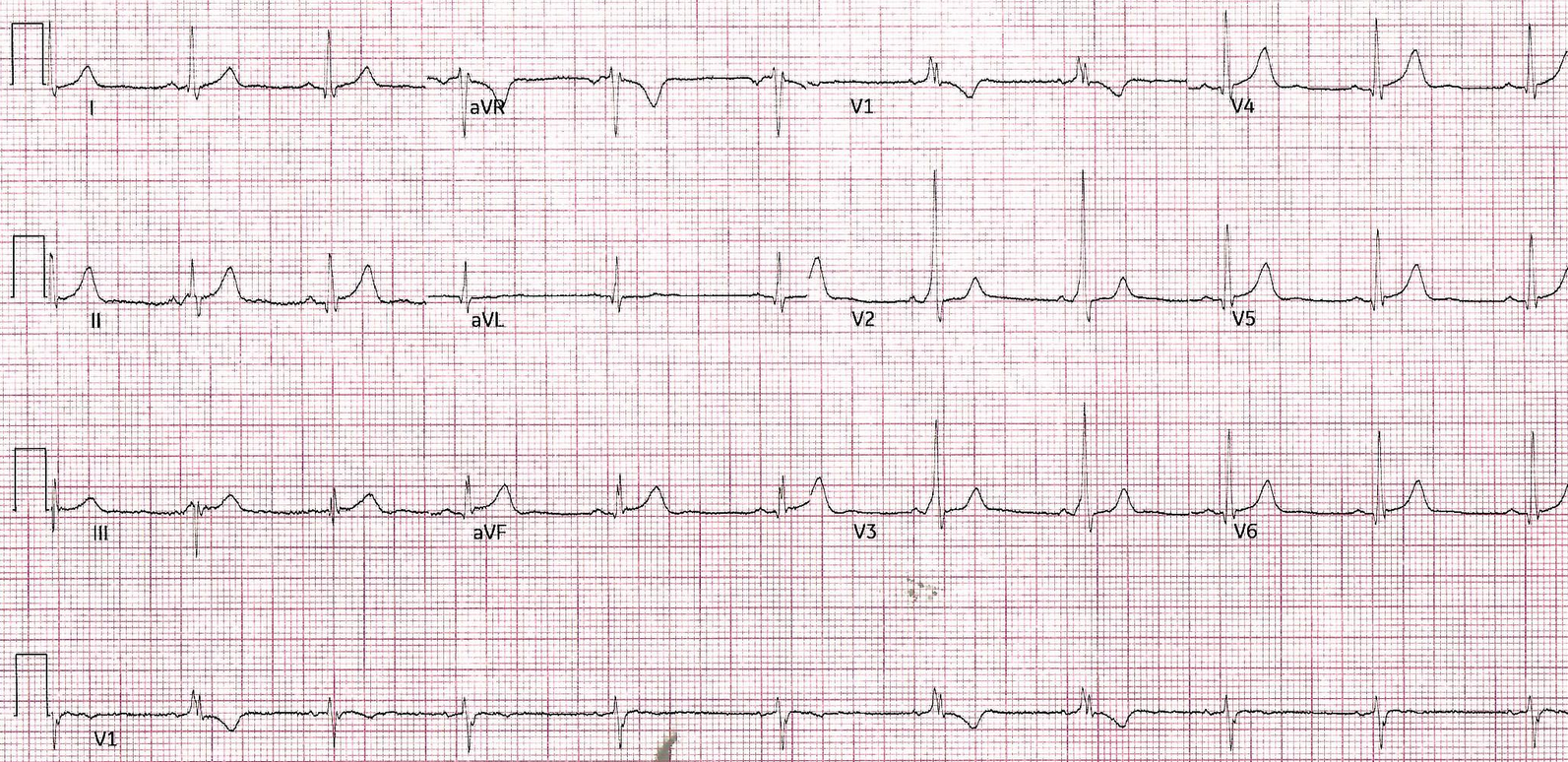 Computer read: Sinus rhythm with fusion complexes, otherwise normal ECG
What is the most likely diagnosis?
A) Fusion beats at risk for V-tach
B) Long QT beats at risk for V-tach
C) WPW at risk for SVT
D) ARVC at risk for SVT
SCROLL DOWN FOR ANSWERS & 1-MINUTE CONSULT
<<<<<<<<<<<<<<<<<<<<< ADVERTISEMENT & SPACER >>>>>>>>>>>>>>>>>>>>>
*****************************************************************************
THE EMERGENCY MEDICINE POCKETBOOK TRIFECTA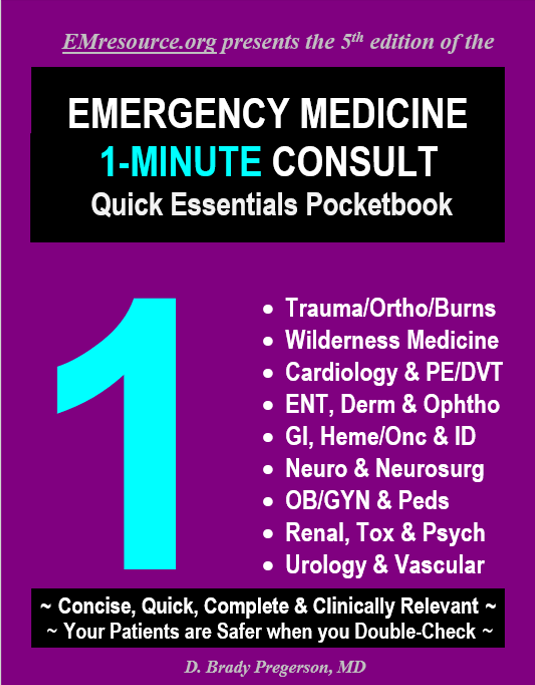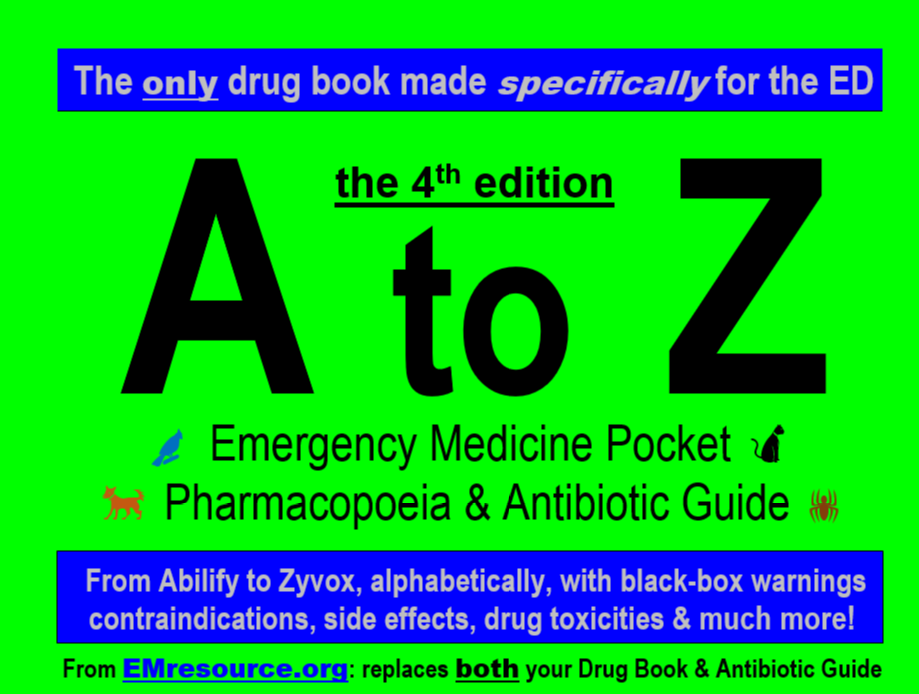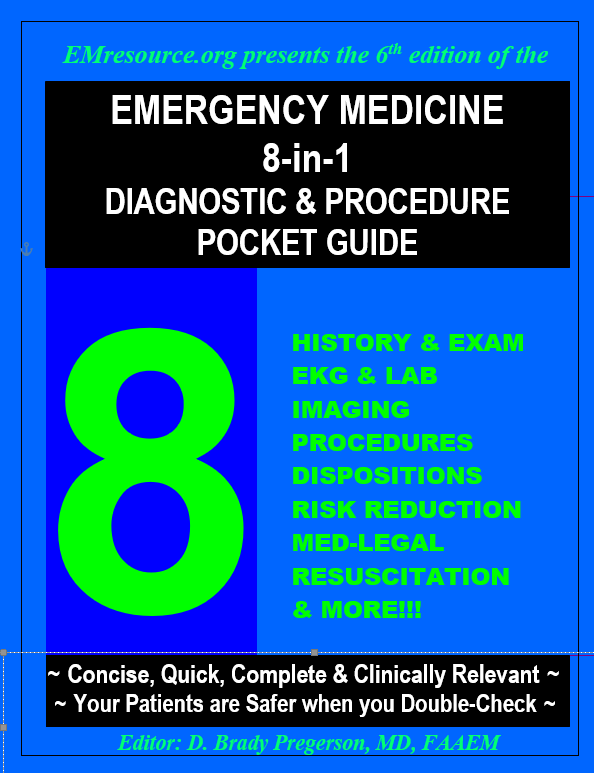 Get one of our publications, all designed specifically for Emergency Care Providers:
***************************************************************************
<<<<<<<<<<<<<<<<<<<<<<<<< END SPACER >>>>>>>>>>>>>>>>>>>>>>>>>
QUIZ ANSWER< EKG ANALYSIS, CASE OUTCOME, 1-MINUTE CONSULT & CASE LESSONS: 
1) Quiz Answer:
A) Fusion beats at risk for V-tach: unlikely as so frequent and all 3 are identical.  These are delta waves not fusion beats
B) Long QT beats at risk for V-tach: QT is normal
C) WPW at risk for SVT: CORRECT – there are intermittent delta waves.  The delta waves beats have a short PR in all leads
D) ARVC at risk for SVT: this does not look like ARVC and it puts people at risk for V-tach not SVT
2) EKG/Echo analysis (check out more great EKG's from Dr. Stephen W. Smith of Dr. Smith's ECG Blog): the 2nd, 7th and 8th beats are different and if you look at leads V2 and V3 there is a delta wave.  All leads show the short PR with the beats where the bypass tract conduction occurs.  These are intermittent delta waves concerning for WPW.  The patients intermittent palpitations are likely intermittent tachycardias of atrial origin.
3) Case Conclusion:  Troponin-i was normal  (99% URL <0.030: troponin-i immunoassay, Abbott laboratories) as were other labs.  The patient was transferred to the ER from the urgent care for cardiology consultation.
4) 1-Minute Consult from the Emergency Medicine 1-Minute Consult Pocketbook & Smartphone app on the topic for this case: See highlighted areas of sample page below.

5) Case Lessons: 
Always
Never
6) OMI Manifesto: If you haven't yet read the OMI manifesto, you should.  It's long but everyone should know at least the basics of why current STEMI criteria miss about 1/3 of occlusion MI's that would benefit from emergent reperfusion and how you can pick up those patients and get them the care they need. for more information CLICK HERE