Racing Heart after MJ
"BRADY" DOWN FOR THE REST
History:
A 22-year-old male with no past medical history  presents to the ED for sudden onset of racing heart and dyspnea that started at rest during lunch after using edible marijuana at his usual dose.  He denies syncope, chest pain, or other complaints.
Exam:
Vital signs are normal except for a pulse of 135.   Exam is otherwise normal.
Initial differential diagnosis:
Tachydysrhythmia
Electrolyte abnormality
Pulmonary Embolism
Acute Coronary Syndrome
Agitated marijuana toxidrome
Initial EKG (click TWICE if you want to enlarge):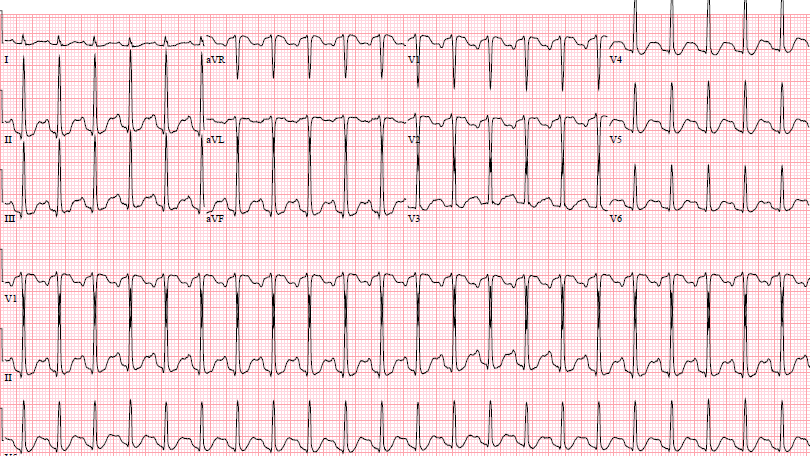 COMPUTER EKG READ:
Supraventricular Tachycardia, rate 134
ST abnormality, possible digitalis effect
Do you agree with the computer read?
"BRADY" DOWN FOR THE EKG ANALYSIS & 1-MINUTE CONSULT
<<<<<<<<<<<<<<<<<<<<< ADVERTISEMENT & SPACER >>>>>>>>>>>>>>>>>>>>>
***************************************************************************
THE EMERGENCY MEDICINE POCKETBOOK BIFECTA
Get one of our publications, all designed specifically for Emergency Care Providers:
***************************************************************************
<<<<<<<<<<<<<<<<<<<<<<<<< END SPACER >>>>>>>>>>>>>>>>>>>>>>>>>
EKG ANALYSIS, CASE CONCLUSION & 1-MINUTE CONSULT: Peer Reviewed by Dr. Stephen W. Smith of Dr. Smith's ECG Blog
EKG Analysis: The computer read is incorrect.  There are P waves embedded within the terminal portion of the T wave.  The computer is misreading this as SVT because it does not see the P wave and because the rate is >125.
Case Conclusion: Magnesium and calcium were normal.  The potassium was a bit low at 3.1.  No troponin was sent.  The patient was given Ativan and IV fluids followed by potassium.  A repeat EKG was normal and his symptoms resolved.
1-minute Consult: See highlighted area of sample page below and Case Lessons below that.

Source: The Emergency Medicine 1-Minute Consult Pocketbook   
Case Lessons
Don't trust the computer read, especially with the atrial rhythm, it is not infrequently incorrect
Always do a diligent search for P-waves.  Calipers will help
Peer Review: Dr. Stephen W. Smith of Dr. Smith's ECG Blog