Runs of V-tach
"BRADY" DOWN FOR THE REST
A man in his 60s presents is brought to the ED for thrashing around at a fast-food establishment.  Bystanders say that he was alert and responsive 5 minutes earlier.  Medics noted a run of v-tach for approx 30 seconds.  On arrival to ER he was unresponsive, guppy breathing.
Exam: Vital signs are normal except for a blood pressure of about 70 systolic.
Initial differential diagnosis: Tachydysrhythmia, Electrolyte abnormality, Pulmonary Embolism, Acute Coronary Syndrome
Initial EKG (low resolution):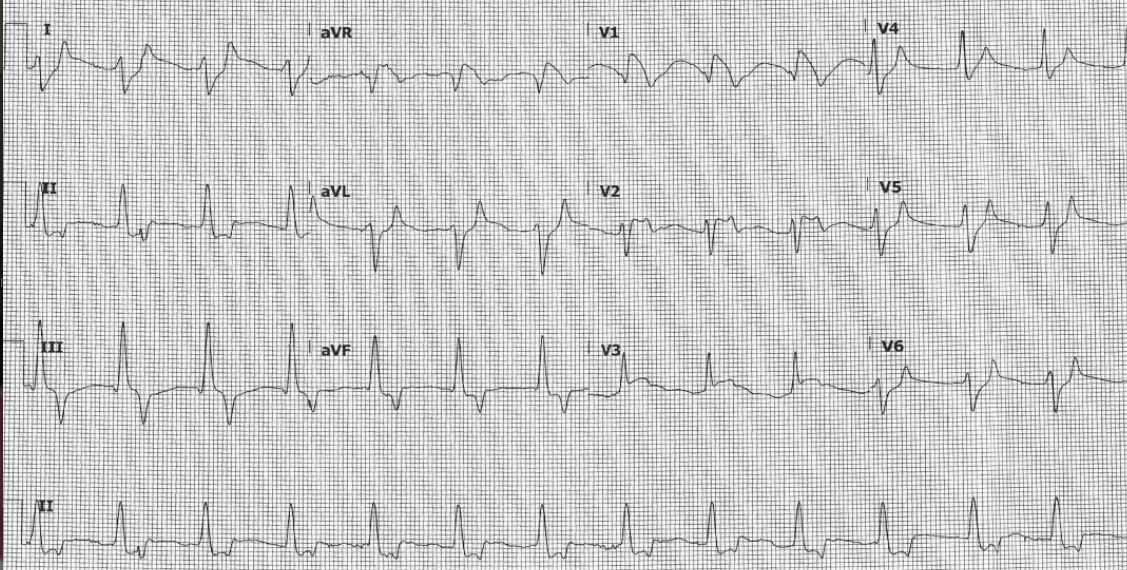 COMPUTER EKG READ:
Sinus rhythm
Intraventricular conduction delay
Possible right ventricular hypertrophy
Type 3 Brugada pattern
Do you agree with the computer?  What should you do next?
"BRADY" DOWN FOR THE EKG ANALYSIS & 1-MINUTE CONSULT
<<<<<<<<<<<<<<<<<<<< ADVERTISEMENT & SPACER >>>>>>>>>>>>>>>>>>>>
******************************************************************************
THE EMERGENCY MEDICINE POCKETBOOK TRIFECTA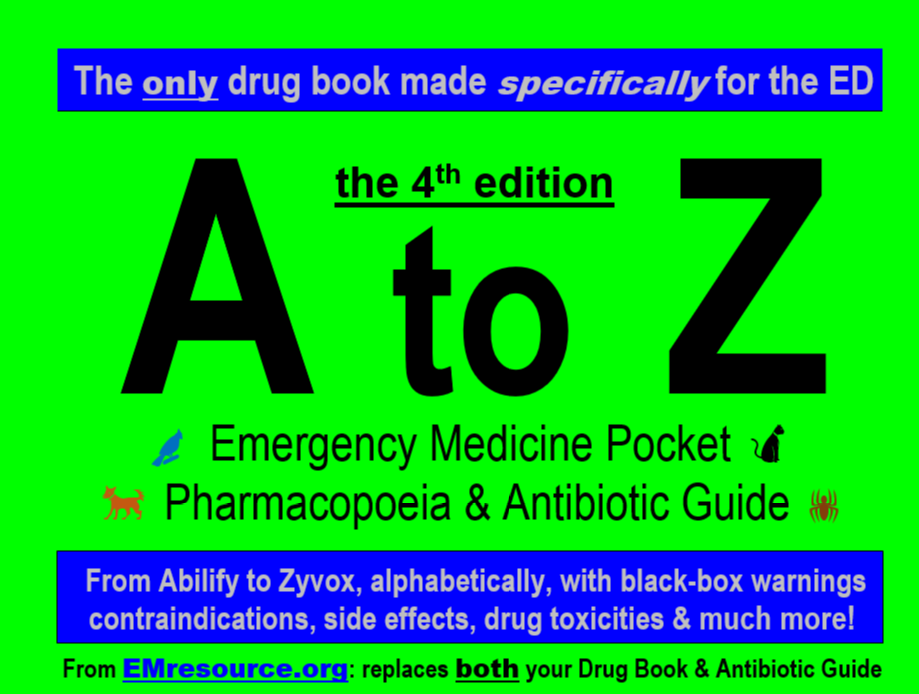 Get one of our publications, all designed specifically for Emergency Care Providers:
*****************************************************************************
<<<<<<<<<<<<<<<<<<<<<<<<< END SPACER >>>>>>>>>>>>>>>>>>>>>>>>>
EKG ANALYSIS, CASE OUTCOME, 1-MINUTE CONSULT & CASE LESSONS: 
1) EKG analysis (check out more great EKG's from Dr. Stephen W. Smith of Dr. Smith's ECG Blog): The computer read is not correct.  1. There are no convincing P-waves.  Two repeat EKG's read atrial fibrillation and ectopic atrial rhythm.  The rhythm does appear regular so this could be ectopic atrial or junctional.  2. There is an intraventricular conduction delay.  The QRS is wide and was measured by the computer as 137 msec.  3. Here are the criteria for RV hypertrophy: R wave in V1 >7mm tall, S wave in V1 <2mm, R/S ratio in V1 >1.0, QRS duration <0.12msec & axis 110-180°.  All criteria are met except the first one.  There is also right axis deviation (net positive in lead II and net negative in lead I) that is not mentioned by the computer.  To me this looks more like Brugada type 1 than type 3.
2) Case Conclusion:  troponin-i was 0.07 and did not rise (99% URL <0.030: troponin-i immunoassay, Abbott laboratories).  Potassium was 8.7 due to new onset renal failure.  He was treated for hyperkalemia and admitted to the ICU for emergent hemodialysis.  The EKG findings all normalized once the potassium level normalized.
3) 1-Minute Consult (from the Emergency Medicine 1-Minute Consult Pocketbook) on the topic for this case:

4) Case Lessons: Always consider hyperkalemia in the differential diagnosis of new right axis deviation, new wide QRS or Brugada like EKG changes.