SOB in CAPD patient
UnFiNiShEd CaSe CoMe BaCk LaTeR
"BRADY" DOWN FOR THE REST
A man in his 70s  w/ ESRD on PD, DM2  and diastolic heart failure presented to the ED for 2 day history of SOB worse than his baseline that started yesterday around 4 pm.
Patient states that he has felt gradual onset of shortness of breath yesterday that started around 4 pm.  He takes torsemide and denies any missed doses. He endorses his baseline 2 pillow orthopnea that has not changed. His baseline is DOE with 400 meters, but felt dyspenic with minor exertion today.  He endorses some mild abdominal distension, but denies any abdominal pain, fever, chills, muscle aches, diarrhea. Denies new leg swelling or pain, denies chest pain.
Exam: Vital signs are normal except for a pulse ox of 92%
°GENERAL:  moderate distress
°LUNGS: labored respirations. Bibasilar rales. Diminished at bases. No wheezing.
°HEART: Normal rate. Regular. Normal heart sounds.
°ABDOMEN: Soft, non-tender. No guarding. No rebound. PD CATHETER LOOKS FINE
°EXTREMITIES: BILATERAL SYMMETRIC edema.
Initial differential diagnosis: Tachydysrhythmia, Electrolyte abnormality, Pulmonary Embolism, Acute Coronary Syndrome
Initial EKG (low resolution):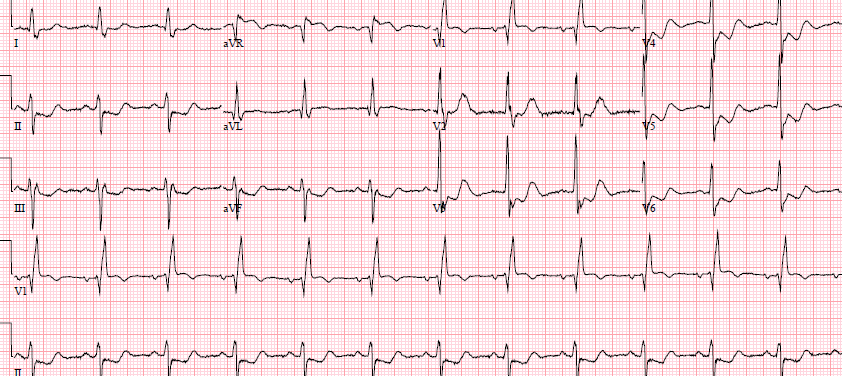 PLACE HIGH DPI IMAGE IN BRADY-CARDIA WORD DOC
COMPUTER EKG READ:
NSR
RBBB
LAFB
t-wave abnormality, consider lateral ischemia
Do you agree with the computer?  What should you do next?
"BRADY" DOWN FOR THE EKG ANALYSIS & 1-MINUTE CONSULT
<<<<<<<<<<<<<<<<<<<< ADVERTISEMENT & SPACER >>>>>>>>>>>>>>>>>>>>
******************************************************************************
THE EMERGENCY MEDICINE POCKETBOOK TRIFECTA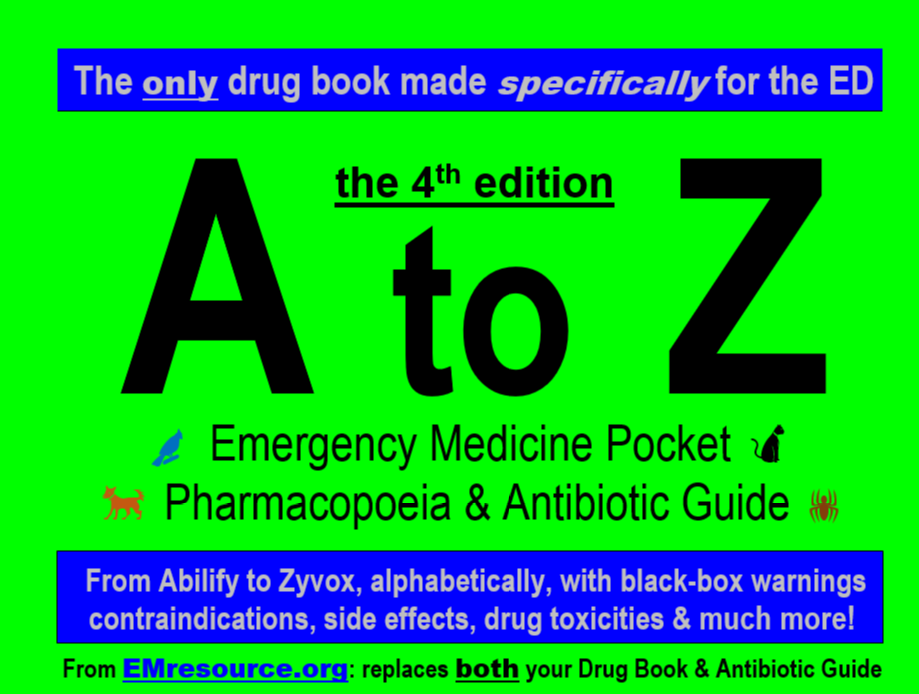 Get one of our publications, all designed specifically for Emergency Care Providers:
*****************************************************************************
<<<<<<<<<<<<<<<<<<<<<<<<< END SPACER >>>>>>>>>>>>>>>>>>>>>>>>>
EKG ANALYSIS, CASE OUTCOME, 1-MINUTE CONSULT & CASE LESSONS: 
1) EKG analysis (check out more great EKG's from Dr. Stephen W. Smith of Dr. Smith's ECG Blog): The computer read is correct but misses ischemic appearing ST depression in the inferior leads and ST elevation in aVR, which is likely reciprocal change related to the diffused ST depression elsewhere.  This likely represents subendocardial ischemia rather than occlusion MI.
2) Case Conclusion:  troponin-i was 8.0, repeat at 1h 10.0  (99% URL <0.030: troponin-i immunoassay, Abbott laboratories)   70% moderately calcific stenosis of the proximal LAD, status post successful PCI with a 2.5 x 23 mm Xience Sierra drug-eluting stent.
3) 1-Minute Consult (from the Emergency Medicine 1-Minute Consult Pocketbook) on the topic for this case:

4) Case Lessons: 
Always
Never