SOB & Syncope
"BRADY" DOWN FOR THE REST
History:
A 52-year-old male with a history of asthma  presents to the ED for a syncopal episode.  He states he was fine and was eating dinner when he just felt light headed and fainted.  When he woke he felt out of breath, but not like when he was having an asthma attack.  He tried his inhaler but it didn't help.  .  He denies any recent URI, chest pain, fever, leg swelling or other complaints.
Exam:
Vital signs are normal except for a pulse of 125.  His shock index is >1.   Exam is otherwise normal.  Specifically there is no wheezing or abnormal lung sounds
Initial differential diagnosis:
Tachydysrhythmia
Electrolyte abnormality
Pulmonary Embolism
Acute Coronary Syndrome
Initial EKG: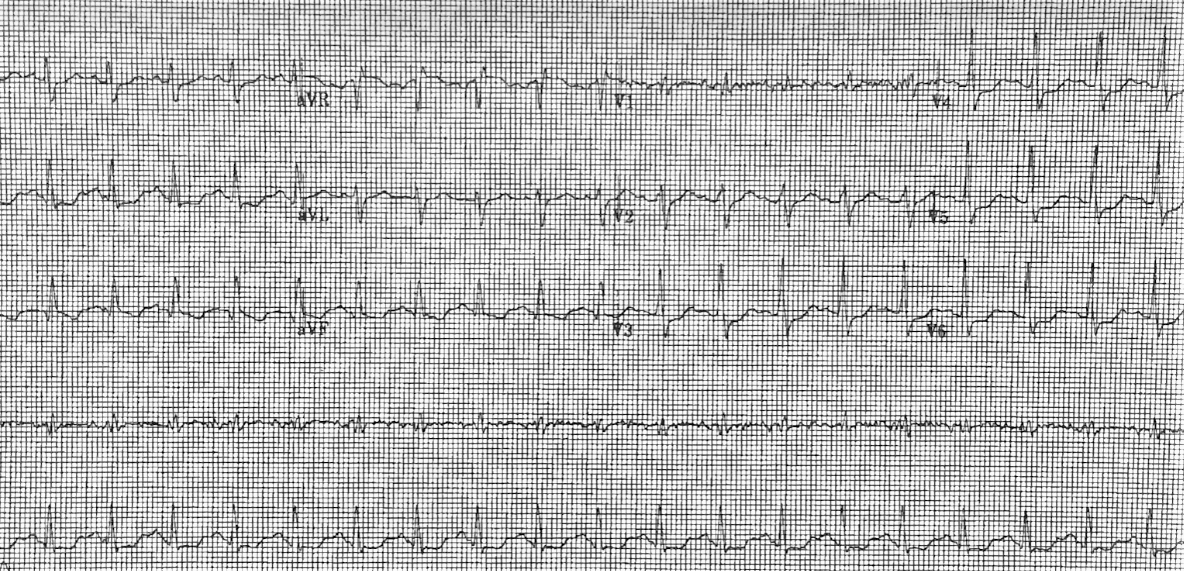 COMPUTER EKG READ:
Computer: "Sinus Tachycardia"
Do you agree?
"BRADY" DOWN FOR THE EKG ANALYSIS & 1-MINUTE CONSULT
<<<<<<<<<<<<<<<<<<<<< ADVERTISEMENT & SPACER >>>>>>>>>>>>>>>>>>>>>
***************************************************************************
THE EMERGENCY MEDICINE POCKETBOOK TRIFECTA
Get one of our publications, all designed specifically for Emergency Care Providers:
***************************************************************************
<<<<<<<<<<<<<<<<<<<<<<<<< END SPACER >>>>>>>>>>>>>>>>>>>>>>>>>
EKG ANALYSIS & CASE CONCLUSION:
The EKG: The computer read is correct but there are also non-specific ST and T-wave changes that the computer is missing.  In addition there is an S1Q3T3 present, which is a large S-wave in lead I and both a Q-wave and an inverted T-wave in lead III.  This finding can be caused by a large PE, but can also be caused by ACS among other things.  It is present in about 12% of PE's.  Other more common findings (Top 5), and less common findings (Rarer) are shown in the highlighted area of the sample page below.
Case Conclusion: The patient had a saddle embolism on CT angio of the chest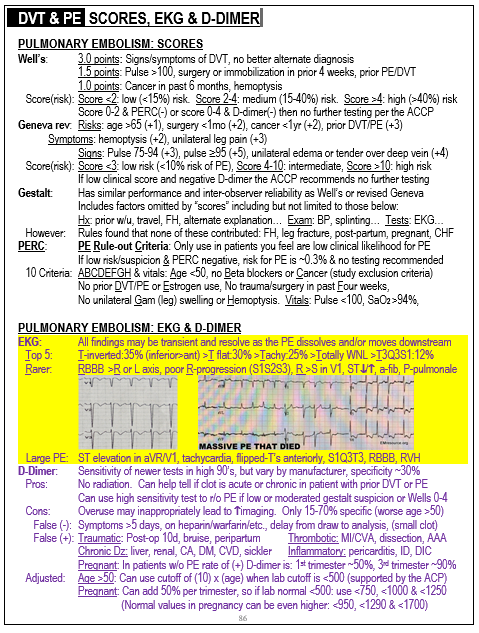 Source: The Emergency Medicine 1-Minute Consult Pocketbook