Weakness & Edema
UnFiNiShEd CaSe CoMe BaCk LaTeR
"BRADY" DOWN FOR THE REST
History:
A 62-year-old male with a history of  hypertention presents to the ED for 2 months of gradually worsening generalized weakness, SOB, leg edema and abdominal distension.  He denies syncope, palpitations, chest pain, fever, cough or other complaints.
Exam:
Vital signs are normal but his BP is soft at 95/55 .   Exam is notable for clear lungs, but severe abdominal distension consistent with tense ascites and 2-3+ bilateral pittinge edema.
Initial differential diagnosis:
CHF
Cirrhosis
Renal failure
Initial EKG (click TWICE if you want to enlarge):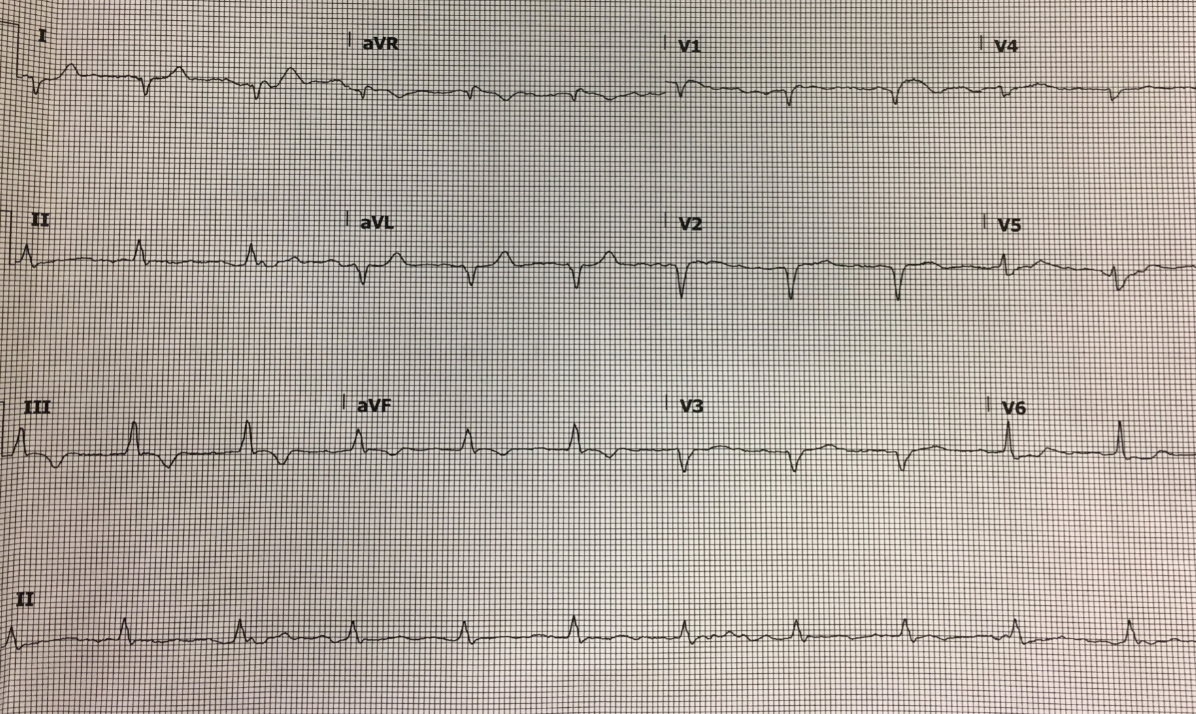 COMPUTER EKG READ:
Uncertain Rhythm
Intraventricular conduction delay
Anteriolateral myocardial infarction, probably old
Do you agree with the computer?  What acute condition should you be concerned about with this EKG?
"BRADY" DOWN FOR THE EKG ANALYSIS & 1-MINUTE CONSULT
<<<<<<<<<<<<<<<<<<<<< ADVERTISEMENT & SPACER >>>>>>>>>>>>>>>>>>>>>
***************************************************************************
THE EMERGENCY MEDICINE POCKETBOOK BIFECTA
Get one of our publications, all designed specifically for Emergency Care Providers:
***************************************************************************
<<<<<<<<<<<<<<<<<<<<<<<<< END SPACER >>>>>>>>>>>>>>>>>>>>>>>>>
EKG ANALYSIS, CASE CONCLUSION & 1-MINUTE CONSULT: 
EKG Analysis: The computer read is accurate.  You should worry about hyperkalemia, especially since renal failure is already on your differential diagnosis.  Hyperkalemia can cause protean EKG changes including shrinkage and loss of P-waves as well as QRS widening as seen in the above EKG.  Other possible EKG findings in hyperkalemia are summarized in the highlighter area of the sample page below.
Case Conclusion: The patient's potassium was 7.0 and BUN/Cr were 140/7.6.  His bicarb was 9, which may have been the reason EKG changes were more severe than one might expect with a potassium of 7.  He was given calcium, bicarb, glucose and insulin and his repeat EKG showed normal sinus rhythm with a normalization of the QRS width.  He was admitted to the ICU after a temporary dialysis catheter was placed for emergent hemodialysis.
1-minute Consult: See highlighted area of sample page below and Case Lessons below that.
 
Source: The Emergency Medicine 1-Minute Consult Pocketbook   
Case Lessons
Hyperkalemia can cause loss of P waves and wide QRS including bundle branch block like patterns, especially RBBB