Migraine or not?*
SCROLL DOWN FOR ANSWERS & 1-MINUTE CONSULT
History of Present Illness:
A 42-year-old female with a history of chronic migraine headaches presents to the ED for headache. She states this headache is different than her normal migraine.  It was more rapid onset with vomiting earlier in the course than usual for her.  The location of the pain is also atypical for her.  She states the pain is both frontal and occipital.   She denies any difficulty with speech, swallowing, or ambulation, fever, abdominal pain or other complaints.
Vital Signs & Physical Exam:
Vital signs are normal except for a pulse of 95 and BP of 147/91.  Physical exam is normal except for some mild meningismus and some mild photophobia.
Initial Diagnostic Testing:
CBC and BMP are normal
A CT scan is done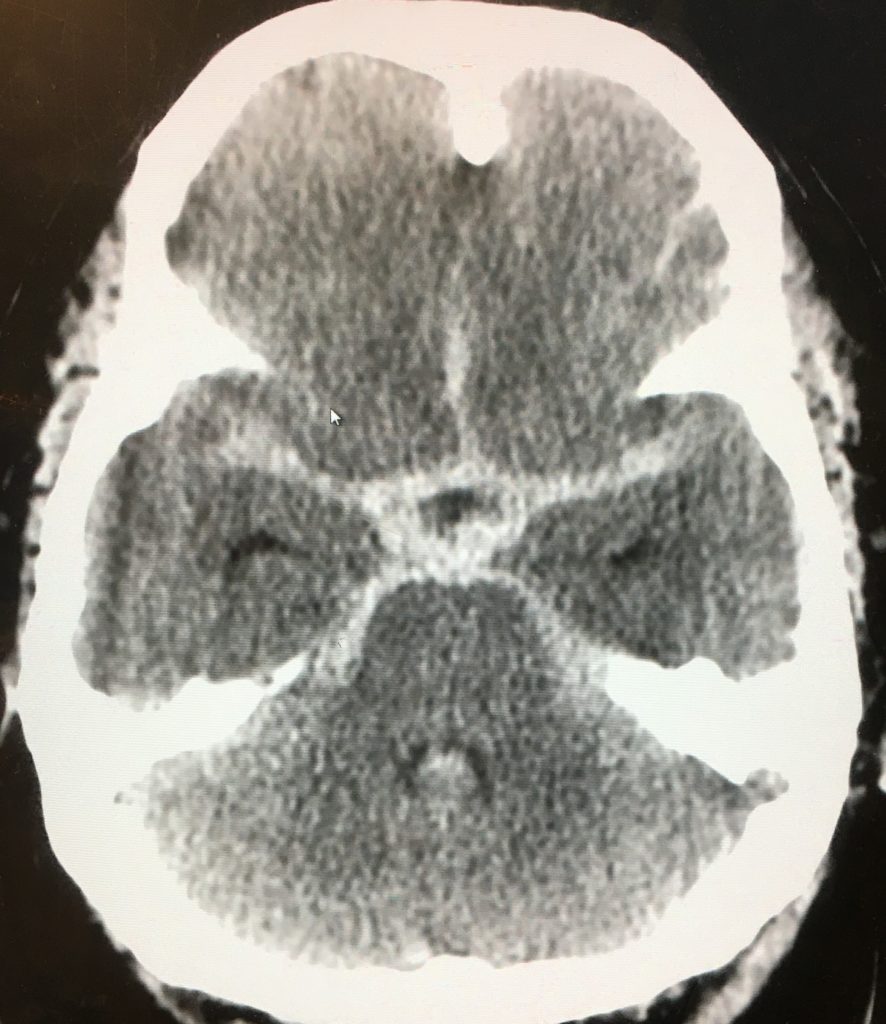 What is the most likely diagnosis?
A) Migraine
B) Posterior circulation stroke
C) Meningitis
D) Cerebral Aneurysm
SCROLL DOWN FOR ANSWERS & 1-MINUTE CONSULT
<<<<<<<<<<<<<<<<<<<<< ADVERTISEMENT & SPACER >>>>>>>>>>>>>>>>>>>>>
***************************************************************************
THE EMERGENCY MEDICINE POCKETBOOK TRIFECTA
Get one of our publications, all designed specifically for Emergency Care Providers:
***************************************************************************
<<<<<<<<<<<<<<<<<<<<<<<<< END SPACER >>>>>>>>>>>>>>>>>>>>>>>>>
ANSWERS:
A) Migraine: always the most common cause of HA in a migraneure, but should immediately be put to the bottom of the ddx if the patient is having symptoms that they have not previously had with migraines.
B) Posterior circulation stroke: can closely mimic migraine so should always be atop the Ddx if there are features atypical for the patient
C) Meningitis: should be a consideration with neck stiffness even in the absence of fever
D) Cerebral Aneurysm: CORRECT.  CT shows a subarachnoid bleed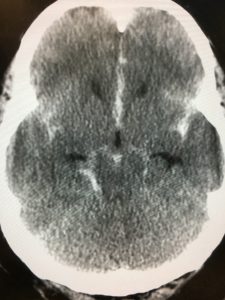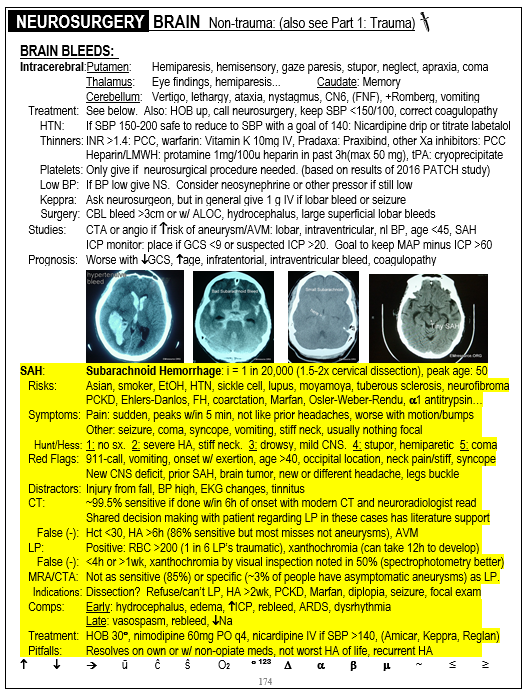 CASE CONCLUSION: ED treatment: more pain medication, antiemetics, Keppra, head of the bed at 30°, frequent neuro checks, Nimotop, additional antihypertensive therapy prn, CT angiogram of the circle of Willis in order to determine whether or not the patient would benefit from coiling.