BLOOD THINNERS
NOACs: Novel Oral Anti-Coagulants Comparison
In general, NOACs NOT recommended in any of the following circumstances:
Warfarin already working well for patient
Prosthetic heart valve
Renal insufficiency
Pregnancy
GI bleed risk is high
Poor compliance with medication
Coumadin reversal is covered elsewhere, but when PCC used, Profil-9 or Kcentra usually recommended.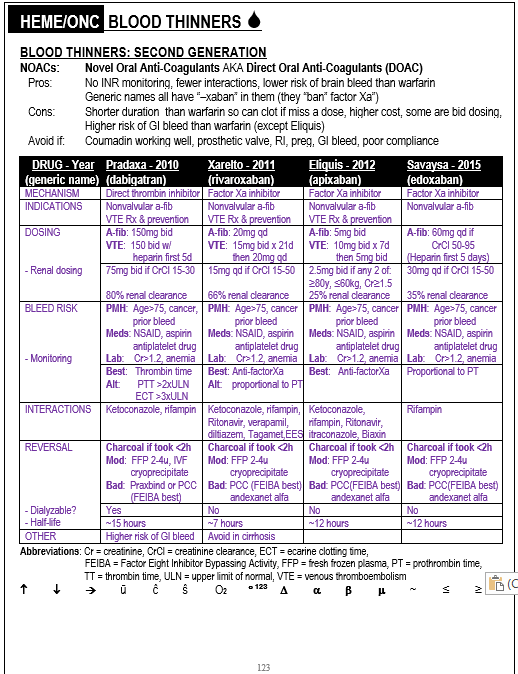 Source: The Emergency Medicine 1-Minute Consult pocketbook
Abbreviations: Cr = creatinine, CrCl = creatinine clearance, ECT = ecarine clotting time, FFP = fresh frozen plasma, PT = prothrombin time, PTT = , TT = thrombin time, ULN = upper limit of normal, VTE = venous thromboembolism
****
COAGULATION CASCADE:
The COAGULATION CASCADE iS extracted from the Emergency Medicine Pocketbook Series for free use.  All material is copyright.  However, you may reproduce any of our resources or ultrasound images for teaching purposes as long as you credit ERPocketbooks.com in print.  For commercial use, expressed written consent is required.
Please submit any comments or requests for additional topics below.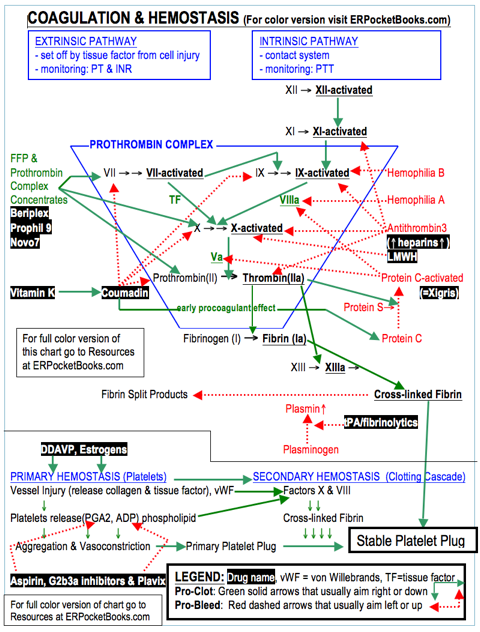 Comments