EM ULTRASOUND

Educational ED Ultrasound images
_______________________________________
SELECT TOPIC FROM MENU RIGHT SIDE OF SCREEN
____________________________________________
GOLDEN RULES OF E.D. ULTRASOUND
Have a low threshold to use bedside ultrasound to check for life-threatening, time-sensitive conditions:  Examples include, massive PE,  cardiac tamponade, ruptured ectopic or  a  AAA..
Use ultrasound and echo liberally in code situations: Use of ultrasound in code blue situations can be useful in assessing for cardiac motion, cardiac tamponade, massive pulmonary embolism, hemoperitoneum, etc.
Use ultrasound in urosepsis: Bedside ultrasound can diagnose unsuspected urologic obstruction in patients who present with urosepsis, yet have no risk factors for UTI.
Don't go out on a limb: Verify abnormal findings with formal imaging, either by CT, formal ultrasound or other modalities.
____________________________________________
Images Galore on the ED Atlas on CD, Volume 1
Get a free subscription to Emergency Physician Monthly
See "Ultrasound: Beyond the Core Curriculum" Lecture
____________________________________________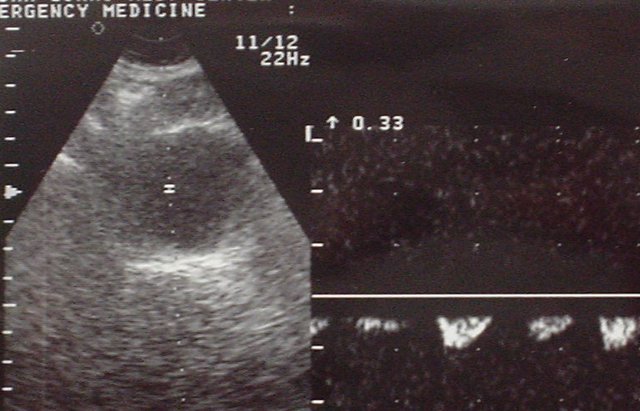 ****
Do you want a pocket reference that has essential material on ED Ultrasound as well as other imaging, labs, EKG's, procedures, risk management and more?
Tarascon ED Quick Reference Guide
****
WOULD YOU LIKE TO USE ONE OF OUR IMAGES?
As long as you paste the following statement with a weblink to this site, no problem: "�Image reproduced with permission, ERPocketBooks.com"
****
Comments