EM ULTRASOUND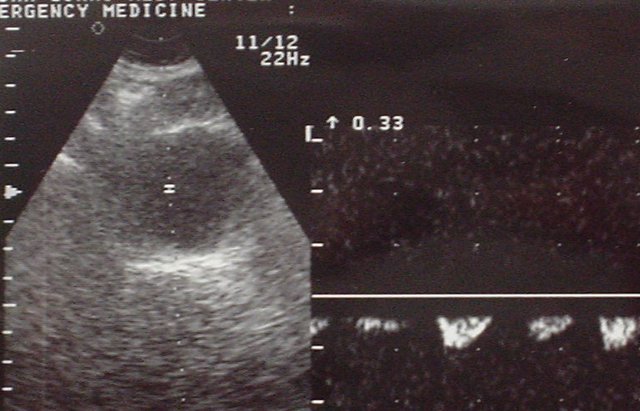 ****
This webpage contains:
EM Ultrasound Menu at right

EM Ultrasound Basics

Ultrasound Fake-outs & Red Herrings
_______________________________________
SELECT TOPIC FROM MENU RIGHT SIDE OF SCREEN
____________________________________________
ED Ultrasound Basics
Probe & Positioning: Use a high frequency linear array transducer (10-13 MHz) for superficial structures and scans such as soft tissue, the eye, and for pneumothorax in order to get more detail. For very superficial structures use a stand-off pad (you can improvise with a bag of saline) or a water bath. Use a curviliear 3.5 MHz or 5 MHz transducer to penetrate better to deeper structures such as the aorta, IVC, gallbladder and other internal organs
Target Confirmation: Obtain images in multiple planes (longitudinal, transverse, oblique) and utilize the contralateral side for comparison when available.
Critical Patients: Have a low threshold to use bedside ultrasound to check for life-threatening, time-sensitive conditions such as massive PE, cardiac tamponade, ruptured ectopic or a AAA..
Use ultrasound and echo liberally in code situations: Use of ultrasound in code blue situations can be useful in assessing for cardiac motion, cardiac tamponade, massive pulmonary embolism, hemoperitoneum, etc.
Know Your Limitations: Ultrasound may help clarify findings elicited by a thorough history and physical exam. When used correctly, it can lead to a more rapid diagnosis and/or improve diagnostic accuracy, especially for critical conditions or unstable patients. Verify abnormal findings with formal imaging, either by CT, formal ultrasound or other modalities when indicated. Find out if your department has a quality improvement program set up that is approved by both ED administration and radiology.
Experience: With bedside ultrasound, there is no substitute for experience. The more scans you do, the better you will be able to differentiate abnormal from normal, even when you may not be sure exactly what the abnormality is.
____________________________________________
Images Galore on the ED Atlas on CD, Volume 1
Get a free subscription to Emergency Physician Monthly
See "Ultrasound: Beyond the Core Curriculum" Lecture
____________________________________________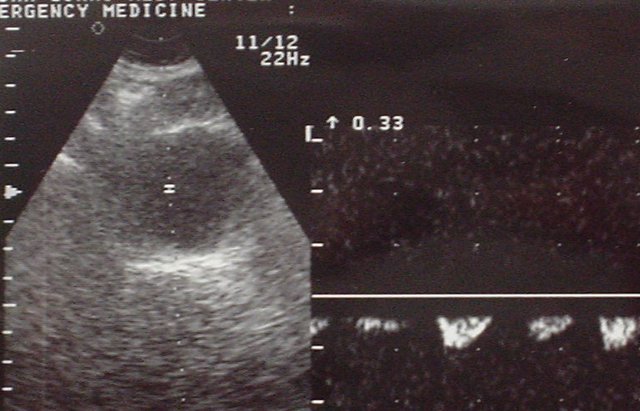 ****
Ultrasound Fake-outs & Red Herrings
****
Do you want a pocket reference that has essential material on ED Ultrasound as well as other imaging, labs, EKG's, procedures, risk management and more?
Tarascon ED Quick Reference Guide
****
WOULD YOU LIKE TO USE ONE OF OUR IMAGES?
As long as you paste the following statement with a weblink to this site, no problem: "�Image reproduced with permission, ERPocketBooks.com"
****